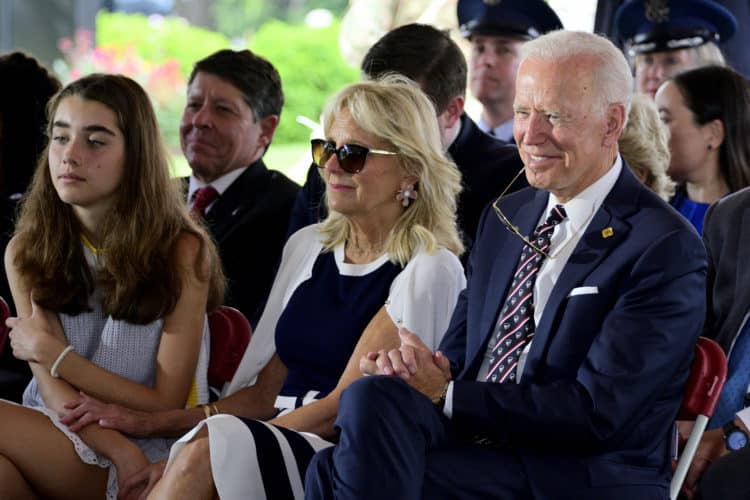 The last several months have been an interesting time for American politics, and Natalie Biden knows this first hand. The 16-year-old granddaughter of president Joe Biden has gone from from enjoying her 'normal' life to transforming into a member of the First Family of the United States. After showing up to the inauguration looking straight off the pages of a fashion magazine, the entire world is itching to know more about her. She is the oldest daughter of president Biden's son, Beau Biden. Sadly, Beau passed away in 2015 from brain cancer when he was just 46-years-old. Despite suffering a tragic loss, Natalie has done her best to keep a positive outlook on life. Keep reading for 10 things you didn't know about Natalie Biden.
1. She's Just A Typical Teenager
As a member of the First Family, there are obviously a lot of things about Natalie's life that are very different from other people her age — or, other people in general. But presidential grandfather and secret service aside, Natalie is really just your average 16-year-old. She enjoys lots of the same things as other teens and she shares many of the same dreams.
2. She Already Has A Fan Page
President Biden hasn't even been in office for a month yet, and Natalie Biden already has her own fan club. There are several 'fan pages' dedicated to her on Instagram and one of them currently has over 11,000 followers. Since Natalie has deactivated her Instagram page, it's unclear where these fan pages are getting content from.
3. She Encouraged Her Grandfather To Run For President
The Bidens are a very close knit family and President Biden has a great relationship with all of his grandchildren. Natalie and all of her cousins were instrumental in encouraging him to run for office and they supported him every step of the way. They even attended events along the campaign trial.
4. She Enjoys Hanging Out By The Water
Natalie was born and raised in the Delaware area which means she's used to having easy access to the beach. On the flip side, however, beach weather in Delaware only lasts for a few months of the year. When the weather is warm, however, she loves to spend her days hanging out by the ocean or at the pool.
5. She Has A Brother
Natalie has one sibling, a younger brother named Robert Hunter who was named after his uncle. Little Hunter, as he is often called, is two years younger than Natalie. Their mother, Hallie Biden, has kept a relatively low profile. Some sources have reported that Hallie Biden's other son, Hunter, were romantically linked after Beau's death.
6. She Was Named In Honor Of Her Aunt
In the Biden family, it's fairly common for people to be named after aunts, uncles, and cousins. Natalie's full name is Natalie Naomi Biden. Her middle name was chosen in honor of her aunt, Naomi Biden, who passed away in a car accident in 1972 when she was only a year old.
7. She Has A Huge Following On TikTok
Like lots of other members of Gen Z, Natalie has jumped on the TikTok wave and she's built a huge following in the process. She currently has 1.5 million followers and her content has gotten 7 million likes. Unfortunately, all of her videos have been deleted. This was likely done after her grandfather won the election to avoid anything that could potentially be perceived as scandalous.
8. She Loves Fashion
In case you missed it, Natalie was turning lots of heads at the inauguration for her favorite stylish fashion choices. Her fashion sense is undeniable and there are a lot of people waiting to see what other cool outfits she puts together. While she hasn't expressed any interest in modeling yet, it wouldn't be surprising if she eventually made her way into the industry.
9. She Likes To Stay Low Key
Even though she is part of a famous family, Natalie seems to prefer to stay out of the spotlight. Now that she's taking a break from social media, the public can expect to see less of her. It'll be interesting to see if this changes as she gets older, but for now she seems to be content with trying to keep her life as 'normal' as possible.
10. She Loves To Dance
Who doesn't like to let loose and dance every once in a while? Natalie Biden sure does. Before she deleted all of her social media content, she posted videos of herself participating in some of the popular dance challenges that have hit the internet over the last year or so.
Tell us what's wrong with this post? How could we improve it? :)
Let us improve this post!