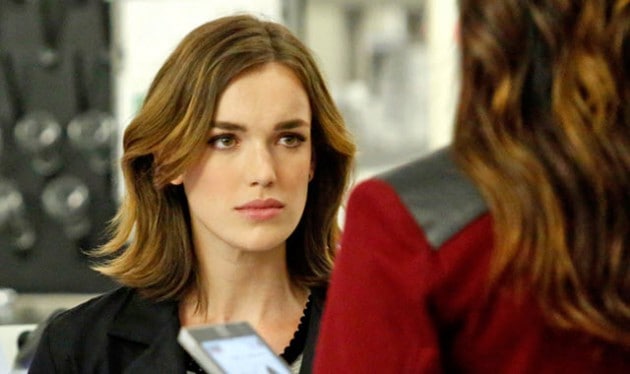 Last night's episode of Marvel's Agents of S.H.I.E.L.D. was an enormous game-changer as it introduced Marvel fan favorite, Bobbi Morse a.k.a. Mockingbird and went deeper into Kyle MacLachlan's Doctor character.
Ever since they announced at San Diego Comic-Con that Mockingbird was coming to the show, in addition to the casting of Adrianne Palicki, this has been my most anticipated episode of the season. Did Palicki's introduction episode live up to my expectations? It absolutely did and then some. This is one of the best castings the show has done and to look at it from a bigger picture: we now have a phenomenal actress part of the Marvel Cinematic Universe as a great character.
I think it was pretty obvious that Bobbi being the head of Hydra Security was just a cover as there was no way these show-runners would introduce one of the most popular Marvel characters as a villain at the beginning. It was pretty fun to see her blend in so well and see how talented she is as an agent who was able to trick a major organization like Hydra. While I have just started to learn more about Mockingbird from the comic books, based on what I saw in this first episode of her, her personality is very similar to the comic version.
My favorite scene was when she revealed that she wasn't Hydra and took out those soldiers when Simmons's cover was compromised by Raina. Palicki has always been great with action in everything that I have seen of her so it wasn't a surprise to see her kick so much butt. We also learn that she is in fact Hunter's ex-wife which is a huge difference from the comic books, but I don't mind this at all. This should lead to some fun scenes in her next episode, but I was genuinely happy with this introduction. I hope to see her in many episodes this season and hopefully, the plan is to have her stick around as a recurring cast member.
The episode also focuses a lot on "The Doctor" a.k.a. Skye's father which was a nice addition and at this point, I think he is an Inhuman. I don't know what else he could be and it would be cool if this TV show actually got to introduce the Inhumans in the MCU. Even though there are rumblings that an Inhumans movie is in development, I would prefer to see it on S.H.I.E.L.D. After all the great things that we had seen in this episode, if they had actually had Skye find her father, it would have perhaps been a bit too much. But he did get to see her via a camera and since he couldn't bother to hide those dead bodies a bit better, his daughter now sees him as a monster.
This leads to an epic post-credit scene where The Doctor goes to see Whitehall and Bakshi and proposes a team-up to take down Director Coulson and pretty much everyone in S.H.I.E.L.D. I have said this in previous reviews and I will say it again, but the more comic book-y the show gets, the better. Whenever one villain teams up with another villain, the geek inside of me gets very excited so this will be something to look forward to for the rest of the season.
As Simmon's cover is no more, she returns to the team and finally reunites with Fitz and the FitzSimmons is restored. The scene could have been a bit longer, but this was enough for me and probably a lot of viewers out there to cry their eyes out. It will be interesting to see what their relationship will be like for the remainder of the season as it's probably not going to be easy to go back to what it used to be.
Last but definitely not the least, Coulson finally lets Skye in on one of the big secrets that he has been keeping, which is the alien writing. Let's not also forget that Coulson revealed his speculation that he thinks Skye is possibly an alien which she had a strong reaction to, but more about that another day. The biggest twist was that Skye understood the writing and confirmed to us that it's in fact a map. Only time will tell what that map is for, but it's the first step in this big mystery ever since the season one finale.
Overall, "A Hen in the Wolf House" is the best episode of the season so far as it did an excellent job with introducing Palicki's character nicely into the show as well as the MCU. In addition, we got to learn a lot more about Skye's daddy and that he is someone you don't want to mess with. The episode also took a huge step forward for the show as a whole and after seeing the first five episodes for season 2: I'm very happy with what the show has become now.
Marvel's Agents of S.H.I.E.L.D. airs on Tuesday nights, 9/8c on ABC.
[Photo via ABC]