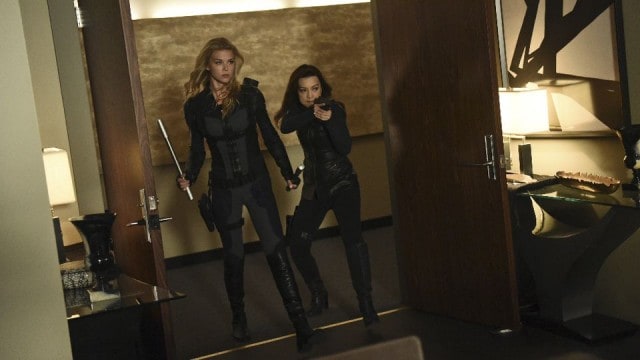 Agents of S.H.I.E.L.D. has easily found its stride during this third season, which, in my opinion is the best yet. Last week was definitely the season's best when we watched the story of Simmons and her journey to another planet. While it would be hard to top that episode, Agents of S.H.I.E.L.D. still came through with a good episode that put us back on track with everything else that has been happening. The relationships on the team continued to get pushed into different directions, both good and bad, which will inevitably strengthen and strain the trust between characters.
One of the more exciting things in last night's episode was seeing Bobbi finally get back to action when May recruits her to "fight her own fights" and hunt down Ward and his growing Hydra team. Bobbi and May go on a true spy mission in this episode and it's probably the best plot going. It was definitely my favorite part of the episode because we got to see two awesome agents go undercover, dress as business women and infiltrate a bank. Ming-Na Wen and Adrienne Palicki were great with each other and delivered the whole good cop bad cop routine flawlessly. It's a solid contrast for them to have May hellbent on revenge ready to go in the same way Hunter has been while this is Bobbi's first time back out in the field. At first Bobbi seems hesitant; she tries to play the con and take the passive way out of things when they get caught at the bank, but eventually when she's put on the spot we see her return to form.
Coulson spends all of his time with Rosalind because he wants to see their base and how they operate. This is another interesting relationship because while Coulson isn't necessarily doing anything wrong by being fair in giving Rosalind and her aggressive ways a chance to explain themselves. Unfortunately for Coulson, this really brings a negative impact onto his relationship with Daisy; I think it will be really interesting to see how this plays out because I feel like Daisy is going to be put in the same position her mother was last season but will find the ability to rise above it. Right now she only understands half of the conversation, so while she believes Coulson is siding with Rosalind and encouraging trapping Inhumans in these containers, he isn't, at least not yet. I'm worried that this strife between Coulson and Daisy is going to drag out too long and have them continue to keep more and more secrets from one another. I think it's fine if they drag it out for a little longer but it will eventually just feel like cheap drama.
Despite this much going on already, these two plot lines didn't even include the biggest moment of the episode. Two week's ago it was discovered that Lash has a human form and is walking among us (heh). Last night the reveal was finally given to us and it turns out Andrew Garner, May's ex is actually Lash. This was easily my least favorite part of the episode for a couple of reasons. First, how many times is the major villain going to be someone undercover that betrays S.H.I.E.L.D.? I think it's pretty boring that they couldn't find some other way to incorporate Lash and while Andrew didn't do too much, he was at least a character that could have been developed in other ways. Not only do I find this aspect of the big villain cheap, but I think that the episode completely gave away the reveal from the first moment we see Andrew appear. During the entire episode Andrew is acting normal but happens to be unusually nagging Daisy about Lincoln's whereabouts and other things he's usually not concerned about. It was just telegraphed way too early and spoiled the eventual reveal. We'll see how things play out, but this is probably the most disappointing thing that Agents of S.H.I.E.L.D. has done so far this season, in my opinion.
Although I found the show to be taking steps in the wrong direction with how it chose to handle Lash's reveal, I'll give it a little while to play out before making my final judgments. Aside from that little bit, this was still a really good episode for Agents of S.H.I.E.L.D.. I loved seeing Bobbi back in action and it's fun that they are finding ways to give their spies actual spy missions. I wish that the Rosalind plot would flesh out a little more because we still don't have a full grasp on what she's about and whether or not she's trustworthy. Agents of S.H.I.E.L.D. has been really good this season, and I would hate to see it revert to its old ways. When I initially started watching the show I kept up with it purely because of my large interest in Marvel but when the show tied in with Captain America: The Winter Soldier it really helped S.H.I.E.L.D. to pick up as well. Now the show feels like it can finally stand on its own but is setting up for some confrontational drama and a villain who came from the inside, which could lead to some poor storytelling. I will obviously stick with Agents of S.H.I.E.L.D. because it's doing a huge amount of things right and the episodes are very good, but there's always the looming nightmares of episodes in season one.
Other thoughts:
So… is Werner Von Strucker dead or….?
I wonder if Andrew/Lash will act as the Palpatine to Coulson's Obi-Wan with Daisy. That would be interesting but I'm sure she's considering that there is no chance for peace between Human and Inhuman.
S.H.I.E.L.D. is being pulled in a lot of different directions right now. I'm really excited to see the stories start coming together a little more.
[Photo via ABC]