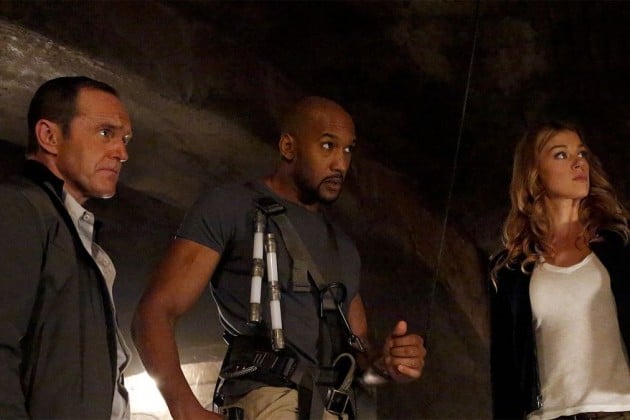 How crazy can a sophomore show like Marvel's Agents of S.H.I.E.L.D. get episode after episode? Well apparently, there are no limits to how nuts it can go as this week's episode upped the stages even more as we get ready for the mid-season finale next week.
Instead of spending time continuing to speculate, how about we just jump to the assumption that what we are about to get is the introduction of the Inhumans in the Marvel Cinematic Universe? As excited as I am as a critic and viewer of the show for Inhumans, the wait almost killed me as Raina had to be so playful with how she was wording herself when talking to Skye about what they are. I'm at this point really hoping that we will hear the name "Inhumans" next week as well as Attilan for the city.
Speaking of the city, we took several steps forward this week as Coulson and his team went to find the city, but at a high price. As Coulson and the crew were closing in on discovering the next piece of the puzzle, Mack gets affected when he touches the Kree runes (I assume that's what it is) and he gets super human strength and sadly turns all mad on his fellow S.H.I.E.L.D. fellows. This was incredibly intense to watch, especially as Bobbi had to fight Mack and as we saw earlier in the episode, these two have a deep relationship. I was really hoping for Fitz to be able to get through to him, but sadly, the powers that be wouldn't give us that.
I'm about to go into a theory that is very far-fetched, but at the same time it isn't so keep an open mind. I know that there are some actors being eyed at for the role of Luke Cage for both the Jessica Jones and Luke Cage Netflix shows. But what if that part is just a distraction for what they are really doing? What if in the MCU, Luke Cage became Power Man by being an Inhuman and Mack either changes his name or it's revealed that his name was always Luke Cage? As much as I love the Mack character, Henry Simmons is just perfect in every way for the role of Luke Cage and I wouldn't be against the idea of changing up his origin by making him an Inhuman.
You know who I love to hate? Grant Ward. This week, he invades The Bus and manages to kidnap both Raina and Skye. Even though I'm having a blast hating this character, I'm so tired that he is constantly winning. This reminds me of a portion of season 3 of Once Upon a Time where the heroes kept losing for weeks and never got a single win. But that's not the only part I'm frustrated about; it's also the very fact that we have no clue anymore what Ward is really up to. This dude lies a lot and sometimes he lies very good so who is to say what is going on in his mind.
The thing I loved about this episode as we are getting geared up for the mid-season finale next week is that even though this was a big episode, it was very straight-forward and focused on mostly one-two plots. It was fantastic seeing Patton Oswalt again as Sam and Billy and I need an explanation to why he, along with Adrianne Palicki and B.J. Britt haven't been promoted to series regular yet? Overall, this episode was a stellar episode, but I feel that this was part of a 2-parter as the mid-season finale will be playing in a lot with what happened in this episode.
Don't miss the epic mid-season finale of Marvel's Agents of S.H.I.E.L.D. titled "What They Become", next Tuesday, 9/8c on ABC.
Photo via ABC