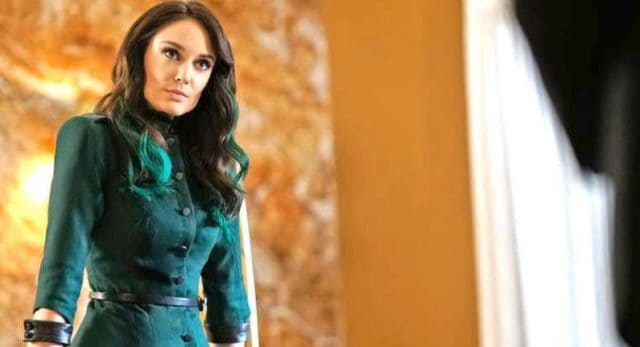 The Agents of S.H.I.E.L.D. fan universe is a little nervous right now because of Joss Whedon's commitment to direct a solo Batgirl movie. Fans are wondering if he's still going to stick around to write new S.H.I.E.L.D. episodes. After all, it's a move from Marvel to DC. Traitor! Just kidding, Whedon is awesome no matter what he does. But we can put all that speculation on the back burner for now because the show is introducing a much awaited character: Madame Hydra. Entertainment Weekly unveiled the first look at the character, portrayed by none other than Mallory Jansen. Her introduction on Tuesday's episode, the series' return from winter hiatus, was screened Saturday at WonderCon Anaheim.
"Madame Hydra is a villain with the perfect combo of strength, sexy, and scary," co-showrunners Jed Whedon and Maurissa Tancharoen told EW. "We've thrown many challenges Mallory's way and she's always up for the task. We're excited for fans to see how she makes Madame Hydra come to life."
According to CBR
With a new storyline taking place within the Framework, an alternate reality that explores what might have happened had Captain America not defeated Hydra in "Captain America: The Winter Soldier," the producers wanted to bring back the organization as "a forced to be reckoned with."
Check out the sneak peek of the next episode below:
"What If…" episode of Marvel's Agents of SHIELD will air Tuesday, April 4 at 10:00-11:00 p.m. EDT on The ABC Television Network.
Tell us what's wrong with this post? How could we improve it? :)
Let us improve this post!