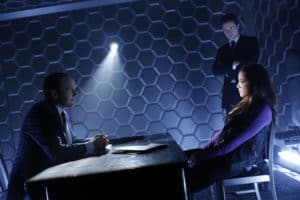 ABC premiered its prized pilot of the fall season: Agents of SHIELD. Following the agency that works alongside Iron Man, Thor, and Captain America, it was believed that Agents of SHIELD would have a built-in audience, especially with The Avengers' director, and god of all things awesomely nerdy, Joss Whedon at the helm. Overall, I'm not sure if Agents of SHIELD lived up to the mega-hype that ABC had surrounding the series; however, I will say that the first episode was extremely fun to watch and engaging and interesting enough that I am more than willing to come back to watch next week.
The premiere opens up with Chloe Bennett's character, Skye, telling us (via voiceover) that we are no longer alone in the world. There are heroes all around us, whether they are giant green monsters, a man flying around in an iron suit, or a god from outer space.
While none of the Avengers actually show up in the pilot (they're kind of busy with the whole movie thing), Skye's opening words are then followed immediately by "every man," Mike Peterson talking with his son about their money struggles before saving a woman from an exploding building. It turns out that Peterson's body has been altered with a new, superhuman drug, and he now possesses amazing strength that allows him to scale buildings and break through iron structures. While Peterson wants nothing more to do than be a hero and make his son proud, he eventually becomes overly frustrated with how the world is treating them and uses his newfound powers to punish rather than protect. What Peterson doesn't know is that if he continues to use his abilities in such a manic way, he will eventually cause his own destruction, essentially overheating his body until he explodes, similar to Peter Petrelli at the end of the first season of Heroes.
While Mike's storyline definitely peaked my interest, things don't really kick into high gear in Agents of SHIELD until Agent Coulson returns from the shadows (literally, as he makes a joke about it) and gathers the team together. We are then introduced to Brett Dalton's bland and boring Grant Ward, Ming-Na Wen's reluctant combatant, Melinda May, and a pair of scientists, Fitz and Simmons, played by Iain De Caestecker and Elizabeth Henstridge, who are the most charming and enjoyable characters that we meet in Agents of SHIELD's first episode. Together, along with Bennet's Skye (who is initially against SHIELD and its practices, but ultimately comes around to join the team by the end of the episode), these agents attempt to capture and contain Peterson before he can inflict more damage upon innocents or himself.
Eventually, in a big standoff near the episode's conclusion, Ward shoots Peterson in the head. While we are first supposed to believe that Peterson is dead, we actually discover that Ward's shot only incapacitated Peterson, so that the team could restrain and "deactivate" him, before he returns to a new, less stressful life with his son.
Overall, the premiere of Agents of SHIELD is extremely well made. Joss Whedon's fast-paced direction never loses focus on either action or character, and the signature Whedon banter is delivered well from the majority of the actors, specifically Bennet and Clark Gregg as Coulson. While some may complain that Agents of SHIELD is too cheesy, I think the series sets out to be exactly what it wanted to be: a live action comic book. While Thor, Iron Man, and Captain America never appear on screen, the tone and style of a summer blockbuster is felt throughout Agents of SHIELD's first hour. The only question is whether the series can keep that momentum going as it moves forward, or if it will sputter out before it even reaches flight.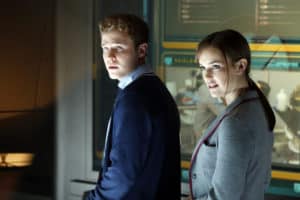 Other thoughts:
– The only cast member that I really thought struggled in the premiere was Brett Dalton. I did not believe his "tough guy" act as Ward at all.
– One moment I think I loved the most from the episode: Coulson using the truth serum on Ward instead of Skye. It was extremely comedic but also gave us more insight into Coulson as a character: he will use whatever methods necessary to get the job done.
– Colbie Smolders showing up as Agent Hill was great to have in the first episode, as it helped transition the world from the Marvel films to the Agents of SHIELD television landscape very well.
– Ron Glass, AKA Shepherd Book from Firefly, showing up as the SHIELD doctor was such a great cameo. I cheered as soon as he appeared on screen.
– Next week's episode will really dictate to me whether this concept is truly sustainable as a weekly television series. I hope, even without the direct involvement of Joss, that Agents of SHIELD can continue to be as fun as it was in its premiere.
What did everyone else think about Agents of SHIELD? Did it meet your expectations? How do you think the series will be going forward?