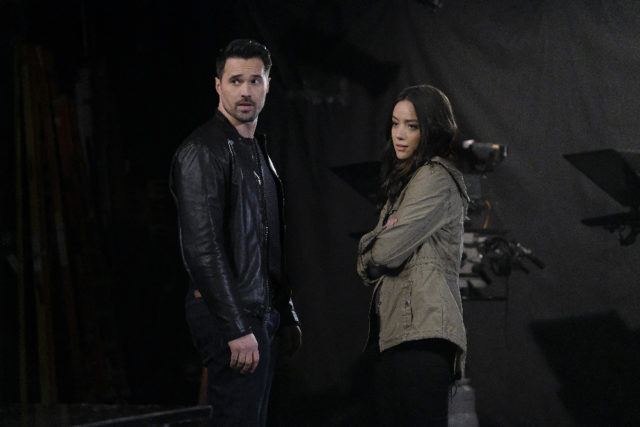 As fun, fresh, and interesting as Agents of SHIELD has been in the framework, it was just as interesting to venture outside of it a little bit. For the first time in several weeks, we saw a few tidbits outside of the framework, as things really heated up inside. SHIELD has long been an exciting show, but the framework story has bumped it up to the next level.
This week on Agents of SHIELD: May turns her back on Hydra in the framework, and helps Daisy and the other agents to foil Aida's plot. Coulson, May, and Mack begin to remember their old selves, at least in terms of character. Alistair Fitz interrogates Dr. Radcliffe. Sunil Bakshi surfaces in the framework. Outside the framework, Aida's plan to generate human organs takes shape. Ward finds out who he was outside of the framework.
Everything about the framework has been incredibly emotional and powerful. It has created some of the most incredible moments of character study. Changing one thing about a character's life that changes everything in their future. This has made for emotional reunions and affirmations of decisions made in the real world. and tugging on every long time fan of this show's hearstrings with every glimpse of Ward, Tripp, and mention of Victoria Hand. It's been so good to visit these characters, and the emotional stakes have never been higher.
Perhaps the most fascinating piece of all of this is finding out what exactly the regrets were that Aida changed. May's was killing that girl on that mission, Coulson's was about not signing on to SHIELD years earlier. and all of them made for powerful contrast. Of course, that this really teaches to the kids watching at home is that it takes a ton of effort to change traits about yourself, and that fighting your nature is harder than it looks.
What I'm not sold on is the plot to generate a regular old body for Aida. Like, why does she want one? Robot bodies stay healthy forever, and human bodies break down on you. But, maybe this will lead to bringing Ward and Tripp back into the real world? Hey, a guy can dream anyway.
Here are a few other thoughts:
"I didn't totally understand him, until I met you." A sweet moment between Ward and Daisy.
"My name is Phil Coulson, and I'm an Agent of SHIELD". This moment was a phenomenal, epic build up. I was so excited by the end of it.
I was pleased to hear Radcliffe say what Fitz's dad is doing in real life. That makes me excited that we'll eventually get to meet him.
I am so, SO pleased with the framework story that it's not even funny. Of course, I could still use some Deathlok, Bobbi, or Hunter in my life. But I guess you can't have it all. Either way, the emotional stories being told are phenomenal, and Brett Dalton, Chloe Bennet, Elizabeth Henstridge, Clark Gregg and the rest of the crew are giving marvelous performance to cement the framework into one of the best plots SHIELD has ever done.
What did you guys think? Did you enjoy the episode? Let us know in the comments!
Agents of SHIELD airs Tuesdays at 10/9c on ABC
Agents of SHIELD Season 4 Episode 19 Review: "All of Madame's Men"
Summary
Daisy and Simmons bring the rest of the team to their side, as they get closer to escaping the framework on this week's Agents of SHIELD.