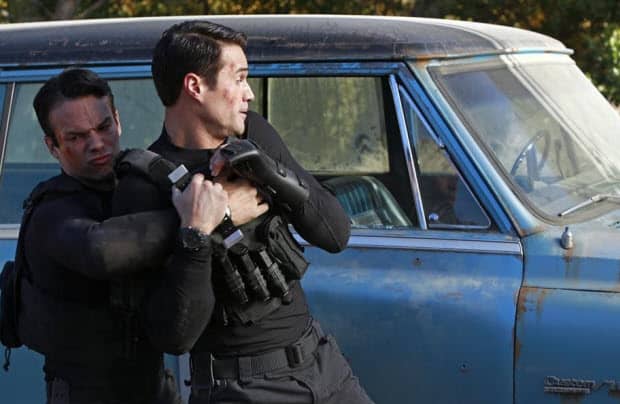 One of the biggest questions on Agents of SHIELD has been about how Agent Phil Coulson came back from the dead after he "died" in The Avengers. There have been several theories ever since they announced that he was coming back in the form of this TV show. After months of speculation, fans finally got some answers to the big mystery while still leaving a few questions unanswered.
Clark Gregg has proven that he is an excellent actor that can definitely lead his own show like Stephen Amell does on Arrow, but in a completely different way. "The Magical Place" was truly one of Gregg's finest performances throughout his run in the movies and on this show. One can't decide what was worse, seeing the S.H.I.E.L.D. doctors doing what they did to his brain with that horror looking machine or just hearing him repeatedly say "Please let me die".
This first piece of the puzzle can be treated as its own phase one of Coulson's resurrection and that phase two will most likely be about confronting Director Fury about this, whether it will be in a later episode of the show or perhaps in one of the upcoming movies. The show-runners have said that there will be a crossover episode with Captain America: The Winter Soldier (which comes on April 4). Perhaps this may be one of the foreshadowing to how the show is going to tie-in with the movie.
At this point, the writers have definitely made Fury feel and look more mysterious than he ever has. Despite that he wanted to restore Coulson into the man he once was, who had the will to live, the methods can be questioned. It's all about how as well as why. It was great to get some backstory on Coulson's family, despite that the information was tragic to hear as well as what happened to the cellist when she learned that Coulson had "passed away".
While it was a small disappointment that neither Fury or even Cobie Smulders's Agent Hill (although one understands why she couldn't due to How I Met Your Mother) was there for the flashback, it was great to see Ron Glass back as Dr. Streiten. Along with the writing, Glass really showed how damaged this character was because of what they had to do to Coulson.
One of the strengths with "The Magical Place" was seeing how the team worked together in order to save their leader. It was a great opportunity to show the audience how much this team has grown for the past couple of episodes.
While the character of Skye has been getting some harsh criticism throughout the season, "The Magical Place" was without doubt Chloe Bennet's strongest episode in the series so far. One can understand some of the reactions that this character has received whether it's positive or negative, but Skye truly shined stronger than ever in the mid-season premiere.
Not only was it a great character episode for her, but it was also one of her funniest episodes as of yet. Her impersonation of Agent May was almost spot-on and it was really fascinating to see how she had to work on her own while having that bracelet.
One can either like or dislike Agent Victoria Hand, but so far she has been a great addition to the show in terms of representing one of the key players of S.H.I.E.L.D. She definitely brings some of the feeling that the organization has had in the movies. It's safe to say that Saffron Burrows will most likely be back later this season.
It was appreciating to see in the post-credit scene that J. August Richards's Mike Peterson did survive, however, they sadly revealed that he was in the episode through the credit at the beginning. If anyone from ABC is reading this, try to avoid this for future surprises.
This may have possibly ruined it for some viewers out there last night and they could have always credited him in the ending credits like with Samuel L. Jackson's appearance in the second episode.
As a whole, "The Magical Place" managed to make parts of the revelation shocking as well as give the fans the hint that the mystery is definitely not solved just yet. Compared to "The Bridge", this episode was the stronger half of these two episodes. Hopefully with this solid start to the second half of the season, the show will start to pick up the pace as well as in ratings (although they are decent for now).
Perhaps it will start to feel more Marvel-y with Captain America: The Winter Soldier getting closer — with hopefully a strong tie-in episode – and with the things that the show-runners has said in recent interviews.
Marvel's Agents of S.H.I.E.L.D. airs Tuesday nights, 8/7c on ABC.
[Photo via Ron Tom/ABC]