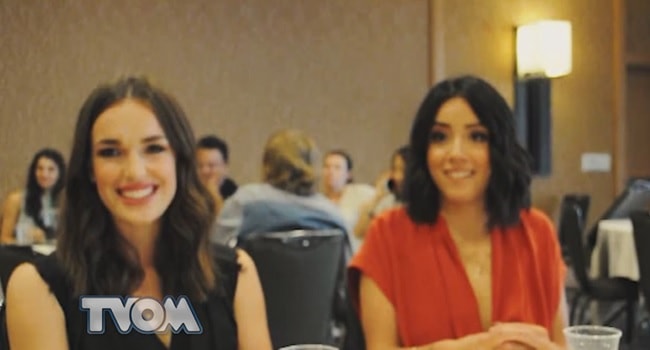 Marvel Television's beloved spy series, Agents of SHIELD, is entering its fourth season this fall as we follow the cases and adventures of Phil Coulson (Clark Gregg) and the S.H.I.E.L.D. organization. The fourth season will be featuring more changes than just a new timeslot as we'll be seeing the arrival of Robbie Reyes a.k.a. Ghost Rider, the spirit of vengeance, played by Gabriel Luna.
Last week at San Diego Comic-Con, TV Overmind participated in the Agents of SHIELD Press Room with several outlets to chat with the cast and crew behind the show to get some insight into what is coming in Season 4. Elizabeth Henstridge and Chloe Bennet, who play Jemma Simmons and Daisy Johnson respectively, were two of the great talents we spoke with as they teased Ghost Rider's arrival, the evolution of both these female characters in the past seasons and more.
Highlights of the interview:
-Henstridge's thoughts on shooting "4,722 Hours", the show's most different as well as well received episode of all time.
-What it was like seeing the show put an end to the character of Grant Ward (Brett Dalton) who got possessed by the villainous Hive.
-Their excitement to the arrival of Ghost Rider and how their characters will most likely be reacting to someone like the Spirit of Vengeance.
-What it will take for S.H.I.E.L.D. and Daisy to come back together this season as Daisy is on her current path.
[youtube https://www.youtube.com/watch?v=7-WrF-m1-6w]
Agents of SHIELD Season 4 begins on Tuesday, September 20 at their new time, 10/9c on ABC. Stay tuned for more roundtable videos of the cast and producers in the next few days right here at TVOvermind. What are you most excited about the 4th season of Agents of SHIELD? Are you looking forward to see the arrival of Ghost Rider? Let us know in the comments below.
[Photos via YouTube]
Make sure to check out our other Agents of SHIELD round tables from San Diego Comic-Con as well: Clark Gregg and Henry Simmons (Phil Coulson and Alphonso "Mack" Mackenzie) — Ming-Na Wen and Iain De Caestecker (Melinda May and Leo Fitz).