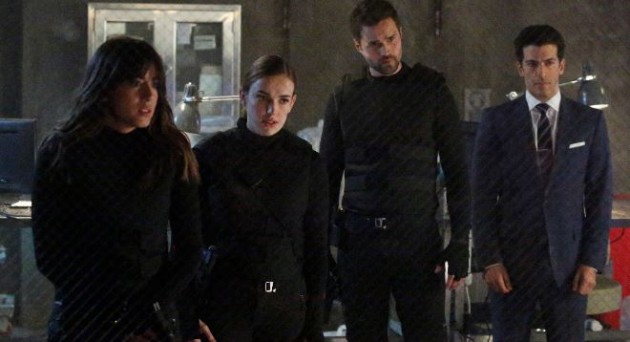 With the 2014-15 TV season coming to a close, TVOvermind is taking a closer look and reviewing the most recent seasons of some of network TV's biggest shows. We last examined The CW's "Jane the Virgin." Next up: ABC's "Marvel's Agents of S.H.I.E.L.D."
May has come and nearly gone, which means that Agents of S.H.I.E.L.D. has wrapped its second season. A lot of things happened over the course of what was, for the most part, a very enjoyable season of television. We continued to watch our heroes battle HYDRA, we met some Inhumans, we gained some new favorite characters and lost a few. All in all, Agents of S.H.I.E.L.D had a strong second chapter.
Agents of S.H.I.E.L.D. does a lot of things well. If you're reading this and want to get mad at me because you don't like the show, consider this first: You should've kept watching in the first season. I will be the first to admit that Season 1 started out slow, but really picked up around episode 10 and never looked back. The back half of Season 1 was one of the greatest things about the 2013-14 television season, and it set the stage for a (by and large) wonderful Season 2.
I don't have too many complaints, really, so I'll start with what I liked. First of all, just about every single new character was fantastic. Bobbi Morse/Mockingbird (Adrianne Palicki), Lance Hunter (Nick Blood…his real name is cooler), Mack (Henry Simmons), Robert Gonzales (Edward James Olmos), Cal Zabo (Kyle MacLachlan), Dr. Andrew (Blair Underwood), and Daniel Whitehall (Reed Diamond) simply round out an already stellar set of characters. While I love the main cast, some of the most incredible acting displays came from the new guest and supporting cast, particularly McLachlan, whose Cal Zabo portrayal proved that he could display sheer insanity alongside care, love, and vulnerability. He had perhaps the strongest character arc of anyone this season, and it was such a pleasure to watch. That, in addition to returning players like J. August Richards as Deathlok, made for an excellent cast of characters that helped produce a stronger second season.
Agents of S.H.I.E.L.D. hooked me early on because I truly care about these characters. Some of them are easier to care about than others (I mean, who doesn't get punched in the feels by Fitz on a regular basis?), but all of them are interesting and strong in their own ways. The introduction of May's ex-husband was one of the greatest decisions the show made; Ming-Na Wen is a true delight, and she keeps Melinda May interesting. Iain De Castecker's Fitz, especially when partnered with Elizabeth Henstridge's Simmons, provides a wonderful balance between humor and heart. Brett Dalton's Grant Ward is so much fun to watch. It's amazing to me that he can just change directions at the drop of a hat. No matter the direction they decide to go with Ward, I can guarantee that A) it will be interesting to watch, and B) Dalton is up to the challenge. I also appreciate that the creative team doesn't feel the need to use him all the time, since he is now severed from the team.
Additionally, Chloe Bennet's Skye (or should I say Daisy?) has completed her transformation from ace hacker to bona-fide S.H.I.E.L.D. agent (that single shot fight scene? Incredible), and now, add super powers to that list. However, while I appreciate every character on this show, but perhaps my favorite is Clark Gregg's Phil Coulson. I loved Coulson in the Marvel films and I love Coulson now, and Gregg's portrayal makes the whole show worth it. His father figure-like essence carries a lot of emotional weight, but he hasn't shied away from action sequences either. Truly, the cast is a magnificent one, and one that I remain excited about as the third season approaches.
A lot of the problems I had with Agents of S.H.I.E.L.D's second season could be summed up in story direction. This show very much works as a spy show. Like Chuck before it, it has proved that spy stories with heart can resonate with a passionate audience. Given that, it's hard when the series introduces ideas like the Inhumans to keep that status quo. There were a lot of great things involved with the Inhumans plot (more growth for Skye, Cal's character arc, etc), but it took awhile before it really felt like part of the show. In this season's 17th episode, "Melinda," I finally felt like the Inhumans arc was connected to the rest of the series. Still, there were several developments that occurred that didn't make a whole lot of sense, such as when Trip (RIP) entered the terrigen mist room, only to be turned to stone and killed. On occasion, Agents of S.H.I.E.L.D. would leave me scratching my head, but it's usually pretty rare. I really loved the S.H.I.E.L.D. vs. S.H.I.E.L.D. plot, but when they wrapped it with Avengers: Age of Ultron's release, it felt rushed and choppy.
Now, that brings me to my next point. The Marvel Cinematic Universe is a great thing. I love that they cover TV and movies, and that they're constantly expanding it. When Captain America: The Winter Soldier premiered last year, the plot and outcome of the film directly impacted the story on Agents of S.H.I.E.L.D. When that happened, AOS really emerged as one of the best shows on television. However, at what point should the films consider the television shows in their plots, even ever so slightly? The current approach is pretty good, because often the actions of the films directly affect the show, and that is proven. But it seems to me that Coulson and his team should play a bigger role in all of this. If he is director of S.H.I.E.L.D., shouldn't there at least be mention of him in the movies? All this to say that I was disappointed in Age of Ultron, not as a film necessarily, but only because the impact of the events seems a little one sided. There should be some kind of nod to the fans of the TV show in the movie. It would probably draw more viewers, honestly. Though, this sounds like mostly a Marvel/Disney thing, and not a show thing, so I certainly don't want to rant about it. It looks like I have a lot more complaints than I really do, so I'll say it again: I love this show.
Overall, I'm very happy with where Agents of S.H.I.E.L.D. Certainly, there have been creative missteps, but it shows improvement all the time. You can tell that the show does not stick to a plan with reckless abandon, but evolves, and as a result, evokes more interest in the characters, the stories, and the MCU as a whole. Agents of S.H.I.E.L.D. is one of my favorite shows, and it remains one of the best shows on television. The cast is great, and the show has plenty of gas remaining in the tank. If you are not caught up, get there immediately. (Season 1 is currently available on Netflix, with Season 2 joining it on June 11.)
What did you guys think? Did you enjoy Agents of S.H.I.E.L.D.'s second season? Let us know in the comments!
Marvel's Agents of S.H.I.E.L.D. Season 2 will premiere on Netflix on June 11th, ahead of the third season premiere on Tuesdays this Fall at 9/8c on ABC.
[Photo via ABC]
Tell us what's wrong with this post? How could we improve it? :)
Let us improve this post!