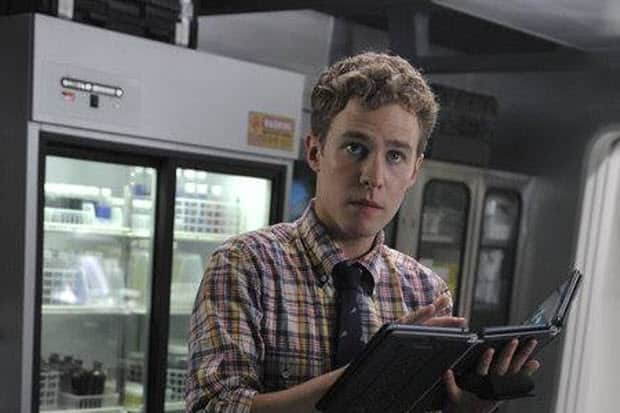 "F.Z.Z.T." was not only a step up episode for Agents of SHIELD, but also the episode that gave Elizabeth Henstridge (Agents Simmons) and Iain De Caestecker (Agent Fitz) a chance to show off more of their acting ranges.
A lot of people have been waiting to see some more depth in this characters and I think it was a great decision to have another character development episode, especially for these two. First off, the Grant Ward imitations were just hilarious and it was the enough dosage of comedic moments that we needed before we headed into this very dark part of the episode.
We learn more about how Fitz and Simmons came to be part of the team and that Fitz wasn't necessarily excited about joining this team. I think it actually gave us some individuality between those two and it makes more interesting.
When I saw the trailer for this episode, I didn't expect it to get this dark and even though I knew Simmons wasn't going to die, a little part of me did. On an interesting note though, I didn't see Simmons in the promo images for the episode that would follow.
I'm absolutely loving this new established tone that this show has finally found and I think it is the balance that it has that could be one of the things that could really lift the show up a bit.
The extended knowledge of Chitauri weapons in this episode was something that really fascinated me. Although it wasn't really a surprise that a Chitauri helmet could give you a virus and it felt like a great connection to The Avengers as well as a continuation of what else their technology could do.
I like the fact that this week, the socalled villain wasn't actually a person and instead it was an object instead. With this, the team had to work together to solve the problem, another concept I can get behind.
But what really helped was the fact that Simmons got infected and needed an anti-serum (remember, she hates the word vaccine) to get cured. I loved that Fitz was willing to break everything just to get to the helmet in order to create the anti-serum.
We saw the return of Agent Blake from the Marvel One-Shot Item 47 (Titus Welliver) and I actually wished that he had been featured a bit more. Hopefully he can return at some point. His return also gave us a hint to how much Coulson has changed since his alleged death before the battle of New York.
The scene that really got to me was when he was talking to that fireman where we learn that he knows that he is being lied to. Along with that scene, we had an emotional performance by Ming-Na Wen and Clark Gregg at the end when she comforts him. These two have an amazing chemistry and I think Agent May understands Coulson more than we realize.
I'm not so sure anymore whether the LMD theory is possible or not anymore because of what we saw. I do think that we got more hints to his mysterious return than we were expecting and I wouldn't be surprised if the mid-season finale (either episode 9 or 10) will be the episode that reveals it all, but it will most likely be in the season finale in May.
The writing for this episode by Paul Zbyszewski was so compelling and emotional that I think that since episode 4 (which was written by EP Jeff Bell), the writers of Agents of S.H.I.E.L.D. knows now a bit better where they stand.
Any new show, especially a comic book themed show, always tries to see what sticks and what doesn't when it comes to the writing. I think however that the writers are learning more and more as the series progresses.
Director Vincent Misiano made a great job with this script and I hope he is actually a director that will direct for this show again, later this season.
Overall, "F.Z.Z.T." was a fantastic episode that continues to step up the series and while it may be growing slowly, at least it's growing.
Marvel's Agents of S.H.I.E.L.D. airs Tuesday nights, 8/7c on ABC.
[Image via Facebook]
Tell us what's wrong with this post? How could we improve it? :)
Let us improve this post!