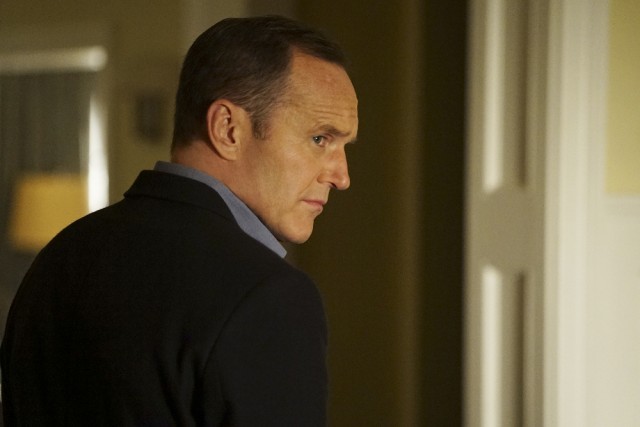 Now that Agent Carter has finished up its second season, Agents of SHIELD will resume Season 3 tonight on ABC, and these two sneak peeks from the episode, titled "Bouncing Back," indicate that fans are in for an intense but also fun hour of television.
That "intense" part comes from Coulson and Fitz, both of whom are still clearly recovering from their trip to the mystery planet in the fall finale. It seems that the darkness that was awoken in Coulson after Rosalind's death still very much remains, even after he killed Ward, and it's on display during his short exchange with Fitz in the one clip below. Even though Coulson's plan seems a little risky, he's moving ahead with it, despite any objections from his team.
Meanwhile, the other clip from "Bouncing Back" shows the lighter, more fun side of SHIELD, as Bobbi and Hunter imagine what it would be like to have Inhuman abilities. Hunter even admits to taking one of the fish oil pills, while Bobbi says that she only thought about taking one once.
"You two deserve each other," Mack tells them, shaking his head.
Agents of SHIELD kicks off the second half of its third season tonight at 9 p.m. on ABC. Check out the two clips from "Bouncing Back" below:
No longer able to keep powered people out of the public eye, Daisy and Mack press forward to find more Inhumans, building a team of secret warriors whose mission is to train and protect powered people. However, the growing presence of Inhumans proves to be a polarizing issue, and the S.H.I.E.L.D. team must face conflicting public opinions and defend their team from groups who have a more extreme ideology.

The divide between those who want to protect Inhumans and those who seek to destroy them is constantly widening, and Hydra, now strengthened by Grant Ward, looms once again. However, Ward is no longer the same villainous traitor that they once knew, and the team faces an all-new enemy, whose motivations, goals and strengths are unclear. Uncertain about who (or what) they are facing, the stakes for S.H.I.E.L.D. and their assembled group of Secret Warriors are higher than ever, bringing some members of the team closer together and driving others apart. Will S.H.I.E.L.D. be able to stop one of the most powerful Inhumans to walk the Earth?
[Photo credit: Eric McCandless/ABC]
Tell us what's wrong with this post? How could we improve it? :)
Let us improve this post!