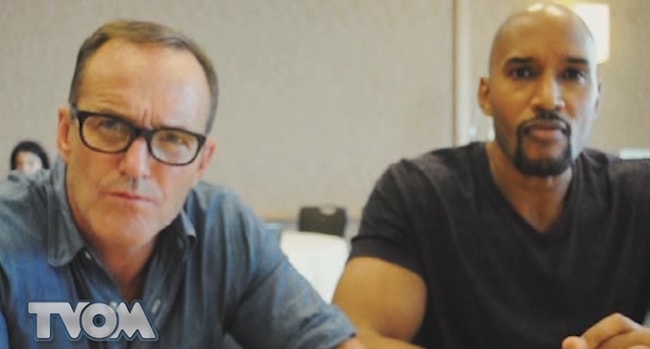 Marvel Television's beloved spy series, Agents of SHIELD, is entering its fourth season this fall as we follow the cases and adventures of Phil Coulson (Clark Gregg) and the S.H.I.E.L.D. organization. The fourth season will be featuring more changes than just a new timeslot as we'll be seeing the arrival of Robbie Reyes a.k.a. Ghost Rider, the spirit of vengeance, played by Gabriel Luna.
Last week at San Diego Comic-Con, TV Overmind participated in the Agents of SHIELD Press Room with several outlets to chat with the cast and crew behind the show to get some insight into what is coming in Season 4. Clark Gregg and Henry Simmons, who play Phil Coulson and Alphonso "Mack" Mackenzie respectively, were two of the great talents we spoke with as they teased Ghost Rider's arrival and more.
Highlights of the interview:
-The series introducing someone like Robbie/Ghost Rider in Season 4, unlike any of the previous comic book characters they have had on.
-Why Gregg and Simmons personally don't feel the need of Agents of SHIELD having to do crossovers with the films.
-What Marvel characters they would like to see introduced and how they feel about the ones they have introduced previously.
-The continuing evolution of Coulson and Mack's relationship over the past two seasons and leading into Season 4.
-Where their characters will be at, at the start of Season 4, with Daisy (Chloe Bennet) having gone rogue and MIA.
[youtube https://www.youtube.com/watch?v=Z93jz6LMBkQ]
Agents of SHIELD Season 4 begins on Tuesday, September 20 at their new time, 10/9c on ABC. Stay tuned for more roundtable videos of the cast and producers in the next few days right here at TVOvermind. What are you most excited about the 4th season of Agents of SHIELD? Are you looking forward to see the arrival of Ghost Rider? Let us know in the comments below.
[Photos via YouTube]