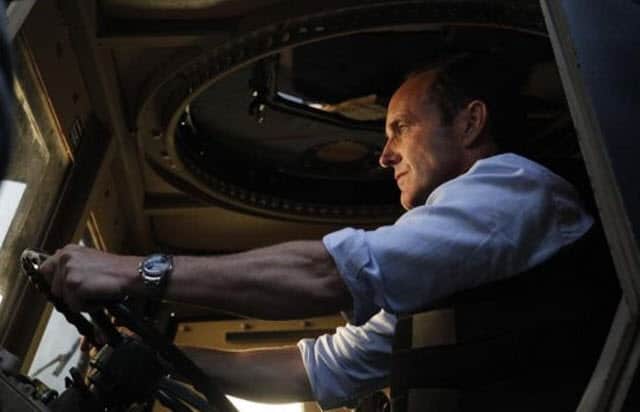 Everything that Agents of S.H.I.E.L.D. has building up towards since episode 16, came to a phenomenal conclusion in last night's exceptional season finale.
The thing that was especially shocking with the finale, although perhaps one of the reasons why it became so much better was because of the fact that none of our main characters died. It's really too early to say goodbye to any of them and even though Fitz's status for next season is an enigma (although we do know that he is still alive) as well as what is going to happen to Ward now that he has been captured, it's good that we still have all of them.
All they need to do now is get B.J. Britt and J. August Richard promoted to series regular, it's more likely that Britt will be getting promoted since Deathlok has now walked off, but you never know, he could be coming back, which he hopefully will. It would be nice to have a sort of, super-character in the S.H.I.E.L.D. team.
I think it goes without saying that anything with Samuel L. Jackson makes everything the movie or a TV episode, just a little bit extra awesome. You just can't go wrong with Jackson, especially as Nick Fury who I'm happy had more than just a cameo in this episode because he got set a lot of things straight for us viewers. The best part of his role in this episode was that he got to interact with almost all the character, especially when he rescued Fitz and Simmons. The moment when he did that, it felt like reading a comic book page where you are trapped somewhere, but then the hero shows up in the right second and saves you.
Skye had a lot of growth in this episode and she has grown quickly into a very good agent and that is something to look forward to in season two as she still has a lot left to learn. Her confrontation with Ward was charged and seeing Melinda popping up from nowhere to kick Ward's butt. Even though the actor is great and Ward is a great character, it was phenomenal to see May literally nail his foot into the ground. Even Coulson's little speech to Ward before he got taken away, was classic Coulson.
While Coulson finally got to lash out on Fury for bringing him back from the dead, the moment that I have been speculating about for several episodes which was what Fury's real purpose for bringing Coulson back. We get to see him confess to Coulson that he is basically seen as an Avenger to Fury, followed by him asking Coulson to rebuild S.H.I.E.L.D. which has now set up the perfect arc for season 2. But it will also be a very interesting lead-in for Avengers: Age of Ultron!
After seeing Garrett turn into Super-Garrett, it was expected to see him being a bit out of his mind, but he went into overdrive with the craziness. But it was still fun to see him being similar to Joss Whedon's other big bads' in his previous shows. The thing that was most outstanding was when he turned into Deathlok, but then got pretty much owned by Coulson who used that device against him.
Last but not least, the fans did get a little sneak-peak for season two which was Raina going to Skye's father and informs him that she has found his daughter. Who could this be? Is it a Marvel character that is perhaps going to be the big bad for next season or is he actually going to be a good guy? We will have to wait and see, but it would be nice to get a casting announcement for the father in the summer.
Overall, "Beginning of the End" was a remarkable season finale to what has been a long and evolving season for the Marvel freshman show. The show has fixed itself a lot and while there are still some things that need to be improved, they have succeeded into making this show into something that a lot of people will follow.
With Comic-Con coming up in two months, we will have more details about what to look forward to in season two that was officially ordered last week, along with a pick-up for Agent Carter so it's going to be a great time for Marvel fans this fall.
Marvel's Agents of S.H.I.E.L.D. has been renewed for a second season, which will start on a new timeslot, Tuesday nights, 9/8c this fall on ABC.
[Photo via ABC]