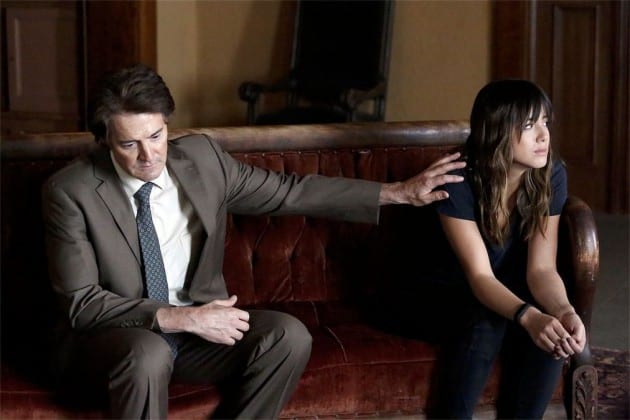 Fans of the Marvel TV show, Agents of S.H.I.E.L.D. had their biggest night ever as the show took to a whole new level with the official introduction of the Inhumans as the character Skye learned her true identity.
There is no denying that the winter finale was the biggest episode of this show since the season finale of last year. Jeffery Bell (executive producer of the show) wrote this episode and I have to say that it's the best written episode of the season because look at everything that came together last night. We finally got the reunion that we have all waited for between Skye and her father. One of the biggest fan theories came to fruition as Skye was revealed to be the Marvel character Daisy Johnson also known as Quake, a character that I have wanted to see on the show for a very long time. The other part of that theory was that Skye's father was in fact Mister Hyde who is Daisy's father in the comic books.
The entire interaction was breathtaking as Kyle MacLachlan and Chloe Bennet shared some incredibly intense and powerful scenes. It's a dynamic that I would have been fine with watching for the entire episode. Bell sure knows how to write twisted yet compelling father/daughter relationships because this was fascinating. I really enjoyed seeing him explain to Skye/Daisy (what do we go with at this point?) about her so called "destiny". I think the decision to make Skye the character of Quake is absolutely genius. To those who wanted Avengers on TV: you just got yourself another one, with Mockingbird being an Avengers member in the comics as well.
This episode was about so many different arcs from S.H.I.E.L.D. vs. Hydra to the Skye backstory. Even though we had a lot of great focus on FitzSimmons, Bobbi and Hunter and so on, to me, "What They Become" was really Skye's episode which I had no problem with. One thing that really made me open my eyes for Mister Hyde was that in my eyes, he wasn't really a villain: he was just a damaged man. He only had one thing in mind and that was being with his daughter, but because of all those years, he obviously snapped. I'm glad that he didn't end up dying in this episode; however, we did have a few deaths in this one. I was somewhat shocked that Whitehall's run came to an end, but I get it. Reed Diamond was freakishly good as the calm villain that he was.
The moment that almost every viewer and Marvel fan has been waiting for finally happened in this episode as the concept of the Inhumans was finally introduced into the Marvel Cinematic Universe on the show. Raina activates the Diviner and lets the Terrigen Mist out as the powers within her and Skye are activated and we see the MCU's two first Inhumans. That whole scene was done majestically with the score and Skye's reaction as she becomes Quake. Sadly a mind-blowing finale wouldn't be mind-blowing without a tragic event that will devastate their viewers as Trip gets turned into stone after getting a piece of the crystal on him. As the place starts to crumble and shake, Skye sees one of her closest allies fall to pieces.
To make a long statement short, I'm very sad and disappointed that Trip got killed off and this pretty much explains why the amazing B.J. Triplett sadly never got promoted to series regular. While this is Marvel and it's a comic book show, I'm not hopeful that he will come back to life, unless the Trip we saw in that city was just a LMD. But for the time being, Trip is going to be deeply missed as he was a fantastic addition last season. The thing I look forward to see though is how this will follow Skye/Daisy in the second half of the season.
Overall, this was one of the most amazing hours of not just the show, but television in general. We get a glimpse of who our next villain is as we see a blind man who is in possession of another Diviner and is most likely Inhuman. It has been speculated that this is most likely a character named, ironically, "Reader" a very recent character in the comic books. But that and more will all be explored when the show comes back in March. This s was an outstanding way for Agents of S.H.I.E.L.D. to wrap up the first half of Season Q. If you know people that gave up on the show last year: get them to go through the first 10 episodes of this season and see what they say then.
Marvel's Agents of S.H.I.E.L.D. returns with brand new episodes, starting on Tuesday March 3, 9/8c on ABC and make sure to tune in for the mini-series Marvel's Agent Carter that will kick off with a 2-hour series premiere in S.H.I.E.L.D.'s timeslot, starting on January 6 at 8/7c.
Photo via ABC