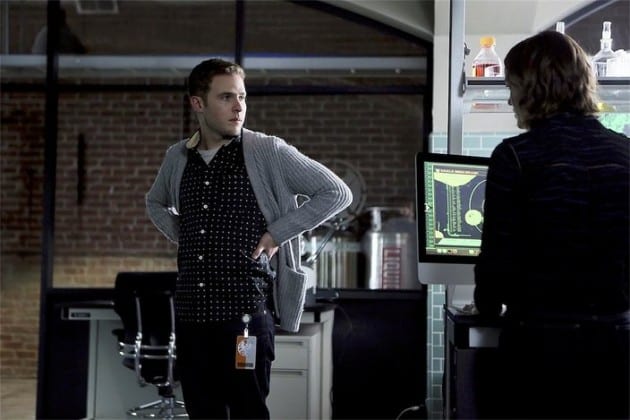 Another week, another mixed episode of Marvel's Agents of S.H.I.E.L.D. as we continue to discover the "real" S.H.I.E.L.D. that Bobbi and Mack have been working for, featuring a big guest appearance by Battlestar Galactica's Edward James Olmos as Robert Gonzales.
It was hard to find anything positive in this storyline with the people that Bobbi and Mack are working for because it just feels out of place, and it's still a bit of a letdown that the big secret was that there was another S.H.I.E.L.D. that is claiming to be real. I was for once just cheering for Hunter (that took a lot for me to say) throughout the entire story, while I was irritated with Bobbi and Mack. The thing that strikes me as most annoying with this is the fact that instead of actually trying to work together with Coulson's S.H.I.E.L.D., they just want to do whatever they can to take him down.
That's how it came across to me, that Gonzales and the rest of them have no interest in hearing Coulson out and instead just see all of his secrets as a threat. I will give the showrunners props for making me want to keep watching and learning more, despite how frustrating and possibly unnecessary this "real S.H.I.E.L.D." plot really is (it's a good sign when a show can keep you hooked, even though you want to kill the heck out of a certain plot). I will also give Agents of S.H.I.E.L.D. some leeway here, because it is still so early in this arc, and there's absolutely the chance that there might be a more to all of this.
Everything that I enjoyed about this episode had nothing to do with Gonzales and his group, but what was happening back at OUR S.H.I.E.L.D. Coulson and May reveal that they are on to Mack and that makes me happy. The fact that they revealed that they know something is up with Mack stays true to the intelligence of both of their characters, as they are some of the strongest S.H.I.E.L.D. agents that both the old and new version were fortunate enoguh to have. Otherwise, it would feel like they were making the characters dumb when there is no reason to do so.
Finally, we got to see Ward again and his new relationship (I don't even know what to call it) with Agent 33, and I swear to Fury, this was so bizarre to follow all the way through, but in a great way. I don't know if I like or dislike Agent 33 yet, because I think her whole arc has been so tragic since Hydra made her comply and messed her up. However, I love the intrigue of it all so I'm all in for this. It was great seeing characters like Bakshi and Talbot back, especially because we actually got see a lot of Talbot this time around.
I'm having a hard time this week putting my thoughts into text when it comes to Skye's little journey, as she is now off the bus to get some peace and quiet. However, Skye's story is definitely one of the highlights in the season as of right now because of how it's connected with the Inhumans plot and the exploration of her becoming a superhero one day. Overall, I liked this episode more than I did last week's, and hopefully, I will come to feel less frustrated and more cheerful in these next couple of episodes.
Marvel's Agents of S.H.I.E.L.D. airs on Tuesday nights, 9/8c on ABC.
[Photo via ABC]