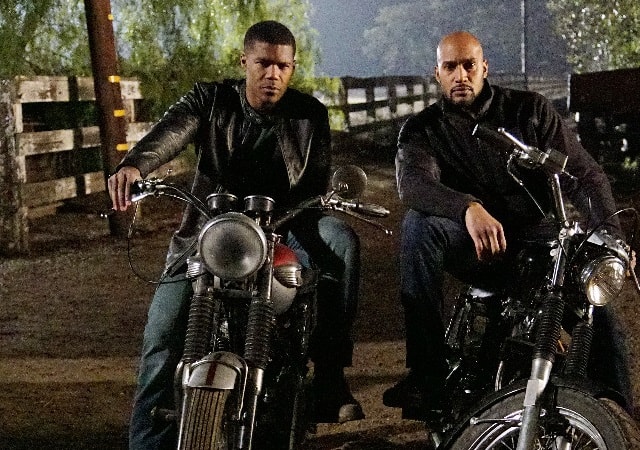 After the sad departure of Mockingbird and Lance Hunter last week as they are heading into their own spin-off series, Marvel's Most Wanted, this week's Agents of S.H.I.E.L.D. focuses heavily on Mack as he deals with their absence while also getting introduced to the Marvel group, Watchdogs.
Very little seems to be able to crack that big shield that Mack has built around himself, but with his friends now out of the organization, we got to spend a lot of time on his emotional side and go a bit deeper into his personal life which I really appreciated. I bet it must have been nice for Henry Simmons to get to play with that side of his character too as we don't really see him hurt that often, both physically and mentally. I liked that we spent so much time with Mack being back at his house and meeting his brother who he had lied to this whole time about what he really does for a living. The one thing that I was deeply concerned about was that we would get another scenario where the brother of one of our heroes is working with the villains of the week.
Luckily, Ruben was not involved with the Watchdogs at all, although he wasn't too thrilled about finding out that his big brother had been lying to him. On the subject of the Watchdogs, a group that I'm not familiar with from the comics: they didn't really do much for me other than act as a serious danger to Fitz at one point in the episode. They pretty much reminded me of the Demolition Team that recently appeared on Arrow, although this group might be a bigger problem down the line. What was interesting though about this group was their leader who turned out to be an old ally: Felix Blake.
As someone that actually liked Blake before S.H.I.E.L.D. fell back in Season One, I wasn't sure how to feel about his villainous turn in this episode as he made his return. We never really knew that much about him as he was a very minor character from the Marvel One-Shots so in his defense, maybe this is who he always was before he joined the organization. I just didn't know how to feel about it throughout the whole episode, but I'm open to see more of him, if he is in any of the upcoming episodes for the rest of the season. The ending where we do see the real Blake who is in a wheelchair now, got me curious as we learn that Hydra is backing up the Watchdogs.
Another emotional aspect of this episode was the interactions between May and Simmons as they try to work out a plan to find and capture Andrew/Lash. I couldn't help, but feel sad for both of them as Simmons expressed her guilt while May is dead set on just taking Lash down and not wanting to try make a cure for him. As much action and super-powers as this show has, they always nail those special emotional beats. Although I wouldn't be surprised if May will have a difficult time taking him down whenever she does come face to face with Andrew again.
Overall, this was a step-up of an episode for the show as Mack got some really good focus (and a shot-gun-axe!) while Coulson and Lincoln start to find common ground which was nice. And there better be a scene soon when Daisy does call Mack, Alphie over and over because the comedy would pretty much be writing itself in a scene like that.
Agents of S.H.I.E.L.D. airs on Tuesday nights, 9/8c on ABC.
[Photo: ABC]
Summary
Mack deals with Bobbi and Lance's departure while Daisy and her group deals with the Watchdogs in this week's Agents of S.H.I.E.L.D.