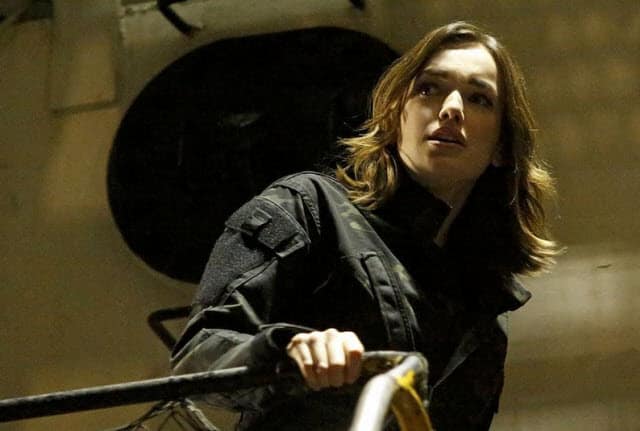 This week's episode of Agents of S.H.I.E.L.D. was all about Fitz and Simmons, sadly apart from each other still.
Pretty much everyone freaked out when the promo for this episode aired last week, showing Simmons being part of Hydra, but of course there was a reason for that. Elizabeth Henstridge was one of the breakout stars of last year's TV season and having seen her character evolve so much has been a fun journey.
The Simmons we meet in this episode is still witty, charming and smart, but in a more grown up way. The opening scene with her living a cheerful life, only to cut to the Hydra logo was comedic even though the tone changed so fast after those opening minutes. She was in a way, our eyes in this episode because we get a deep look into what Hydra has partly become.
There was however not a single moment when I thought that she had actually betrayed S.H.I.E.L.D. so when we see Coulson later in the episode reveal that she went in there to gather intel for them, it wasn't shocking. But it shows how much braver and experienced Simmons has become ever since the first season where she wasn't really a field agent. However, even though Simmons has been able to get her way in with Bakshi, she needs to keep an eye out because if she isn't careful and if her "loyalty" for Hydra starts crack: she might have to comply.
The episode features the return of Donnie Gill aka Blizzard from last season and it was kind of a surprise to see how dark he had become after his last appearance. I thought he would be a little bit spunky, but as he said himself, he was pissed. The visuals for his powers were up to notch with how the effects have been so far in this season. The only thing that sort of disappointed me was that Fitz didn't get to encounter him because if you really look at it, he became one of Fitz's enemies so it would have been great if they had interacted. I wasn't thrilled either with what happened to him in the episode because this would have been a fun recurring villain to have around.
We also get a big taste of the new villain of the season, Daniel Whitehall aka Kraken and Reed Diamond is killing it in that role. Even though we have no single idea how he is still alive and looking young as day, this is someone that I can buy as a villain. They reveal how they are recruiting agents to their organization and it's part because of brainwashing. The scene where they are trying to get Agent 33 to comply was haunting and I always love villains who are able to really own a scene in a calm state.
There was a lot of focus on Fitz and this is one of Iain de Caestecker's most outstanding episodes in the whole series so far. Even though it hurts to see him damaged, you can't deny how moving his acting is, especially when he decides to pay Ward a visit. Even though I'm not sure if Ward can be redeemed, I still believed his words when he said that he was actually trying to save FitzSimmons by doing what he did last year. But seeing Fitz actually being able to say that he is damaged on his own was heartbreaking and for a second, I didn't mind seeing him torture Ward and make him feel what he felt.
While I don't have much to say on the subject for now, we see Ward finally telling Skye that her father is still alive and that he is looking for her. Seeing her reaction to it after she left the vault was compelling and it makes you wonder if we got to see her learn so soon that her father is alive, how soon will it be until they actually meet.
Overall, another solid episode for Agents of S.H.I.E.L.D. and even though season 2, critically, is off to a great start, I just wish the ratings would reflect it, but for right now, both fronts seems to be stable for the show.
Marvel's Agents of S.H.I.E.L.D. airs on Tuesday nights, 9/8c on ABC.
[Photo via ABC]