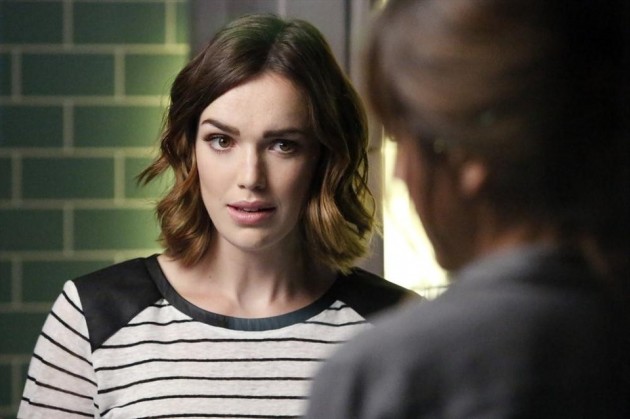 After a one week hiatus, the ABC drama, Marvel's Agents of S.H.I.E.L.D. is finally back as it continues the mystery of Coulson's carvings also known as the alien writing while the episode also focuses on Ward trying to get away.
The episode picks up just a little time after Ward had escaped as Bobbi, Hunter, May and Triplett went after him, but it turned out to be trickier than they expected. As we have seen in the first season, Ward is incredibly trained and he always is one step ahead of most agents so it wasn't easy for them to get him. It begins in a train station where Triplett tried to get him, but bombs attached to Ward hindered him from going after him.
Ward has slowly and easily become one of those TV characters that I absolutely love to hate with a passion. Don't get me wrong, I have nothing against Brett Dalton as he is a very talented actor and knows how to get twisty. But the way the writers are going with him, you can't help to hate this character so much. I really enjoyed the scene on the bus (not the plane, an actual bus for once) where he saw through Bobbi's cover and that even someone as butt kicking as her couldn't get him.
While there have been some brief talks about how and if there will be any tie-ins between this season of Agents of S.H.I.E.L.D. and the upcoming Marvel movie, Avengers: Age of Ultron, we did get sort of an early tie-in. Ward mentions "Strucker" as in Baron von Strucker (played by Thomas Kretschmann) during his meeting with Bakshi, confirming that Ward does know him in some capacity. Wouldn't it be interesting to see him at the end of the season and have it lead into Age of Ultron? I'm just putting it out there folks as a suggestion.
Meanwhile, while that's going on with dear old Ward, Coulson tries to get to the next step about the alien writing/carvings that he have been doing. The mystery has been a long arc since the end of last season and seeing how it all went down in this episode was done in a very good way. We learn about the tattooed man from the episode two weeks ago as he is one of the many T.A.H.I.T.I. patients that Coulson had dealt with, long before he got TAHITI-ized. More than ever do I appreciate and understand the reasons for moving the show to 9 PM this year because there was some seriously dark stuff here.
The biggest surprise was seeing Coulson lock Skye up after having gone through the memory machine as that was the moment when I thought that he had really snapped. Seeing Coulson having to relive some of those horrible memories were painful and while it probably wasn't as painful as getting stabbed by Loki in The Avengers, this probably comes second. We learn that the carvings are not a map, but blueprints of a city that they are now going to look after. I'm wondering more and more if the show is going to take part of the cosmic side of things that Phase 2 has been going through since Thor: The Dark World and Guardians of the Galaxy.
Overall, "The Writing on the Wall" was a very solid episode for the show that continues to step up a lot as the second season has improved the series on so many levels. It was great to finally get the first big piece of the alien writing solved and in a way, this arc has now completed phase 1 and is now into its own phase 2 which is finding the city.
Marvel's Agents of S.H.I.E.L.D. airs on Tuesday nights, 9/8c on ABC.
Photo via ABC