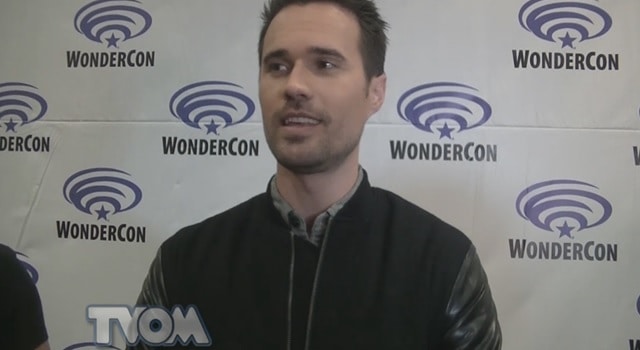 We are getting deeper into the second half of Season 3 for Marvel's Agents of SHIELD as the Secret Warriors are expanding as well as the enemies. Recently, TV Overmind was fortune enough to participate in the Agents of SHIELD press room with other news outlets at the press line where stars and producers from the show discussed what viewers can look forward to in the second half of the third season.
Brett Dalton, who plays Grant Ward whose body is currently possessed by the villainous Hive, was there to talk about Hive's arc in the second half of the season as well as tease what is coming up in tonight's episode where we do see more of Hive in action as he has been adjusting to life on Earth. Here are some of the topics he discussed:
-What the first meeting will be like between Daisy Johnson (Chloe Bennet) and Hive when/if they meet again.
-How he prepared to get into the character of Hive, beyond looking into the comic book version of the character.
-Whether or not Ward is 100% dead as Hive can access Ward's memories and thoughts.
-If there is something that he want to see from the Secret Warriors comics make on to the show in the rest of the season or even Season 4.
[youtube https://www.youtube.com/watch?v=o0Ya-WZMO3U]
"Spacetime" — When Daisy gets a horrifying glimpse of the future, S.H.I.E.L.D. races to prove that fate is not fixed, on "Marvel's Agents of S.H.I.E.L.D.," TUESDAY, APRIL 5 (9:00-10:00 p.m. EDT) on the ABC Television Network.

Guest starring are Blair Underwood as Andrew Garner, Matthew Willig as Lash, Powers Boothe as Gideon Malick, Mark Dacascos as Giyera, Alexander Wraith as Agent Anderson, Bjorn Johnson as Charles Hinton, Wolfgang Bodison as Edwin Abbott, Lola Glaudini as Polly Hinton, Markus Flanagan as Rowan Hamilton, Scott Broderick as officer, Matt Ferrucci as S.H.I.E.L.D. agent and Andrew Thacher as Rowan lawyer #1.

"Spacetime" was written by Maurissa Tancharoen & Jed Whedon and directed by Kevin Tancharoen."
Agents of SHIELD airs on Tuesday nights, 9/8c on ABC.
[Photo via YouTube]
Tell us what's wrong with this post? How could we improve it? :)
Let us improve this post!