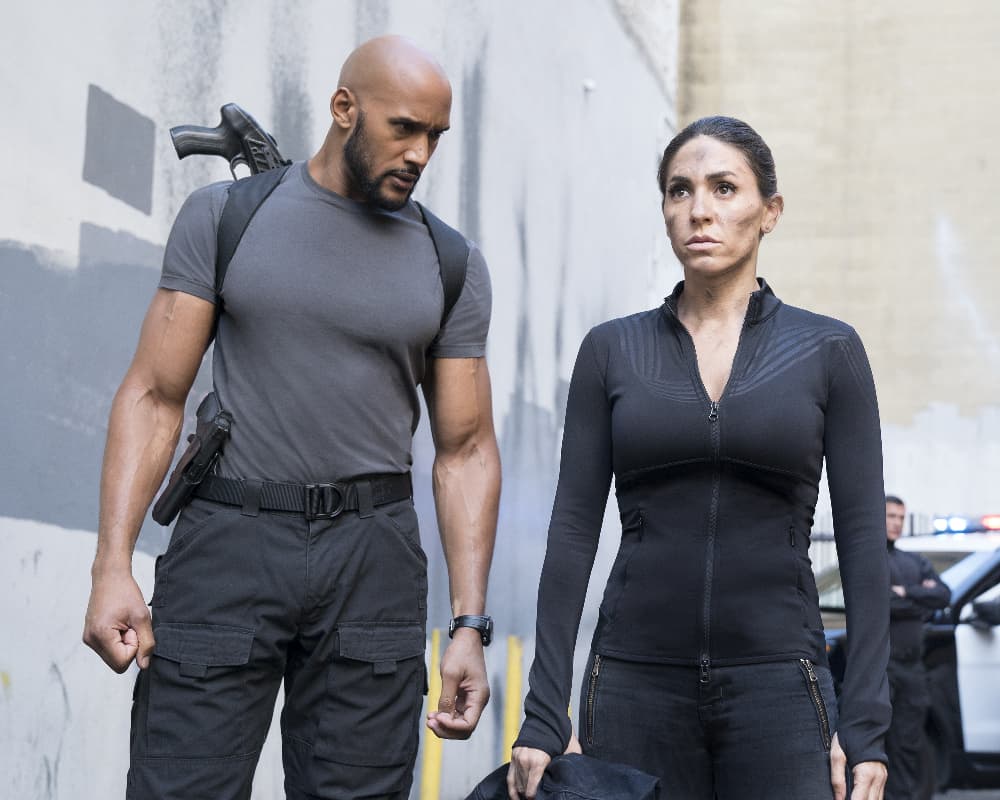 In the final episode before the mid-season break, Agents of SHIELD begins to bring it's stories together and really set up for the season's second half. The show has introduced a ton of new stories in season 4, and most of it has been way better than anything in the previous seasons. Ghost Rider has been an amazing addition, mainly thanks to Gabriel Luna, and the introduction of the Life Model Decoys is a huge event for the entire Marvel Cinematic Universe. SHIELD finally seems to be becoming the show everyone wanted it to be, taking a look at the operatives carrying out ground missions that still pose a huge threat, and this mid-season finale seems to prove that the show has plans to only continue trending upward.
In the past, SHIELD has struggled from introducing characters who severely lack personality, and that's what has been so refreshing from having Robbie as a part of the cast now. Gabriel Luna has done a great job with the role, but the actual character of Ghost Rider has better motivations and more personality than most of the other leading male characters previously on the show. While the visual effects have been top notch in each episode, SHIELD has primarily utilized Robbie in non- Ghost Rider form and it really does humanize the character well. His arc throughout this season has been a fun one and the show did a nice job of roping it into everything else going on. Between having to confront his uncle and finally revealing his secret to Gabe, Robbie has dealt with some very personal conflicts. "The Laws of Inferno Dynamics" finally reaches a conclusion for this Ghost Rider arc with a final showdown between Robbie and Eli, and it shows how much of a hero Ghost Rider is, despite his aggressive and unconventional methods. However, the sacrifice Robbie makes really displays how, at the character's core, he's a hero, and while some of his victims are a result of the Rider, he's really embraced his role in everything.
Aside from Robbie, the other big introduction to SHIELD season 4 has been the new director, Jeffrey Mace (a.k.a. Patriot). The character stepped into Coulson's role and has been really hit or miss throughout the first half of this season. While Jason O'Mara has been perfectly fine in the role, the character has just felt completely cliched and like the typical politician character. The plot of introducing a new director has been a fresh change for SHIELD to have; not only has it brought another fresh face in, but has also set Coulson free to finally be more interesting. Although "The Laws of Inferno Dynamics" displayed that the character still can't fully be trusted, it was nice to see him step up and defend his Inhuman roots. Daisy has technically been a fugitive this season, but as viewers know, she's not a bad person. Mace hasn't been able to see that, mainly because since he stepped into the Director role he hasn't had much interaction with Daisy. It was just extremely refreshing to have him stand up and defend the Inhumans and afterwards invite and acknowledge Daisy coming back to SHIELD officially.
Yet, although SHIELD accomplished a lot of good things in last night's episode, the show had one misstep. The introduction of the Life Model Decoys was a really neat story to kick off through the show. The androids play a huge part into the Marvel Cinematic Universe and incorporating their origin through SHIELD is a great choice. Yet, the whole season the dialogue has included multiple lines questioning whether or not anyone learned from Ultron and to be cautious with this type of technology. Aida has been a fun addition to SHIELD but her evil turn in "The Law of Inferno Dynamics" was cliche and feels super repetitive. Part of the curiosity behind Aida was how the show would continue to progress her and the LMD story while avoiding using the androids as a threat. The story has a chance to play out before being fully judged, but the reveal isn't anything new and feels a little boring. Along with this, why does it have to be Agent May who has already been replaced? This woman has already been impersonated by Agent 33 and suffered from the ghost infection earlier this season, and once again the actual character is being sidelined for an impostor, and it's becoming really frustrating.
Overall, Agents of SHIELD has come a long way from where it began, and the show finally feels like it has a consistent grip on where it wants to go. The first half of season 4 has gotten off to a blazing start thanks to Ghost Rider (ha) and continuing to bring more characters with powers onto the show. While the LMD plot does feel tired at this point, hopefully SHIELD can put a solid spin on it and keep things interesting, because the show has never been better than it is now.
Other Thoughts:
*Mace's reaction to Aida is great.
*I assume Ghost Rider will be back this season because he didn't really get closure with anyone, and… cause ya know… Gabe is going to wonder where his brother and uncle went. Hopefully the character can transition to Netflix though.
*No trust on the team, it's a slow build but nobody is on the same page.
*"The Synthetic blood is just for effect"
*Yo-yo and Mack…. about time.
*So May is and LMD now… the robots are evil. sigh.
Agents of SHIELD Season 4 Episode 8 Review: "The Laws of Inferno Dynamics"