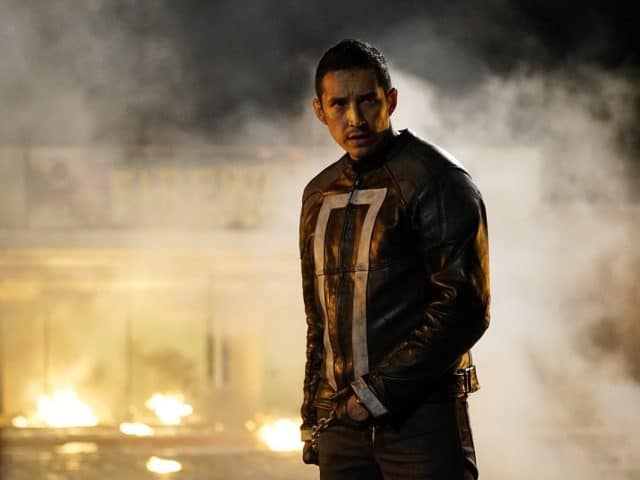 Through four episodes, this season of Agents of SHIELD has moved along at a much higher pace than the previous ones. The show has always struggled to find a good balance of being a good show that can stand on it's own while also appealing to fans with the inclusion of traditional Marvel elements. In the past, Agents of SHIELD has gotten to the point where it built characters up to solid points surrounded by good stories, but always struggled to move on from tired out characters and mediocre plot lines that should have been over with after the first season ended. This season really seems to be benefiting from the new time slot where the stories and characters operate on a more mature level, especially Ghost Rider. Last night's episode, "Let Me Stand Next to Your Fire," only echoed these points, and was a great display that the show might have finally found a consistent way to deliver great stories.
Agents of SHIELD has set up two long-term conflicts in this season so far; the Watchdogs attempting to hunt down and kill Inhumans, and the ghosts attempting to relocate the Darkhold to fully carry out their original plan or possibly restore their bodies from ghost form. The Watchdogs plot hasn't been overly interesting so far, but there is some movement on that plot in this episode when it is revealed that they have hacked into SHIELD. Not only does this reveal how the group is hunting down these Inhumans, but it also is one of the last things SHIELD will want to worry about when the organization is just returning to the public eye. This complication makes the Watchdogs a little more interesting because they are a real thorn in SHIELD's side currently, having the power to expose how easy it is to breach their systems at any point. It's a shame that Hellfire turns out to be the source for the Watchdogs access, but his character has never been a good guy before, so why would he start now?
"Let Me Stand Next to Your fire" does a great job of pairing characters together for fun episodic arcs. Daisy and Simmons small adventure is a ton of fun and it's great to see the characters interact with Daisy once again. Yet, the Coulson, Mack and Robbie trio was phenomenal as well. Deciding to place these three together was exciting and the story built it up really nicely as well; starting with the street race/chase was really sweet to watch, but Agents of SHIELD handled the development between these characters well. It's great having Robbie on the show, but he has been slowly crossing paths with the series regulars and it would be nice to have him temporarily partner with SHIELD sooner rather than later. In the past, Agents of SHIELD has always left a lot of the show's characters feeling bland and one note, but so far in season 4, having people such as Robbie and Yo-yo is proving to be more and more beneficial.
On top of these two character interactions, Fitz and Radcliffe also continue to be a fantastic pairing with one another. The actors have great chemistry and the plot of advancing the Life Model Decoy technology is a big part of the MCU, and might even be something from Agents of SHIELD that really gets spread across into future movies. Radcliffe is a ton of fun, mainly because he doesn't care about getting in trouble if it will benefit his work. His reasoning to use May as the subject to test Aida's realness is pretty smart, but Fitz's discomfort with the entire situation is a goofy counter balance to things. May is fully buying into Aida but Fitz's clear meddling is what almost ruins the fun. Fitz is one of the characters who has grown the most in Agents of SHIELD, and his story with Radcliffe seems like it will continue adding to the character's growth this season. The LMD project could really be Fitz's big claim to fame going forward and something that he can boldly stand by and fight for in a season where he seems to be feeling disconnected from the rest of his friends.
Agents of SHIELD has never been a groundbreaking show, but it has always been a really fun addition to the MCU. While it has never seemed like the show was fully standing on it's own, the fourth season is finally doing just that. The characters that have been incorporated more frequently are awesome additions while also finally having solid actors to portray them. The stories are still finding ways to stay connected to the MCU movies but are developing more complex and well thought out story lines that are actually engrossing. However, as each week goes by, it remains clear that bringing Robbie Reyes a.k.a. Ghost Rider into Agents of SHIELD was one of the best choices so far. This season has been the most unique and hopefully it continues to build and connect on multiple different levels that keep things compelling.
Other Thoughts:
Coulson v. Robbie race was fun. Loved watching those cars in action and the classic Grease feeling they gave it.
Darkhold is going to be a pretty big part of the season which is super cool. While the ghost plot started out a little rocky, it seems like SHIELD has started tying it into the main story more complexly.
Hellfire betrayal was pretty typical and not surprising. It would have been nice if they had made the character more remorseful and happy to be alive instead of bitter for becoming an Inhuman in the first place.
Ghost Rider grabbing the chain from Hellfire was SUPER EPIC. His transformation every time is amazing and the visual effects look great.
"Did two fire dudes just drop into a warehouse full of fireworks?" "You had to see that coming" – I'll bite, I enjoyed that line.