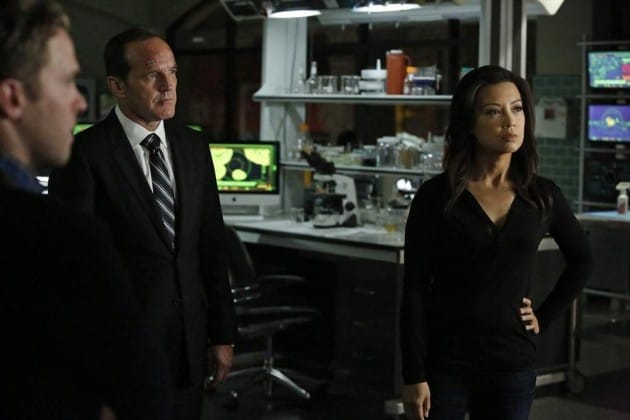 After three very long months, ABC's other Marvel series Agents of S.H.I.E.L.D. finally returned to provide answers to the many questions posed by one of 2014's biggest winter finales, when the Inhumans were fully introduce into the Marvel Cinematic Universe through the characters Skye/Daisy Johnson (Chloe Bennet) and Raina (Ruth Negga). The midseason premiere can only be described as emotionally charged as we saw a family trying to get back up after the loss of Trip (B.J. Britt).
Going into this premiere, it was already established that it would be one of the saddest episodes of Agents of S.H.I.E.L.D. ever. Yes, there was plenty of good action to go around, but what was more important here was following up with each and every one of these characters as their world was forever changed once again. Skye's presence in "Aftershocks" was probably the one that was the most compelling, as we were watching the team through her eyes.
Then there is good ol' Raina, who sadly was the one to suffer the most out of the Terrigenesis transformation. Ever since day one, when this character showed up on the show, I always suspected that this was the comic version of Raina (who is a minor mutant in the comics). Then, during season, we learned that she was an Inhuman, so since December, I have wanted to see if they were actually going to go through with adapting her actual comic counterpart. As of last night, it seems that we got a very well adapted version of that appearance and the makeup team deserves some serious props. That can't be easy to apply, and for a TV production, it looked something like you would see in a film. You can't help but feel sorry for Raina as she had everything taken away from her. It will be intriguing later in the season when we see what side she really picks as Gordon (who I still bet is the Inhumans character, the Reader) saves her at the end of the episode and seems to hint that he is going to help her.
Speaking of Gordon, we got some great flashbacks of him with Skye's mother, as it was revealed that she was one of the people to help the Inhuman society back in the early age. Hopefully, this aspect is something that we will see more throughout the season because it would be pretty neat to see what these people had to go through in the past. Even though the Inhumans movie is over four years away, the decision to let this show introduce them into the MCU is one of the best decisions Marvel has ever made.
There was an awful a lot of tension in this episode, which is totally understandable; it was just unusual to see how much of it there was. Mack's reaction to the whole thing was one of the most realistic ones in all honesty, because this is a man who had alien technology take over his body and is now surrounded by more super-people, in this case: the Inhumans. I also feel that his lashing out was something he had been bottling up for a long time, because up until the winter finale, he really didn't have much to fear.
Simmons' behavior is the only thing that I want to nitpick on in this episode. While I get that she is scared to death about everything that is happening, her whole "it's a plague, we need to take Raina down or anyone that was affected by the mist" just felt a little over the top. Maybe over the top isn't the right definition here, but I will say that it felt way out of character for her to get to that point in such extreme measures.
Speaking of surprising character moves, Fitz did something that I never expected him to do by lying to the team about Skye's DNA results and hiding that she has also transformed. It makes so much sense why he did it because he gets what it is to be looked at when you are different, and he wanted to spare Skye from that because she needs as little stress as possible. I hope to see them grow closer to one another.
While I could speculate for hours and days about Bobbi and Mack's secret, I'm just going to sum up and say that I think they are forming the West Coast Avengers. Overall, this was an excellent winter premiere, and it was a great follow-up to the finale as almost everything has changed. These 11 upcoming episodes will be something that I will look forward to tune in to every week.
Marvel's Agents of S.H.I.E.L.D. airs on Tuesday nights, 9/8c on ABC.
[Photo via ABC]