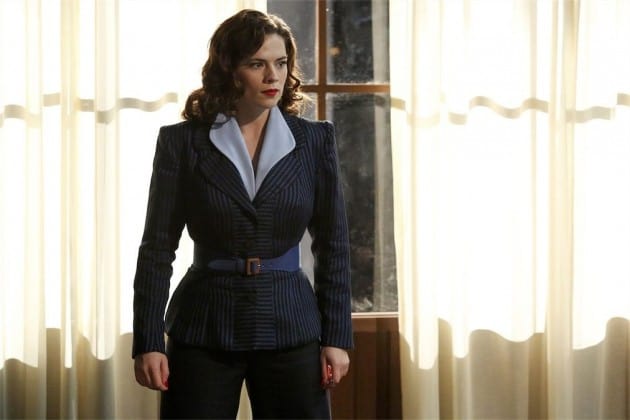 After seven solid episodes since the beginning of the year, Marvel's Agent Carter wrapped up its first season with an emotionally charged and beautifully written season finale as Peggy Carter (Hayley Atwell) faces her big bad Dottie Underwood (Bridget Regan), while Howard Stark (Dominic Cooper) returns and deals with his inner demons since Captain America: The First Avenger.
The finale picks up right where we left off last week after the incident at the cinema as well as the death of Dooley. We learn that Ivchenko is actually the Marvel character Johann Fennhoff, a character that I'm not familiar with too much. It made his character a little bit more interesting due to the fact that he was someone from the comics, but like most of the viewers out there, I wanted to see him be beaten and beaten hard.
Sadly, it wasn't easy, as he used Stark and brainwashed him to carry out a big plan to distribute the Midnight Oil (the gas that made everyone go psycho at each other) to the people celebrating VE Day, but this displayed Howard's biggest pain that he has been carrying with him: feeling responsible for Captain America's death. As I have stated in previous reviews, this show has made me appreciate the casting of Cooper for this character so much more.
Even though it's always lovely seeing Peggy kicking butt all over the place, the emotional journey she went through was far more compelling than anything else that took place in "Valediction." One of the things that has been heartbreaking to be reminded of is that this show takes place just one year AFTER Steve left her life, so the grief is still raw. Atwell absolutely killed it during the scene when she was trying to talk Whammied-Howard down from the air while expressing those emotions of how much she misses Steve. But the moment that was a true pay off was when she decided to say goodbye to him and move on, even though the Steve/Peggy fans (including myself) were in tears.
The Sousa and Thompson interaction became something intriguing to follow in this episode, aside from Sousa getting affected by the Midnight Oil and going ballistic on Thompson. Thank lord that it didn't take too long for someone on this show to get some earplugs while going up against Fennhoff's oral hypnotism. I was expecting to see one of these two characters get killed off in the finale, but since we already lost Dooley last week, maybe it wasn't needed to have another character die.
Speaking of characters that I also thought would die, let's talk about the Dottie of it all, as she had one awesome fight with Peggy before falling out a window that should have killed her. Yet she survived (although it's Bridget Regan we are talking about, someone as great as her can't be stopped), which leaves the door open for her in a future season. Although, really, how does one seriously survive that?!
Last but not the least, let's discuss that one heck of a post-credit scene. It made total sense for Zola (Toby Jones) to show up there because of the time frame of this show and how this is now a seed for what we later see in Winter Soldier. Hopefully, he might be a recurring player next season because there is still so much we can see from that character through this show.
To sum up this review in a few words, this was a satisfying SEASON finale, as we saw Peggy go through her own Phase 1 (for all you Marvelnites out there) as she got recognized by the S.S.R. as the hero that she is, was able to let go of Steve, and leave the door open for more adventures with Jarvis and now Angie. IF this is a series finale, then Paul Lee and the folks over at ABC will be making a mistake by not letting the show continue. While I get that the numbers haven't been the greatest, it's a critical success overall, and if SHIELD could receive a full 22-episode season renewal with the numbers they had in Season 1, then a mini-series of eight episodes shouldn't be too problematic.
Marvel's Agent Carter's future will be revealed in early May during the Upfronts while Marvel's Agents of S.H.I.E.L.D. returns from its winter hiatus with brand new episodes starting next week on Tuesday, March 3, 9/8c on ABC.
[Photo via ABC]