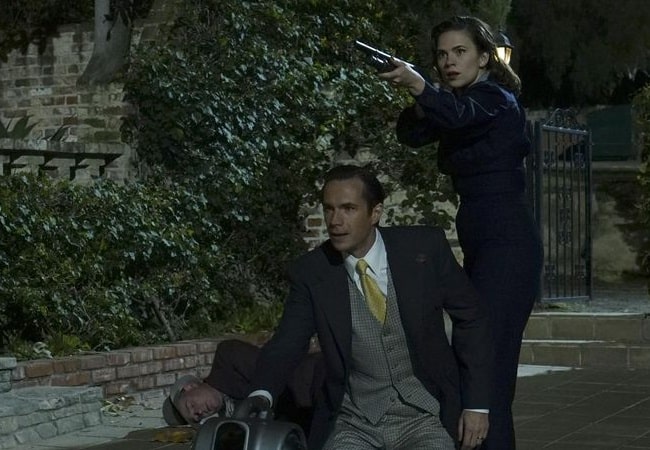 As we get ready to wrap up the second season of ABC's Agent Carter, this week gave us two juicy hours of everyone's favorite agent as everything is starting to come together. But in order to get to the next step of their mission, Team Carter is forced to reach out the show's first big bad for help: Dottie Underwood.
The one thing I was hesitant about two episodes airing back-to-back was that they would feel like two completely separate episodes with not that many connective threads. Fortunately, this scheduling worked out better than I imagined as these two episodes work very naturally as one shared episode. The biggest connecting aspect was the greatness that is Dottie, who in this episode reminded me of all the reasons why she became one of my all-time favorite characters in the MCU last season.
Just like Brett Dalton's Grant Ward on Agents of S.HI.E.L.D., Dottie's evilness is fun and twisty because of what Bridget Regan brings to the role. From the moment that Peggy had to recruit her for this mission, you could see in Dottie's eyes that she was about to have all sorts of fun. She pretty much stole the show, between the scenes when she was dancing with Jarvis as undercover to the moment when she faces Whitney Frost. Seeing someone being able to actually break through Dottie's powerful shield was haunting, which I guess is what Zero Matter is all about. I'm just happy Dottie made it out alive, but it was definitely a highlight to see two of Peggy's most dangerous baddies in a scene together.
But as much fun as there was in these two episodes, there is quite a dark tone in the second hour. We finally managed to bring back Jason from Zero Matter, but when he faces Whitney again, we learn that he has gained more strength, which then leads to Whitney and her goon kidnapping the poor fellow. Seriously, can this man get a break or what – he just got back from Darkforce! Unfortunately, Jason isn't the only one that we lose — for now — as Whitney shoots Ana and injures her badly. I don't know what was more painful, seeing a sweet woman like Ana get injured like that or the look on Jarvis' face when his entire world was taken from him. The final shot of Peggy and Jarvis sitting together at the hospital was one of those endings where you feel like the hero's many conflicts.
Overall, these two episodes worked incredibly well together as back-to-back and with one more week before the season two finale, the next two episodes will have a similar effect. It remains to be seen if Ana makes it or not, but it wouldn't surprise me if her possible death will give us an angrily charged Jarvis that will take on a new role in these last few episodes.
Don't miss two-brand new episodes back-to-back of Agent Carter next Tuesday, February 23, starting at 9/8c on ABC. Episode 8 "The Edge of Mystery" and episode 9 "A Little Song and Dance" will air back-to-back, with a one-hour season two finale on Tuesday, March 1.
[Photo: ABC/Byron Cohen]
Agent Carter Season 2 Episode 6/7 Review:
Summary
After her injury last week, Peggy has to turn to an unexpected source for help in her mission to stop Whitney Frost in this week's double dose of Agent Carter.