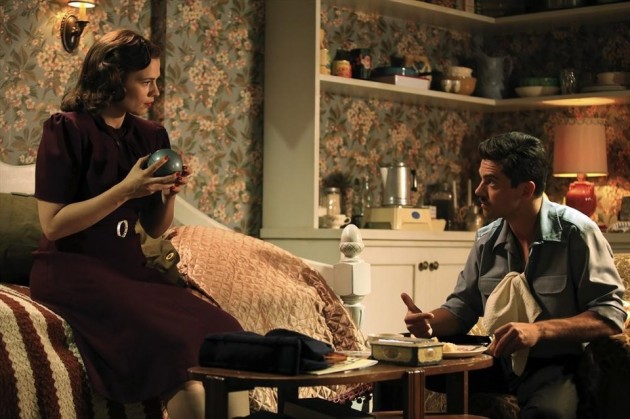 After a one week break that felt like an eternity, ABC's new Marvel drama Agent Carter finally came back last night with another solid episode, although with a few hick-ups as Howard Stark (Dominic Cooper) returned and had a big secret revealed to Peggy.
"The Blitzkrieg Button" is a pretty straight-forward episode, but it's one of those episodes where you see a lot happen and just don't feel that a lot of things did actually happen. The episode focuses on Peggy meeting up with Howard again as he asks her to look into what S.S.R. currently possesses of his tech with a very techy camera pen (I guess we would call it "The iPen" if it existed in our time). There is one thing that Howard particularly wants which was this cube called The Blitzkrieg Button (hence the title). But when Peggy does acquire it and gets curious of what's inside of it, that's when we discover that it's a vial.
When Howard reveals to her that it's actually Steve Rogers' blood, this, understandably, make Peggy furious at him, and she gives him a well-deserved punch in the face. I totally get Howard's reasons for having a vial of Captain America's blood as he wanted to use it for good causes, such as medicine that could cure illnesses, but what makes me wonder about the vial, aside from it being a connection to a central figure in the cinematic universe, is what its general role is within this show will be. Does this play into one of the films that we have seen already or will it be part of a film in Phase Three? Hopefully, this will be dealt with in these four remaining episodes of the first season.
I wasn't particularly interested in what was going on with the S.S.R. characters that much, although anything with Sousa is always appreciated. The scene he had with that homeless veteran was heartbreaking because we got more details about how some of his colleagues view him in the S.S.R., as well as how people look at him and his injury since he has returned from the war. The best part was obviously at the end as he started to draw some dark lines on the photo with Peggy as the mysterious blonde. Anyone want to bet that either next week or Episode 6 is when he finds out everything that she has been up to?
Now let's talk about the big elephant in the room that is Dottie Underwood (played by the talented Bridget Regan). I feared that there was something up with her, and it didn't take long until these speculations about her came to fruition, as she showed that she is not as innocent and giddy as she first seemed to be. She kills Mr. Mink when he is trying to take Peggy out, revealing that she is something more than just Peggy's neighbor. But that's the question: what, or better who, is she? Is she an undercover agent of Leviathan, or is she someone that is looking out for Peggy?
I hope it's her trying to protect Peggy because I have been waiting so long for Regan to join the comic book genre, and I want her to be a hero! Some people have speculated that she could be a figure like Madame Hydra, but due to the fact that in this timeline, Hydra isn't as heavily present (as I understood from Captain America: The Winter Soldier), it would be quite odd to suddenly have a major player from that organization be around and going after Peggy. Besides, Madame Hydra is a villain better suited for the films and in present time.
Overall, while it wasn't as strong as its previous episodes, "The Blitzkrieg Button" was a solid episode that gets some bonus points for giving us a very cool cameo by Marvel's very own Stan Lee! As we are now halfway through the first season, it will be exciting to see how these four upcoming episodes will play out, especially next week when we will meet the Howling Commandos again, including the return of my favorite Howler: Neal McDonough's Dum Dum Dugan!
Marvel's Agent Carter airs on Tuesday nights, 9/8c on ABC.
[Photo via ABC]