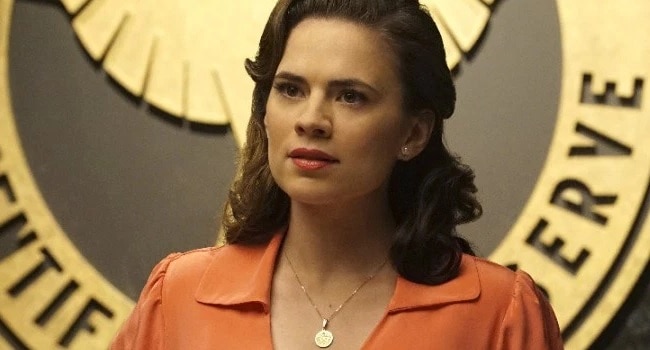 This week's episode of Agent Carter not only goes deeper into the mystery surrounding the Council of Nine, but also features flashbacks to Peggy and Whitney's respective younger years.
"Smoke and Mirrors" did so many good things this week, particularly with the Whitney Frost character that continues to get better for each week. I can't recall if there were any flashbacks last season for Peggy or anyone else, but seeing the show use that element to give us even more background on Peggy as well as our new villain, was a highlight of this episode. Hopefully that is something that we will see more of throughout the remaining episodes, especially for Peggy. I had always wondered what her story was before we first saw her in Captain America: The First Avenger all those years ago. With Whitney's backstory, you understand her even better and it makes her transformation into this villain even more tragic. You see a tragic path that started from childhood with her creativity not being appreciated while also being in a very bad family environment.
While Whitney's flashbacks were tragic, Peggy's backstory was absolutely heartbreaking, especially knowing the pain that she would have to go through after losing her brother. It explains even further the shield that she has built around herself, as well as to how protective she was of herself in the first Captain America movie. But it's those tragic moments that make her stronger and the hero that she is today. Look at what Peggy has lost so far: she lost her brother, she doesn't know that Steve is actually still alive (technically suspended in animation until he gets free in 2012) in that time period and had to mourn that loss in the first season. Now she currently has to deal with Jason being stuck between her world and Zero Matter – that's a lot!
Just when I think that the show can't make Jarvis any more awesome than he already was, they go ahead and raise the bar. He truly is the comedic heart of the show, without getting too goofy or silly because there needs to be a balance of sorts, otherwise it's like watching a cartoon figure and Jarvis is so much more than that. The term "Jarvelous" needs to end up as an official word in the dictionary, it just has to.
Overall, "Smoke and Mirrors" was another strong episode as it continued to flesh out the compelling big bad in Whitney while also telling the deeper story of Peggy before she met Steve. The new season has been stellar so far and as we are about to get past the second half of the short season, things are most likely going to get crazier with not just Whitney, but also the Council of Nine. The one thing that is a bummer so far is the lack of Ana Jarvis, who hasn't been around in the past two weeks.
Agent Carter airs on Tuesday nights, 9/8c on ABC.
[Photo: ABC/Richard Cartwright]
Agent Carter Season 2 Episode 4 Review:
Summary
Peggy Carter and Whitney Frost's early years are told in flashbacks in this week's emotionally charged and strong episode of Agent Carter.