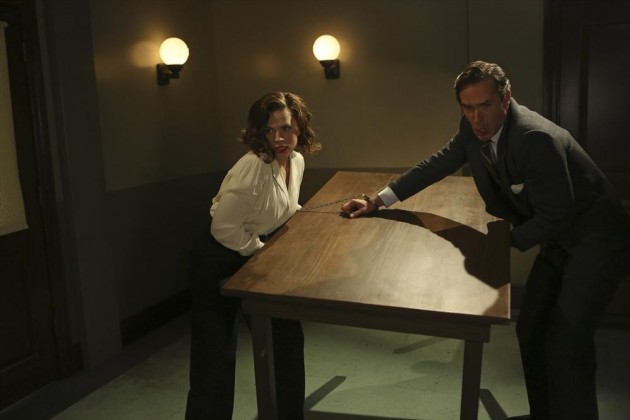 As the Marvel mini-series Agent Carter has one episode left of its first (and hopefully not last) season, fans of Hayley Atwell's Peggy Carter got one heck of a penultimate episode as Peggy had the entire S.S.R. against her for her involvement with Howard Stark (Dominic Cooper).
This week, for obvious reasons, the pacing sped up a lot, as all the cards were put on the table with Dooley, Thompson, and Sousa all going against Peggy. For a minute, it kind of became difficult to watch because it was just heartbreaking to see her all by herself getting questioned by all of them. I'm not against seeing the protagonist having to deal with tough situations on their own, but for some reason, it was emotionally gut-wrenching to see Peggy going through that. There is a great monologue she delivers how they have treated her this entire time that made me stand up and applaud because it's a good reminder of how idiotic some of these male characters have been.
How creepily fantastic was Bridget Regan's Dottie last night? My goodness, seeing what she is doing on this show as well as on Jane The Virgin (which you should watch if you don't already) is so thrilling. Although I still wish that her character was a more talkative person when she isn't in her Dottie-mode, it was pretty neat to see her Black Widow-ish moves when she got down those stairs as Sousa and the S.S.R. tried to stop her. It will be intriguing to see how her character plays out in the finale next week.
Even though it was meant to be taken seriously most of the time, it was just hilarious seeing Jarvis in this episode, although when is he not hilarious? Should the show be renewed for another season, I hope to see Jarvis improve on his lying abilities, because he can't even lie for a whole day without cracking his secrets. However, it was so great seeing Peggy and Jarvis together again, and the scene when they were about to throw a table that they were hand-cuffed to into the mirror window floored me.
The thing that I have been expecting for a while since Shea Whigham got cast in the new HBO comedy series Vice Principals last week is that something bad would happen to Dooley. I really wish that they hadn't announced his casting on that show while this season of Agent Carter was still running, but sadly this is how the TV business works. It was sad to see Dooley, a character that I have both enjoyed but also disliked a lot, get manipulated in that way by Dr. Ivchenko (who I hope gets killed off in the cruelest way ever next week).
I don't know what the heck we should call that gas that Dottie unleashed on the people in the movie theater, but all I know is that it was unpleasant to watch that scene play out the way it did. Although this is where I have to get a bit nitpicky with it; what was the point with that? If anyone caught why they did that, please feel free to let us know in the comments below. Overall, this was a solid lead up episode to the season finale next week, and they made sure to go out with a bang with the tragic death of Dooley. However, he died heroically, as he acknowledged Peggy for the strong woman she truly is before making her promise to take down the bad guys.
Don't miss the epic season finale of Marvel's Agent Carter, titled "Valediction" next Tuesday, 9/8c on ABC.
[Photo via ABC]