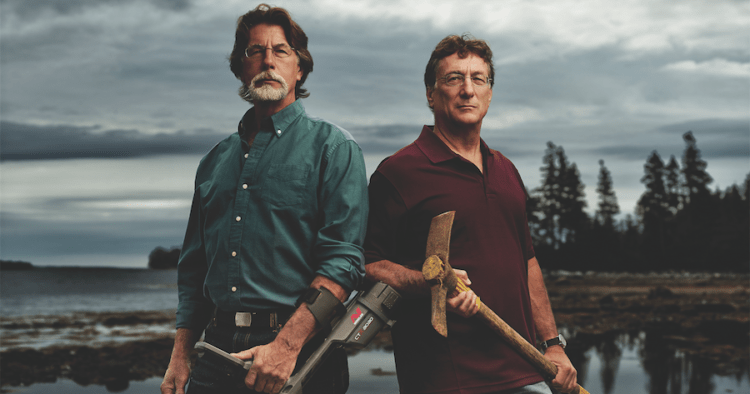 History Channel's The Curse of Oak Island has been somewhat of a curse for those of us that have been following it religiously in the last 7 seasons. The treasure hunting show has failed to show us any real treasure as of yet, but we still continue to watch The Curse year after year. That's probably largely due to the show's biggest draw–the Lagina brothers. Rick and Marty Lagina are the main cast members of the show, and their interest in the Oak Island mystery is what got many of its fans into the History Channel series. If the lives of the Lagina brothers were ever turned into a film, here are 10 actors whom we believe could play their parts the best.
1. Richard Gere as Rick
The similarities between the two are undeniable. Rick Lagina has the same unique facial qualities that Richard Gere has, and it's almost eerie comparing the two side-by-side. Gere may have a head full of white hair now, but he's only 3 years Rick's senior. It's also interesting that both persons are named Richard to begin with. Knowing that Richard Gere has always been an excellent actor makes him a prime candidate to play Rick Lagina.
2. Bob Odenkirk as Marty
Better Call Saul's main actor Odenkirk continues to inspire the world with his work. Odenkirk is a tremendous writer (as evidenced from his show), but he's just as good as an actor. We can totally picture Bob playing the role of Marty on the big screen. While the similarities aren't there, we can pick up similar cues between real-life Marty Lagina and Odenkirk's TV character. It's one of those matches that we think is just meant to be.
3. Alec Baldwin as Rick
We're going on similar looks here as well, but Alec Baldwin can do a lot with the role of Rick. We've seen Baldwin transform himself dramatically into his characters, and we can totally imagine him as the older Lagina brother. Baldwin also comes with a natural authority on screen, and it's akin to the kind of attention Rick demands whenever the cameras pan to his angle.
4. Bruce Willis as Marty
For some reason, we can't help but fit the talented Bruce Willis into the role of Marty Lagina. We know that Bruce hasn't rocked a head full of hair in at least a couple of decades now, but that's an easy fix for Hollywood. What's most important in this match is really just Willis' skill in keeping a character's persona throughout a film. He's played such diverse roles throughout his career; it would be a great addition to see him add this one to his repertoire.
5. Bryan Cranston as Rick
Cranston shook stereotypes when he committed to the role of Walter White on Breaking Bad. That was such a good that it actually warranted a follow up series–Better Call Saul. A big part to the success of the show is Cranston himself. For a Lagina Brothers movie, Cranston will have the same grit that Rick has. Cranston has won an Emmy four times, and if that's not talent, we don't know what is. Cranston also comes off as a natural brother. Wouldn't it be amazing if we could have Cranston and Odenkirk back on the screen together?
6. Dennis Quaid as Marty
We've always believed that Dennis Quaid is such an underrated actor. There's no doubt that his acting skills are topnotch, and he always comes out with amazing movies. Our theory is that he just doesn't have the best publicist. Either way, we believe that Quaid would be awesome to play Marty in a Lagina Brothers movie. We can totally picture Quaid as an avid treasure hunter. We think that he can add a natural quality to the role that would make it all seem more real–especially if the movie were to take a more natural and organic approach.
7. John Travolta as Rick
For some reason, Rick Lagina is totally a Travolta character. We know that should be the other way around, but Travolta is another actor that's able to transform himself completely. Travolta has been hit or miss throughout his career, but we believe that a role like Rick Lagina would be perfect for him. It's different from anything else he's done before, and it's also
8. Stanley Tucci as Marty
Tucci is another underrated actor that happens to be totally talented. Stanley Tucci has always been incredible in what he does, and he seems to just always fit into a supporting role. If he were to play the role of Marty Lagina, he would be playing the younger brother out of the two. It's another supporting role in some way, but it's just the type of role that Tucci might be missing in his career. He's been in the industry for quite some time now, and we're glad to see him still making movies worth watching.
9. Keanu Reeves as Rick
We know that Keanu is probably just a little too young to be playing Rick Lagina as he is today. However, Keanu would be the perfect actor to portray Rick when he was just a few years younger. A timeline for the film could be just before the series for the channel started. Keanu fits the bill for a treasure hunter, and the role would really be a welcome departure from all the violence he's been portraying in recent years.
10. Steve Carell as Marty
If there were an actor that has surprised us the most with their career, it would have to be Steve Carell. Most people know Carell as the funny guy, but he's proven his acting chops many times throughout his career. Carell can get serious when needed, which is something he'll need for when he's portraying Marty Lagina. He's got just the right combination of lightheartedness and grit. It would also be phenomenal to see Carell partner up with any of the other actors written before.Odenkirk