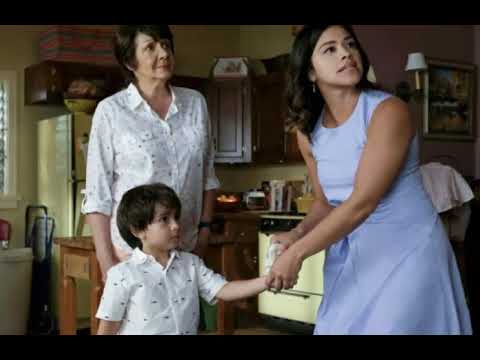 It's always been a chore to pull the fun out of Jane, despite all of the fun drama on Jane the Virgin. However, something happens to Jane when she is around Adam. He brings out the younger side of herself, but now she has to find the right balance. This is especially important since everyone's worlds are about to be turned upside down. Two key, and extremely disliked, characters return to shake things up. Not even that covers the whopper of a twist prefaced before the episode is up.
Rogelio is such a trooper. With Darci on bed rest, she is even more hot-headed than usual. It goes against everything I and the Villanueva family believe in as women to tear down another woman. However, if there was an exception to be made, it would be Darci. Demanding is the least of what she is, and Rogelio would lose his mind if it wasn't for Xiomara. Though even she reaches her breaking point, eventually giving Darci the reality check she deserves.
Rogelio can hardly focus on proving himself as a father to Darci with Fabian constantly butting in at work. The contention becomes so bad that it is decided one of them will have to go. A focus group will decide Rogelio and Fabian's fates, but the odds are skewed by the infiltration of Fabian's grandmother. Instead of confronting Granny, Rogelio pulls off his greatest performance yet: a woman. If we hadn't been told that was Rogelio under the makeup and pearls, I never, ever would have guessed that it was him. And I mean, never. Not ever. Being apart of the focus group saves Rogelio's job, and it also reminds Rogelio that not only does he need to be there for Darci and the baby, he needs to pamper Xiomara a little bit. Why shouldn't he? The woman is putting up with his baby mama and daughter-to-be during her newlywed period. Thank goodness Rogelio learns a few things, but he is thrown another curveball before he can get his bearings. What do you get when you combine Rogelio and Fabian? Tons and tons of ego. What happens when you put Rogelio in the same room as his archnemesis Sebastian, and that nemesis has his hands all over Darci's belly? This means war.
Rogelio is at least able to co-parent with Darci now. Jane, meanwhile, cannot wait to get Rafael and his money-obsessed attitude out of her house. The more he insists his financial strain is just temporary, the more Jane wants to scream. Rafael is obsessing, but he's also become a very boring stick in the mud. He and Petra try to find a way to oust Luisa from the hotel, and it brings up so many trust issues between them. His relationship with Petra shouldn't even be considered lukewarm. Just because you focus on communication, doesn't mean you neglect the raw emotion. No matter how much Petra and Rafael want it to work, they just don't. So Rafael goes back to his playboy ways, and Petra gets an unwelcome surprise from none other than her mother.
With all of the stress at home, Jane has welcomed her fun relationship with Adam. The games quickly end when Adam asks Jane if she wants him to turn down a job offer in L.A. for her. Jane doesn't feel like she can say her answer out loud, choosing to focus on the fun for the time being. That only results in a broken ankle for Jane, and no school placement for Mateo. As much as Jane would like to wring Rafael out for his solution to Mateo's schooling, she can't deny that she has profited from his wealth as well. Now they have to work together to tighten the purse strings, and if that means lying to get Mateo into a better school district, so be it. Adam is also going to try, especially since this is the first time Jane has ever asked him to, and he is no longer playing guessing games.
And yet, all of these returns are nothing compared to the hinted twist that one character will bite the dust before the year is up. Will it be lesser loved characters like Luisa, Anezka or her mother? Dare we say it could be Petra, Alba, or Rafael? (Okay, it's 99% guaranteed not to be Rafael). To be continued…