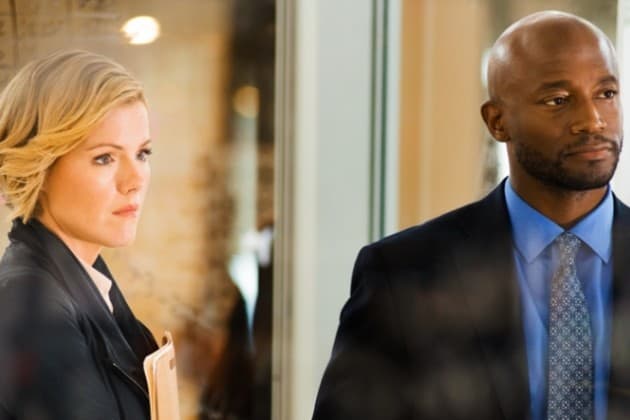 Murder in the First, having now been back for three weeks, has a lot of interesting directions it can go. The 18-year-old "villain" it produced at the beginning of the series was killed at the end of the second episode, so the mystery was going to have to dig a little deeper to stay afloat. Luckily, it seems it went just as deep as it needed to.
This week on Murder in the First: Terry adjusts to his new role as acting Lieutenant, while Lt. Koto gets back on his feet (literally). Lt. Koto questions the living shooter. Ballistics discovers that the cop who died in last week's episode was killed by another cop, and Molk could be a suspect. Hildy struggles with an innocent child who would rather go to jail for murder than snitch on who committed the crime.
As you can tell from the above synopsis, there was a lot happening on the show this week. Since it's not a standard procedural, to make Murder in the First work, the show needs to do extensive character work. That's what most of this episode was doing, and for the most part, it worked. Taye Diggs is a great lead. Watching Terry in conflict about telling Hildy things, about moving Hildy's brother to homicide, about telling or not telling Molk that he could be a suspect. It takes a lot of character strength to pull off scenes like that, and Diggs' Terry handles it with ease. Kathleen Robertson is doing a great job emoting Hildy as well. Despite her occasionally stoic facial expressions, Robertson gives Hildy great depth. It's not easy to convey emotions by doing so little, but Robertson does a great job. This was a great Molk (Rafael Sbarge) episode, too. There was a lot of good acting all around.
The mystery is progressing quite nicely. It seems to have two separate cases, but of course I'm certain that the two will wind up connected. There have been little hints along the way indicating that the two are not as separate as they seem. The storytelling itself is really pretty good, though the occasional sequence seems drawn out. Obviously, this type of show has to move slowly. If it moved fast, it could tell the whole story in a couple of episodes. But, the show works better when it develops the characters in the slow periods. When the show drags, it's generally because there is a drawn out action sequence, or some form of exposition simply didn't get cut properly. Murder in the First is far from perfect, but it's still quite obviously a quality product.
I'm glad that Murder in the First doesn't feel like the poor man's True Detective. The second season still carries the same characters, and when it does character work (like it did this week), it separates themselves. These are compelling characters, so the more we see of them, the better off the show will be.
All in all, this was another solid installment for Murder in the First. As they continue to develop the characters within this world, I'm very much looking forward to what happens next.
What did you guys think? Did you enjoy this episode? Let us know in the comments!!
Murder in the First airs Mondays at 10/9c on TNT.
[Photo via TNT]
Tell us what's wrong with this post? How could we improve it? :)
Let us improve this post!