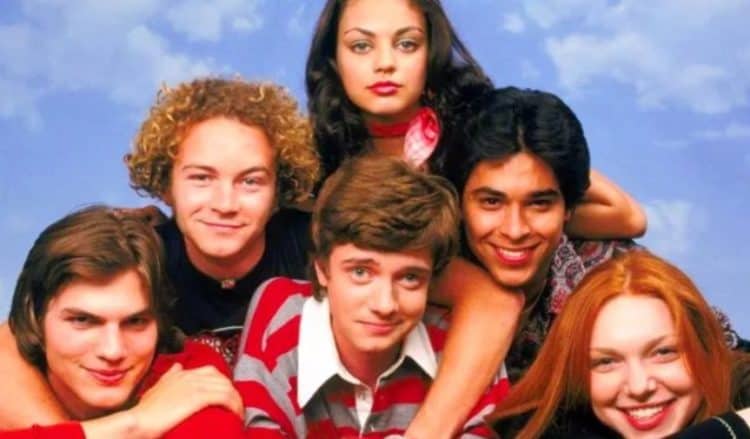 At this point anyone thinking that a full-on That 70s Show reunion might be happening and could possibly lead to a reboot needs to cool the jets and realize that Wilmer Valderrama is talking about the idea that's been kicked around for a movie, not a return to the show, as the cast seems to be enthusiastic about a chance to come together again and possibly create something that fans of the show might like to see. As Jeremy Dick of MovieWeb shows in his article the idea of a movie could be something great since it would no doubt catapult the cast into the late 80s or possibly early 90s, allowing the fans to see how they'd changed and what had been going on in their lives up to that point. A sort of 'where are they now?' feel could be given to the movie since people love seeing this kind view when it comes to their favorite shows and movies. With this cast it would be extremely interesting since for a lot of people it might be like watching their own life story unfold given that a lot of those that were teens in the 70s could probably relate with this group.
Since the show the cast has obviously gone on to other things in their careers and a few of them have been more successful than others since Aston Kutcher and Danny Masterson eventually ended up on The Ranch on Netflix until Masterson was kicked off and replaced by Dax Shepard. One of Laura Prepon's most notable roles as of late has been her stint in Orange Is The New Black, where she's been a main cast member for a while. Topher Grace of course has been fairly prominent in the movies since he's played several smaller roles and many moderate to lead roles since he showed up on the scene, while Wilmer Valderrama is currently a big hit on NCIS. Mila Kunis has definitely stormed forward with her own career since the show as she's been popping up in a bunch of different movies, some that are highly successful and some that are just fun, such as the Bad Moms movie that a lot of people tended to like. All in all it does seem as though the cast could be brought back in some version of their current selves as they've been seen on TV and in movies, as the story could be adapted in a way that makes a lot of sense and shows a great deal of respect to the characters. Of course it's a question as to how much the characters would need to change since in all honesty Kelso is far more like Ashton's character in Dude, Where's My Car? than any of his other roles, and seeing Donna in prison would bring up a lot of questions. Eric could be just about anything since Topher has gone on to fill a lot of roles, from the good guy to the bad guy to the indifferent guy that people don't put a lot of stock in.
Mila is just as versatile, while Wilmer's character, Fez, might take some working to make into something simply because he was a very stereotypical character and might need a lot of years to really accomplish something great after hanging out with the group for so long. The only real question is whether Masterson would be able to come on since what got him kicked off of The Ranch, as Michael Ausiello of TV Line states, were the rape charges levied against him from the 2000s. Those making the accusations went to Netflix and in a sense wanted to know what they were going to do about him being one of their actors, and it didn't take a genius to see that they were going to let him go rather than take the negative press that came with a lawsuit, even if Masterson claimed the allegations were false. So quite honestly a That 70s Show movie might be lacking one key character if such a thing was to hamper Masterson's ability to show up once again on the screen.
It would be a fun movie to see just how much the teens had progressed in life and to see where they ended up, but at the same time it would be kind of incomplete without Hyde. The story could go that he got way too into the latter part of the 70s and was never seen again, but that seems like an easy dodge that wouldn't make for a great story and could possibly hamper any chance that the movie might have with any kind of resolution for the group. At this point it's just talk, but it would still be a great idea that a lot of fans would support.