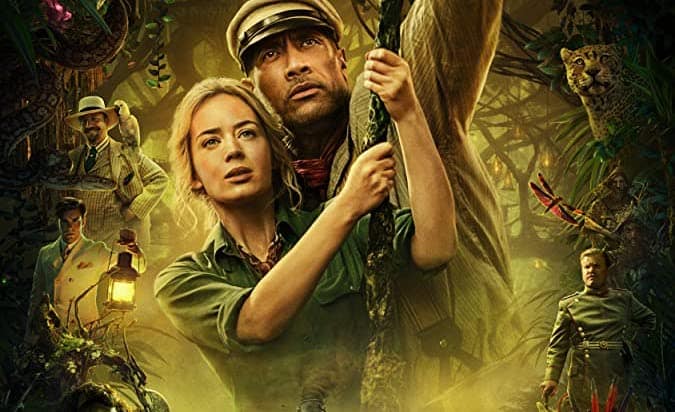 It shouldn't come as too much of a surprise that another Jungle Cruise movie is bound to happen since the moment that Disney believes they have a workable money machine up and running, it's bound to happen that they're going to take hold of it and refuse to let go for a bit. In all fairness, though it does sound as though Dwayne Johnson and Emily Blunt are ready to come back for another trip down the Amazon, though of course at this moment it's hard to say when that trip would take place. It's also tough to say if it would be that great of an idea since, despite the chemistry that Johnson and Blunt have developed, sequels usually start out with a less than hopeful chance of matching or surpassing the original movie unless they end up following the original premise and somehow creating another impressive story that branches successfully from that original idea. It's way too early to say what will or won't happen or even take an educated guess, but it is interesting to see the on-screen chemistry that Johnson and Blunt have formed.
Dwayne has definitely found actors that he prefers to work with over the years as Ryan Reynolds and Kevin Hart can be counted among that number. But the mutual respect that's been formed with Blunt is impressive given that the two actors are very different people and yet have very similar work ethics that went into creating this movie and could end up creating other stories in the days to come. Blunt has definitely proven her worth on the big screen since she can take on roles that depict her as timid and less than confident and then turn around and be as fierce and confident and even as physical as anyone else. Watching her act has been a joy over the years considering that she's shown the strength of character that is needed for every role she's played in, and only appears to be getting better as the years continue to roll by.
Hailing from the WWE, which wasn't known for producing quality actors that often when it came to transitioning to Hollywood, Dwayne Johnson became a huge surprise for a lot of people when he stepped onto the big screen from the moment he took on the role of the Scorpion King to this point. His acting has improved in leaps and bounds, and he's become a legitimate action legend that has shown that he can do comedy and drama as well. He's worked with some of the greatest actors and he's taken on some of the most convincing roles in his career at this point that it's not much of a surprise that he can bounce from one role to another and nail it without much, if any, trouble since he's been able to take on just about anything that's thrown at him, as he'll be appearing as Black Adam at one point in the coming months, joining the ranks of DC for at least one movie or more as things continue to progress.
Seeing how well the two actors work together is kind of nice since it means that there's a good chance that they might work together outside of Jungle Cruise as well. It does sound as though the two of them manage to push each other in a way that inspires an even greater bond that in turn creates an opportunity for a better working relationship that is one of the ways that actors end up creating one great movie after another. It is rumored that Johnson already wants to include Blunt in another movie that he's going to be producing, but as many might suspect it's too early to know all the pertinent details. So far, people have been fairly excited to see how Jungle Cruise will turn out, and there's no doubt that it will probably end up wowing quite a few people on the big screen. Back in the day, it might have been expected that the box office numbers would have determined if a sequel was worth the effort or not, but these days people are pushing the sequel before the first movie has ever reached the theater.
If the world feels like it's gone and hurried up to some people it's likely that they're not wrong since there are times when it feels that things are rushing by too quickly. But when it comes to movies it makes a bit of sense considering how long it might take for a sequel to come out if one was to wait for the right moment. At the very least, the knowledge that Johnson and Blunt work well together is a good indication that this might be the right direction to go. Barring that, this could be a good idea or a mediocre one at worst.
Tell us what's wrong with this post? How could we improve it? :)
Let us improve this post!