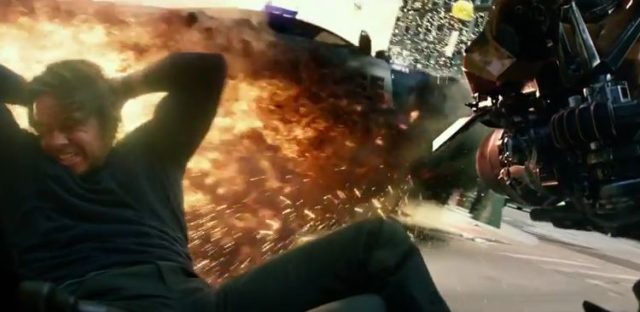 To be perfectly honest I'm just not sure how I feel about the Transformers franchise. I mean I kind of liked the first one with Shia LeBeouf and Megan Fox but after that I've felt "meh" on every single one. Yet every single one that's been made is hyped more than the last. Now you go ahead and whip out a trio of Mark Wahlberg, Gemma Chan, Stanley Tucci, and that's supposed to get me all jacked up to see Transformers: The Last Knight?
How much more transforming are we going to be dealing with? Oh yeah, that's right, 14 more as our writer Brian Hadsell pointed out earlier today. And to add fuel to the fire you've gone and snagged Anthony Hopkins to narrate this little 21 second clip? Yes I know he's in the movie and plays a "sir" but if you're really going for effect you know that Morgan Freeman is available for voice overs right?
I don't know, I guess I'm worn out. I guess it's Friday and I have no desire for analysis right now. I'll take a stab at it. No emotional element whatsoever to care about in this film. Plenty of explosions and special effects. Huge budget. It'll turn a profit but not a major one at the box office and we'll wait around for the next one.