So let's see… Dixon was ungrateful: check; Annie, a stupid, love sick: check; Ryan Matthews was an irrelevant jerk: check; and Teddy was the voice of reason again: check.
In other words, a typical 90210 episode, but one that ended in tragedy for one of the characters.
"It's Not Like You're My Mother Anyway"
Dixon still is sick to his stomach on how things ended with Sasha and Harry hates to see him like this. Harry asks Debbie if they should rethink the whole not telling Dixon about Sasha's deception pregnancy thing and Debbie assures Harry to follow her lead and to trust her cause she was right before. But Dixon wants to play Mr. Responsible and decides to go see Sasha. When stalling Dixon doesn't work (I would have went with stern grounding, but that's just me), Debbie and Harry come clean, but Debbie takes most of the blow as Dixon declares that despite what Debbie thinks, she is actually the one woman he can't trust.
Ouch! That would have been followed by a slap in my house from my mother.
Later, Debbie tries to reach to Dixon, but he doesn't want to hear it. Harry tries to jump in and demands for Dixon to hear Debbie out and Dixon says, "For what? It's not like she is my real mother anyway…"
EPIC fail! Pack his bags and ship him out!
But no, this is 90210 and TV. Later in the night, Debbie watches over Dixon as he sleeps and cries the entire time.
Again, Dixon is ungrateful.
Annie, Navid, and the Craziness That is Jasper
Jasper confronts Navid about calling him a drug dealer and tells him that he needs to check his sources before publishing "lies". But my boy Navid is no dummy, unlike Annie who squeals in joy when Jasper reveals that he arranged an audition for her via his dad. Navid traces Jasper one day at school to Adrianna's car, where the poor girl buys more pills from the creep, using Silver's half-birthday presents money in the process. Navid sees this and gives Adrianna a call and asks her why did she do it. She denies it and he presses on and she throws back in his face that she's not his problem anymore and hangs up. Ouch, damn, SNAP!
Navid still doesn't let it go and calls Jasper a "scumbag" in the halls the next day. Jasper lies that he gave her lunch money and Navid sees through the crap and telling Jasper to stay away from Adrianna. Jasper then repeats that he is not a drug dealer, but add that if he was then Navid shouldn't be screwing with him. Navid smells the threat for what it is and Jasper walks off.
Meanwhile, Jasper helps Annie practice her lines and I can't help but want to smack the taste out of Annie's mouth when she tells Jasper that she loves him. Come on! He's creepy! When Jasper doesn't answer right away, Annie immediately feels like crap, but Jasper says that he loves her, too, and that he just wanted to say it first. Boo.
The next day, Annie doesn't get the role and is distraught over it. Jasper tells Annie that her day will come and that she will be big one day. Annie then wants her first time to be with Jasper and the two get at it. Random much?
But Navid and Gia are on the case of bringing down Jasper and I can't wait for the inevitable bust to go down.
Friends in Need For Self-Destruction
Liam and Adriann are on a slippery downward spiral this week. While Adrianna is dulling the pain of losing Navid by falling off the wagon (not a good way to cope, mind you), Liam decides to give the world a great big "Screw You!" when Ryan Matthews won't hear him out on Jen's lie and tells Liam that his stepfather was right about him.
Spoken like a true 'adult', Ryan Matthews. But why should Ryan Matthews's view of the world matter? I ponder this as Liam starts to snap at anything in sight. Ivy picks up on this while Navid, Dixon, and Teddy have other things on the brain. She calls them out on not being true 'friends' to Liam in his time of need, because something is obviously bothering him and it's bringing out the ignoramus side of Liam.
Liam's chip on that chiseled shoulder of his comes to a sizeable head when he starts a fight with some other surfer guys. Ivy, Teddy, and Dixon all confront Liam and make him fess up to what's eating him. Liam then gives the whole story dating back to the party last year, including that it was Jen he slept with and not Annie. Dixon states that he thought Liam was lying and then Liam says that he TOLD Dixon it wasn't Annie, so at this point I have no sympathy for Dixon going to summer school due to Annie. Teddy declares that's it time to bring Jen down and for Liam to not worry how, because it's going to get done.
Teddy, you are officially one of my new faves on the show. You finally won me over, man, congratulations!
After the gang splits up, Liam apologizes to Ivy for snapping at her (he told her to stop acting like his girlfriend). She accept, but is hurt again when Liam says that he knows that she doesn't think that they are an item. Ivy plays it off and accepts a dinner date with Liam, but to Liam its only two friends hanging out. I hope Ivy sticks around post Liam-Naomi reunion. She's cool.
Meanwhile, like I stated above, Adrianna paid Jasper with some of Silver's half-birthday present money and then later walks up into The Beach Club looking like Season One Adrianna, lying to Naomi that she was mugged and that all the money was gone. My thoughts are more on how Naomi does not notice that Adrianna is high as a kite rather than Naomi believing the lie.
Also, Dixon tries to apologize to Annie for being a dummy and Annie thinks he is apologizing for the comment he made about Jasper's character. She tells Dixon that he has a great sense of character and shoves the Sasha incident in Dixon's face. Dixon tells Annie to go to hell for her meanness and Annie looks a little hurt after he leaves the room. Damn, Annie was the sex with Jasper that good?
Silver Relives Her Youth Courtesy of Jackie…and Teddy
Silver goes by her daily routine of taking care of Jackie (guest star Ann Gillespie), who marvels at how responsible and organized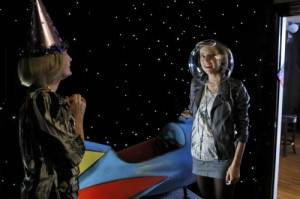 her daughter is, despite Silver being that way all her life. Jackie wishes she could have been a better mother, but I am looking at how Jackie looks BAD. Kudos to the make up department, because Jackie looked like death. Silver tells Naomi and others that she will not have her annual half-birthday party and Teddy decides to pry to hear about the half-birthday concept. Silver reveals that at age 10 she was going to have a camping party, but that Jackie got trashed and the party got canceled. Meanwhile, Adrianna peeps Silver hanging with Teddy and gives a hurt awkward stare. Silver later asks Ade about it and she says she's fine with it, but I guess that's because Adrianna has drugs to make her 'fine'.
Silver then gets help from Teddy with Jackie. He offers to stay home with Jackie, while Silver runs errands. When Silver returns she is shocked and happy to find Jackie and Teddy deep in game of cards, Jackie in high spirits. The next day Silver returns home and finds that Jackie has had different rooms of the house decorated for each birthday of Silver's that she missed. One room represents Silver's obsession with space travel at age 7 and another one represents Silver's period of all things 80s at 12. All courtesy of Jackie with the help of Teddy, who had interior designers come and decorate.
A dream come true for any kid, in my opinion.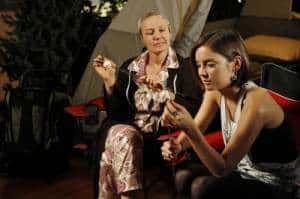 They stop the tour at Silver's 10th birthday scenario which is the backyard camping party. Jackie asks about how did Silver gain her love of being terrified by horror movies, which Silver based the camping theme on. Silver explains that at the time the more scared she was the more she didn't have to focus on her problems and Jackie knows that Silver meant her. Silver tells her that it was how Jackie was never there and that she worried about Jackie's whereabouts. Jackie apologizes, but doesn't think it will amount to the hill of crap she gave Silver. But Silver says the birthday gift does help, because she was scared that if Jackie died that she wouldn't have anything good to hold onto of her and the two make up and I want to bawl like a damn baby. Jackie tells Silver that she is thrilled that to be a part of her birthday for once and the two giggle like schoolgirls.
The next morning, which is Silver's half-birthday, Silver wakes up in the tent to a call from Teddy. When she gets off the phone with him, Silver turns to wake Jackie up for the big day.
Jackie doesn't respond.
Silver shakes her mother, but Jackie doesn't budge and Silver calls the paramedics.
Oh. My. GOD!!!!
But the real slap to the face? The CW promoting next weeks episode as being about Annie and creepy ass Jasper, with NO mention of Jackie whatsoever!
What do you guys think?