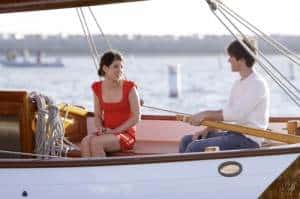 HELL. NAW!!!!!!!! How in the HELL are they going to leave us like that?!!?!?!?? 90210, you need your ASS WHOOPED!!!!
The show took the word "cliffhanger" and ran wild with it. We literally don't know how everything will end up next fall. The writers and cast promised us crazy and we got beyond beyond that. Instead, we got insanity on an epic scale that, dare I say, almost rivals Dynasty's Moldavian Massacre (or at least the aftermath). On to the review…
Teddy and Silver Make Up!!!!
Teddy confronts Silver on their sudden breakup and she comes clean about Spence offering her $150,000 to do the deed. Teddy is pissed, but finds comfort, then confusion, after Silver states that she didn't take the money. Teddy's emotions are sent back to "crushed" when Silver claims that Spence was right about her being a distraction, making Silver maintain her stance on their relationship. BAD SILVER!!!!
After Naomi reminds Silver that she pretty much acted like Spence in deciding Teddy's fate, Silver finally comes to her senses and apologizes to Teddy for her stupidity leak and they reconcile in the nick of time, because their friends will need their support and advice after the turbulent night that is about to go down. I am glad that at least one couple made it through the night unscathed…
Hell Hath No Fury Than A Lunatic Scorned…
Seeing Liam and Annie together tonight reminded me too much of season one, which made my stomach crawl. But they are both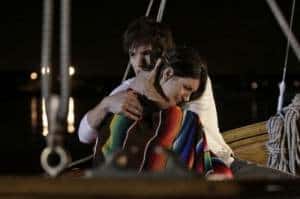 starving for attention, so I guess it would make sense for them to attract each other's company.
After telling Annie about his theft from Jeffrey, Liam makes some tough decisions. Well, breaking up with Naomi wasn't so tough, but still. He told his mom about the theft and invites Annie onto his boat's first ride into the sea before his stepfather returns and probably send him off for good.. Once they get back and dock at the pier, Annie confesses about what she did last summer and felt that she should come clean about it, especially to her parents. While Annie cries in Liam's arms, guess who just so happens to be watching? I will give you three guesses and I am being generous in that offer. Give up?
Jasper. And he's pissed.
Liam takes Annie home and leaves before Annie made her confession to Debbie and Harry. What Annie actually tells them? We don't know. So we are dragging this into next season, guys? Wow. This is the longest story arc yet for a teen drama, in my book. But when Liam makes it back to his boat… it is ON FIRE!!!!! When Liam finally comes to his senses, he spots Jasper hobbling onto the pier. Liam immediately runs into him and starts beating the crap out of the guy. While I enjoyed every time Liam's fist met Jasper's face, I really wanted Liam to kill the little dude. Still do.
Adrianna, Navid, and the Navid clone Javier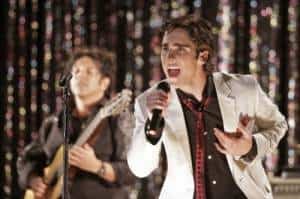 My award for The Most "Eh" Moment of the Night goes to this storyline, because I seriously do not like Javier. He is about to take on either some stalker qualities or a Boy Scout's badge for annoyance. Either way, I am not amused…
After their concert, Adrianna is shocked at all the gifts waiting for Javier in the limo. Javier picks up a box from the pile, Navid's box, and is perplexed to find the charm bracelet in it. He gives it to Adrianna as a gift. It doesn't help that Navid notices Adrianna wearing the bracelet during a live interview for the Blaze and he blows a gasket, asking for his bracelet back. Realizing her faux pas (really Javier's faux pas), Adrianna tells Navid that she doesn't want to give back the bracelet and after displaying all their business out in front of the students of West Beverly (the camera is still rolling), the two love birds finally reconcile. That counts for a yay, right? Nope.
At the party that served as the backdrop for most of the finale, Javier approaches Adrianna and was not happy when she announces she and Navid are an item again. He vows to Laurel that the war is so on between him and The Real Navid. His first move? Inviting Adrianna to tour with him on a year long tour. If that isn't one possible huge monkey wrench in Navianna I don't know what is. Time to throw some fists, Navid!
Ivy and the Problem With Wilsons'
Dixon and Ivy are ecstatic about their upcoming trip to Australia, especially Ivy who is glad she and Dixon made up in the nick of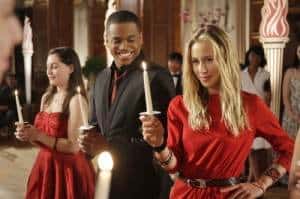 time and feels that they will work, as long as they are honest with each other that is. Uh-Oh… Dixon eventually comes clean about the kiss with Silver, which leads to an eventual fight. But Dixon doesn't count himself out and wins Ivy back by putting together a touching display involving Ivy being the center of the universe. Their little reunion is cut short, though, because Ivy sends Dixon home to pack because their flight leaves later that night.
Meanwhile, bad boy Mark had cheated on a paper and lands in Harry's office for punishment, but Mark reveals to Harry that he knows about the cover up of the school break in. Mark tries to blackmail Harry, but the good principal goes to the school board and confesses, which coincidently resultsin him getting canned.
Back at home, Dixon is in the midst of packing his clothes for Australia when Debbie comes in and bursts his bubble by declaring that Dixon is going NOWHERE, not after the stunt he pulled. Dixon tries to argue with Debbie on the subject, but she puts her foot down and ends the conversation. When Harry gets home and reveals that he got fired, Debbie pretty much blames it on him, saying that it was his own fault for keeping secrets. WOW!!! Debbie, are you really going to let that come out of your mouth?!!!? The two go at it and don't notice as Dixon leaves the house, bags fully packed. Debbie blames Harry for everything and declares that he doesn't love her anymore. I'm still not into this whole storyline…
Naomi, This Has Not Been Your Year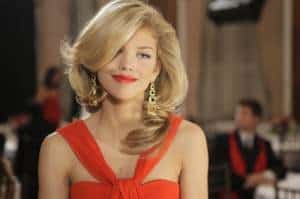 Am I the ONLY PERSON who knew Mr. Cannon wasn't up to no good?!?! I smelled it when he immediately asked Naomi if he was trying to come on to her when she tried to get back on the Blaze. No one listened, though. Now look at what happened.
Naomi's storyline left her pretty much lonely in the end, but I had no clue that Mr. Cannon would attempt to rape her!!!! That guy might be as sleazy as they come, but he is right about the "girl who cried wolf" scenario Naomi is in now… and it makes me sick to my stomach.
Jen's being a big whiner about that baby of hers, but Naomi might've complicated things even worse by anonymously informing Ryan Matthews that he is the father. This news speeds up Ryan's path of self-destruction after Jen pretty much tells him that she doesn't need his support in helping raise their child. After being blown off by Laurel at the party when she realizes how wasted he is, Ryan steals a shuttle bus, drives it back to the school and nearly takes out the entire parking lot. The downside to this? He saw Naomi and Mr. Cannon in the Blaze room, but who wants to bet that either a) he'll be too drunk to remember or b) he'll remember, but the fact that he was intoxicated will trump his credibility. Oy vey…
The episode ended so abruptly that I had to do a double take to make sure my eyes weren't playing tricks on me. With so many characters involved in multiple cliffhangers, I just hope they all have decent payoffs in the fall. After the eye-popping finales of Gossip Girl and The Vampire Diaries, 90210's finale just seemed tame in comparison, sans Naomi's possible rape. Plus, with Jasper's craziness and Annie's confession flowing over into Season Three, I wonder if fans of the show will care anymore. About those specific storylines that is. I can't wait to see this class graduate next year, but slick wish that there were more episodes like the original series to take us into the summer, or to start the year off early. Oh well… Thanks are in order to the cast and crew of 90210 for a great season, which was definitely TV to talk about…
See you guys this fall!
Follow me on Twitter: @theanticritic
Email Me: mestes2001@gmail.com