After last week's episode, last night's 90210 failed to live up to some potentially juicy story lines that arose last week. Excuse me if my recap is lackluster, but LOST has shot me in my heart, which is why I will watch the rest of it AFTER I finish my recaps. Anyway, moving on…
Battle of the Clark Sisters
Naomi feels that her life is ruined now that Jen is back like a hurricane, destroying everything in her path. Liam asks Naomi to avoid Jen at all costs and to not engage her, but Naomi sort of can't do that since Jen decided to buy Naomi's house, as well. The bases have been covered and this bout goes to Team Jen (as if anyone would be caught dead in that camp).
Later, Naomi meets Jen at the BHBC where at first, Jen serves 'sincere' sister talk after wards. She mentions that she and her French husband, Olivier, are deep in love again and to preserve that, Jen needs Naomi to keep her mouth shut about what happened last spring. She then invites Naomi to dinner to meet Olivier the next night. Really? Ammunition, lock and load, Naomi! At the dinner, Naomi unloads everything on Jen to Olivier, who gets pissed and leaves. Score Team Naomi!
Naomi tries to celebrate with Liam, but she does it a bit too soon. The next morning, Naomi is surprised when Jen shows up with breakfast and two more bombshell. Turns out that Jen planned for Naomi's little show last night all along. Why? Because when she and Olivier got back together, they signed a infidelity clause that was worth $16 million dollars. Guess what Olivier did after hearing about Jen's shenanigans? He went and got caught with another woman. Cha-Ching, Jen. But that's not all. Jen got a hold of their (thankfully) absent father about Naomi's "spending habits" and he gave Jen power over Naomi's finances. Game. OVER!!!!!
Now that Naomi is really in hell, she better wish she hadn't of blown off Liam the entire night when he needed her. Why? Read on…
Liam Court: 90210's Lonely Boy
Liam watches as his dad, Finn, finds out the value of the coins Liam stole from his stepfather. When Finn gets his price ($15,000), he takes off to collect the money, but promises to be back to collect Liam as well. Some time later, Liam calls Finn's hotel and finds out that his old man has checked out, not only from the hotel, but his life, as well. Dylan McKay would be so proud.
As Liam angrily gets to work on his boat, Annie stops by and he lays all his problems on her. Annie asks if Naomi knows, which we all know she doesn't due to her fighting Jen. Annie later returns to help Liam paint his boat after getting caught up in the middle of her parents drama and wants to blow off some steam. But with the rising temperatures between her and Liam, Annie might have picked the wrong place to "blow off steam", because it's getting hot in that little shack of Liam's.
The Wilson Family Drama
Dixon tries to get Ivy to understand that he doesn't want to blow her off and wants to spend time with her, but he's grounded. That doesn't mean that she can't come by his spot while the parentals are out. Dixon sets up a nice dinner for Ivy after Debbie and Harry leave, but the dinner is cut short when the parents come back after forgetting something, bringing their drama with them. Annie comes in and finally confronts them on their BS, which they don't hold back. Dixon now knows what is going down, but, unfortunately, so does Ivy, who is hiding in Dixon's room. After Debbie and Harry leave for counseling, Annie wants to talk with Dixon, but he declines and instead talks with Ivy about his problems. She is in awe that Dixon would be so calm as to reveal his past to her so soon, which wins Dixon major brownie points with her. At least something is good is coming out of this mess.
Silver, You Are Teddy's Weakest Link! Goodbye?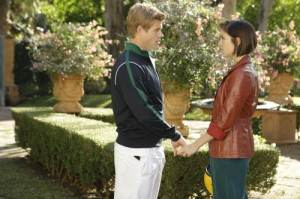 Teddy talks with a still furious Silver about how he has never brought a girl to meet his father, but that Silver is the first girl he wanted to break that streak with. Silver warms up and Teddy invites her to a cookout thrown by his dad. After talking to Adrianna about what to make of Spence Montgomery, Silver gets pretty worried when Adrianna admits that Spence is an "I either love you or hate you guy", which means Silver better bring her A-game.
When she arrives at the party with Teddy, Silver feels the pressure from Spence, but keeps her cool. Silver then gets her moment of truth when Spence asks her about a movie he did and if she liked it. Silver, after some hesitation, decides to be true with herself and tell Spence that she hated the movie. HUH!?!! Luckily, for Silver, Spence hated it, too. Thank God.
You would think that Silver would be in the clear after that right? Wrong. But it's not really Silver's personality that is Spence's problem, she is a distraction from Teddy's tennis career. Um… what? Spence makes sure that his son wants to go pro and when Teddy declares that he does, Spence says that the decision is simple, dump Silver.
The next day, Silver suggests a movie before Teddy's tennis match, but Teddy channels his father in blowing off Silver citing needing to warm up before the game. But later after winning the game, Teddy doesn't feel like a winner, because Silver is who he really wants to be with and he tells her that he's fallen in love with her. Awww…
Javier
Adrianna gets another big break when Laurel picks her to do a duet with pop star Javier (Diego Boneta) and also wants Adrianna to write the song. Adrianna freaks when she can't come up with any good material after trying numerous of times.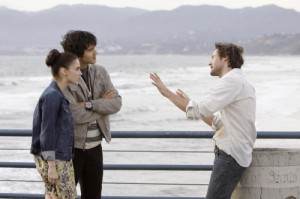 Enter Navid, who feels that Adrianna needs to shake her creative box by going out and exploring. After a humorous encounter with Ryan Matthews, who is drunk off his ass after seeing Jen again with Olivier, the two "friends" find their way to a carnival, where Navid comes to realize that he is soooo not over Adrianna. He is man enough to tell Lila this and the two decide to part ways. Meanwhile, Adrianna and Javier have great chemistry in the studio. Their chemistry is so great that Javier wants to see how it would be outside the studio by asking Adrianna if she has a boyfriend. When Adrianna says she has no ties with any guy whatsoever, Javier is glad, but Navid, who showed up with flowers, overhears this outside the studio booth. He tosses the flowers and stalks off. Ouch!
The West Beverly Blaze
– So Jen is back and she is working on her Joan Collins, Extraordinaire Seal of Approval medallion something fierce. I say give it to her and send her ass on her way. But the show could use a good girl to cause trouble and Naomi is not living up to her potential and has become the Good Witch of the West.
– Adrianna and Javier… Eh.
– Dixon and Ivy. About damn time.
– Harry and Debbie. <SMACK!>
– Liam's father left before the credits even rolled. A major letdown for such a huge person in Liam's life (and a hyped character) that I feel that Liam isn't the only person who deserves some closure.
– Spence is going to be hell and if Teddy isn't made a series regular next season, I will be highly pissed since we are spending so much time on a secondary character. Silver, watch out. Your snarky attitude can be the downfall in the world of Tilver.
See you guys next week!