Two in a row? 90210 is really coming back strong this year as tonight's episode introduced new people, new plot lines, and the makings of a villain in the increasingly slimy Oscar. Plus, we have a pervert on the loose in Mr. Cannon, and this mofo is crafty with his manipulations. Wait. Hold that thought. I just came across a glaring plot hole. You came close, 90210…
There's Something About Naomi… and Mr. Cannon
After defeating Jen in trying to get her trust fund postponed (which involved a hilarious Power Point to prove that Naomi is not ready for life ala trust fund kid), Naomi takes her new wealth and decides to throw the biggest 18th birthday bash ever. The only problem is that she has to apologize to Silver for coming on to Teddy, something that she feels horrible about. So how does Naomi does this? She lies about her drink being spiked, making her incapable of remembering the events that took place. Of course, Silver forgives her. For now.
Meanwhile, Silver is connecting with Mr. Cannon, who is growing more and more attracted to our resident snark queen. He even steals her scarf, which amplifies his pervert factor to NAMBLA proportions, especially when he gets jealous when Silver blows off a 'pseudo-date' with him to attend Naomi's party. Later that day while driving, Naomi spots Mr. Cannon on the street and nearly runs him over on purpose, scaring Adrianna in the process.
At the birthday bash, Silver discovers Naomi's lie and bolts after learning that Teddy is drinking again and lying to her face about it. She runs to the high school to meet Mr. Cannon, who tells her that Naomi came on to him that fateful night in May. That son of a ! Adrianna and Annie confront Naomi about her behavior, but are highly pissed at Naomi when she blasts both of them on their own problems (Adrianna – pregnant crack whore, Annie – a killer). When they mention Silver being with Mr. Cannon, Naomi freaks and heads for the school.
When she gets there, Naomi is devastated to find out that Mr. Cannon has already gotten to Silver mentally, because when she finally tells Silver about the rape, Silver is so disgusted with Naomi and her "lies" that she doesn't believe her. Wow… Never cry wolf, Naomi…
There's Something About Oscar
After another round of cougar sex with Laurel, Oscar finds out that not only is Ivy more conservative than she puts on, but she is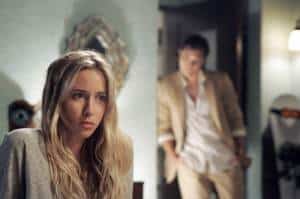 a virgin, as well. Wait. WHAT?!?! Since when has Ivy been a virgin? Didn't she and Liam have FWB (friends with benefits) sex during that whole "I'm in love with Liam!" spell she went through last year. Was the heavy petting that damn good, girl?
Oscar shows up at the school later to apologize to Dixon about his intrusion in Divy's relationship. Dixon offers a truce by having Oscar join him and the boys to hang out, but Dixon just want Oscar to meet new friends so he and Ivy can lose Oscar as a the third wheel. While at a bar, some girls show up and one of them asks to do belly shots off Dixon, who reluctantly agrees. As you know, camera phones are flashing all over the place as this goes down.
When the boys reach the party, Ivy meets Dixon and chews him out for his behavior at the bar and leaves the party. Later that night, Oscar tries to come on to Ivy by using reverse psychology and what Laurel told him earlier that day about Ivy's childhood in his advances. After some words are said, Oscar discovers that Ivy really is a virgin (insert your "HUH?!??" here) and leaves the situation open ended. Oscar then leaves and meets up with the belly shot girls from the bar to pay them for their acting services.
There's Something About Charlie
Annie bumps into a UCLA theater geek named Charlie (guest star Evan Ross) and the sparks are blinding, with numbers being traded afterwards. Later Charlie appears at West Beverly to leave a message for a student. A little too soon, Charlie, don't you think? Elsewhere, Liam asks for Naomi's blessing in dating Annie and she gives it without even a nostril glare, which is a feat in itself. Liam asks Annie on a date and said date takes place on a boat that Liam is "boatsitting", which turns out to be a lie when someone shoos them off the boat for trespassing. After running from the angry boat owner, Annie finds out that maybe Liam isn't as charming as she thought he was. So she calls up Charlie to take Liam's spot at Naomi's party.
After the party is over with, we see who Charlie really left the note for. It was for Liam, who turns out to be Charlie's half brother!!!! Charlie tries to bond, but Liam ain't hearing it. Irony!
There's Always Something About Adrianna
Adrianna is worried that Laurel hated the song she stole from Javier, but it turns out that Laurel not only loved the song, but wants it to be sung at Javier's funeral. Uh-oh… I smell a lawsuit, a-brewing!
Jen Clarke and Ryan Matthews in "The Odd Couple: The Next Generation"
After receiving a blowing defeat in court, Jen goes into labor pains while Ryan berates her to sign his petition to be the kid's father. When taken to the hospital, Jen finds out that she has to be on bed rest for the next two months. But will that not do hell on her thighs? After being told to basically go to hell by her personal assistant, Jen calls on the one person who will be there for her. No not Naomi, but Ryan, who says his services come with a price. Jen must sign the papers and move in with him. Jen is in hell, but she of all people should know that karma stinks and they are basically kin.
The West Beverly Blaze
– Another solid episode, sans the Ivy's virginity bit, but unless someone can prove me wrong on that then I am calling foul on that scenario alone.
– Why is Silver so gullible this year? I'm going to need her to wake up and fast. However, Naomi needs to learn that lying is not turning out to be a sport she should pursue any more.
– Charlie seems likeable, but looks can be deceiving. Let's pray that he, Mr. Cannon, and Oscar do not turn out to be this year's Jasper. Please, don't do that to us again? Please?!?!
Thoughts?