Okey dokey, West Bev High! You guys entertained me to no end last night, but there is still one thing that has a little miffed… I will explain later. Other than that we got a lot to discuss so let's get to it!
Annie Can Finally Breath, But I Can't…
Imagine me hoping Annie to find Jasper's body in a crumpled mess when the show came on last night. Is that wrong? Oh, well. But unfortunately Annie, being in good consciousness (and better than me), tries to stop Jasper from offing himself. But when she finally makes it to the Hollywood Sign, Jasper cries about how it all doesn't matter anymore now that Annie doesn't love him anymore. Just jump already, Jasper, and put us all out of your misery. Annie tries unsuccessfully to talk him down, but after Annie doesn't say what he wants her to say, Jasper leaps from the sign. I will withhold my comment as this action took place.
Annie meets Jasper's folks at the hospital and they are shocked to find out from Annie that their son tried to kill himself. They tell Annie to go home and let them take care of it. Annie asks for them to let her know if Jasper makes it. And lo and behold, the dude does make it, but his parents thinks that it is best to send him to a psyche ward for some time and I can't help but see The O.C.'s Oliver and Jasper as the psych wards version of The Odd Couple or Bosom Buddies and then I scream in fear. Anyway, Jasper has one final wish: he wants to see Annie before his folks ship him off… Here we go with this crap…
Annie pays the psycho a visit and he claims that the only reason she came was to make sure her secret was kept. Annie responds that is not the case and that despite not wanting to be with him, she does want him to be o.k. Jasper claims that everything he did, he did it for her, because he loved her and that what they had was real. Annie corrects Delusional Boy by revealing that their relationship was built on lies, not love. Basically, Annie is saying "let me go, Jasper" as nicely as possible and it seems to have worked cause Jasper says that he won't say a word. Annie is relieved on so many levels and I am glad that this storyline is sooo over. For now at least…
Dixon and Ivy?!!? WTF?!!?!?
With Teddy and Liam treating Dixon and Ivy like infants when it comes to their relationships, the two friends decide to just hang
out and mope about this injustice. But when they show up at the Beach Club and sees Liam, Naomi, Teddy, and Silver on a double date, they try to avoid them. After being spotted, Ivy makes up a lie on the spot that she and Dixon are on a date. Let the laughter commence and Naomi doesn't disappoint in the bombs she drops throughout this storyline.
Dixon spots Teddy buying Silver a gift and fakes like he is getting Ivy a gift as well. He eventually does get Ivy a gift to keep up appearances and Ivy actually loves it. While at a concert being held by Adrianna and her band, Ivy and Dixon up the ante with their faux-lationship, but when they think no one is looking, they drop their hand holding antics and and charm. Naomi spots all of this and confronts Ivy later after overhearing Ivy talking with her mother about Liam. Naomi immediately feels that Ivy is a loser and should give up the act. Dixon shows up and Ivy says their busted, but Dixon saves face and proceeds to kiss Ivy in the most believable way possible, making Naomi look stupid.
The next day at school, the two proceed to hold hands as they enter the school. Just in case Naomi is around… Yeah, right.
Meanwhile, Teddy also notices Dixon's budding gambling habit. I see that Teddy might will be the one to step in and be the friend Dixon will need later down the road.
"I Know You, Silver"
Silver messes with Teddy's head about him knowing her likes and dislikes. After chatting with Dixon on getting Silver a gift, Teddy settles for a box of diamond earrings. When Silver receives them, she 'beams'… to Teddy's face. But when his back is turned, she is on the verge of gagging. Silver later comes clean about not liking the diamonds, because 1) they are not her and 2) they remind her of people dying in Sierra Leone to make them. Teddy chuckles and presents Silver her real gift: a leather bound copy of Madame Bovary. Teddy reveals that he knows Silver hates diamonds and that he remembered when Silver gave the book a rousing review at the beginning of the school year about how it had changed her life. Teddy is a frakking genius, hand down. Oh and Teddy reveals that the diamonds are fake, which calms all of our nerves.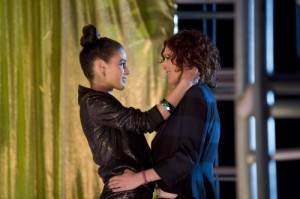 Adrianna Kissed A Girl And She Likes It!
Adrianna is getting cozy with Gia as the two are kissing up a storm and are budding a nice romance, but that is all behind closed doors mind you. When they get in public, it's a different story that Gia is not amused with.
While trying to get the Gloria Sternums equipment from school, Gia goes in for a kiss, but Adrianna ducks. Ouch… Gia is hurt that Adrianna hasn't come out yet with their relationship, but Adrianna hasn't figured out their situation. Gia remains pissed. Befor going on stage, Adrianna has a panic attack about performing live in front of a lot of people. The group stands behind her and say that the only way to get over your fears is to face them and screw what people say or feel. Just perform. And Adrianna does just that and rocks the place. When the group finishes, Adrianna runs to Gia and kisses her in front of the entire audience. Gia is a grinning idiot and so is Adrianna.
The next day at school, Laurel (Ivy's mother) approaches Adrianna and wants to sign her to her label. Adrianna is thrilled and can't wait to tell the band they are about to be signed, but Laurel is only interested in Adrianna. Here we go with this crap…
Naomi… WTF?!?!!
The gang still feels that Naomi should come forth to Principal Harry about Mr. Cannon's alleged Sexual harassment, but Naomi knows that the crap will hit the fan if she makes a false accusation. Liam and Silver then suggest that Naomi sees a counselor, which Naomi agrees to only to save face. Liam drops her off at the counseling place, but Naomi ditches it like a kid skipping school. Sad… Liam asks if the therapy sessions are helping, but how could they be if Naomi isn't attending them? She claims to have thought it over and after the craziness with Annie and Jen, she doesn't want to add more drama to her life and that Jen and her are not that much different from each other. Liam says that isn't true, because if Naomi was like Jen then they wouldn't be together. I howl. But Liam promises to follow her lead. So does attack Mr. Cannon at school following Naomi's lead Liam? Hmmm?
Liam ends up in Harry's office and Harry is ready to expel Liam for his actions unless Liam explains himself, but he doesn't fess up. Naomi catches wind of this and runs into Harry's office to defend Liam and to reveal what happened. But instead she keeps up her lie and claims that Liam attacked Mr. Cannon, because the teacher came on to her. <facepalm>
Damn…
The West Beverly Blaze
– Despite the idiocy Naomi is displaying now, I think that Mr. Cannon is completely not in the clear either. Naomi only offered that she would do anything to get back on the Blaze and it was Mr. Cannon, who suggested that she was trying to come on to him. In some respects, his arrogant attitude that a student would actually think want to sleep with him should be called upon and nipped in the bud. If it had of been me, I would have been offended if someone came at me like that.
– Dixon and Ivy? I can see it. By God, I can see it…
– Will Gade (Gia and Ade) survive the season? I pray so…
– Is Laurel going to cause trouble? Me thinks so…
– Despite Jasper being incapacitated, he is still a danger to Annie. I know in the past I said that I wanted him dead, but maybe a maximum state prison would suffice. As long as I don't see his face again…
See ya next week, peeps!!!!