Due to my Internet service going COMPLETELY OUT last night (Thanks New Wave! *RME…*), I couldn't talk to you about the long-awaited return of 90210 sooner. So let's get to it.
The Kids have returned and while I want to join you in that happy happy dance, I can't because they, unfortunately, brought Jasper back with them. Do I have to take that freak into a pasture and put him out of our misery?!! Because Lord knows I will do it!!!!
The Set Up/ Return to West Beverly
Everyone makes their way back from their respective winter vacation spots with agendas set for the new year: Naomi and Liam are texting something heavy and can't wait to go on their first date since they have made up; Dixon can't wait to get back with Silver, who is confused about Dixon's kiss and Teddy's advances, Debbie can't wait to confront Kelly about her crush on Harry at a Booster's Club meeting, and Annie fears what's to come as she should since Jasper didn't get the memo that they have broken up. Annie sees this fact as she returns home to flowers on her bed from Jasper, who broke into her room to leave them there. This nonsense needs to stop like… last year.
Oh and Navid returns to school with a souvenir from his college tour trip: a small baggie of cocaine. WTF, man?!!?
The Awkwardness of 'Niam'
Naomi goes overboard on her and Liam dating again so much to the point that she thanks Ivy for giving her the heads up in the form of a purse. Ivy doesn't even have time to get over her disgust at Naomi and Liam together again when she is presented the gift. She just shakes her head in disdain. I do as well.
Naomi and Liam have their first date and it is awkward as hell to the point my eyes and ears were on the verge of bleeding. This upsets the both of them as they talk about it with friends. Naomi talks to Ade who suggests to spice things up to save the "chemistry". Liam talks to Ivy about it who says that it was worth a shot, which Liam agrees, but misses Ivy's point.
Naomi amplifies Ade's plan by using the good ole 'there is nothing under my coat' seduction trick, which gets Liam in bed, but they end up back at square one, which is the awkwardness of Niam…
Dixon vs. Teddy Round 1
Dixon eagerly goes to see Silver about the kiss, but Silver feels that it was a mistake, which totally deflates Dixon's ego. For the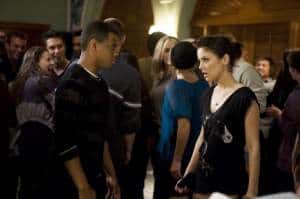 moment. At boxing practice, Teddy and Dixon are teamed up and it is a modern version of a dual as the throw kicks and punches, but without drawing attention to them. Teddy lets Dixon know that kissing Silver, knowing that he liked her, was a punk ass move and he is right. Dixon gives the "ish happens" speech and then boasts that between the two of them, Silver will be back with him in no time. The little prick…
Later on, Silver approaches Teddy about them getting together, but Teddy lies and says that Silver was right about him being a player and such. It was a boneheaded move, which leaves Silver confused and hurt.
During the party, Silver spots Teddy throwing his tongue down some girl's throat and Silver is disgusted. Dixon swoops in to comfort her, but instead of coming clean about lying on Teddy, he reveals his newfound feelings to Silver and asks for another chance. Silver doesn't give, or us, an answer immediately. I say, "Hell no", Silver!
Ade and Gia Sitting In A Tree…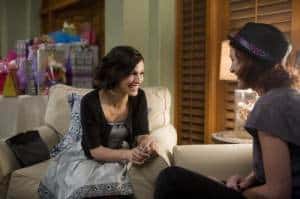 Adrianna feels like an outcast from the girls and tries to reconcile with them, but it is tough. It's not as if Silver and Naomi are trying though, but Adrianna is taking it slow. She attends an AA meeting and finds out that Gia (special guest star Rumer Willis), also attends said meetings. The two girls bond and Gia gives Ade her number in case of an emergency and if she wants to talk.
Naomi invites Adrianna to go with her and Silver to the birthday party later that night and when they get there, Adrianna is horrified when she realizes after taking a sip that the drinks are spiked with rum. She calls Gia, who happens to be there as well, for support. Gia talks Adrianna from a heart attack and the two girls began chatting about other things, which is when Gia freaks out when she sees her ex-girlfriend with another girl. The ex looks jealous and now it's time for Ade to be the sponsor and Gia to be the advisee. So Ade, feeling bold, tells Gia to give the ex a show and she kisses Gia in front of the ex, who is pissed. When Gia asks why did Ade do that, our recovering addict simply says she doesn't know why. Keep it classy, girls!
She's Just Not That Into You… Kinda…
At the Booster's Club dinner, Harry and Debbie run into Kelly, who Debbie wants to get to the bottom of things with concerning Harry. She pulls Kelly to the side and confronts her about the crush on Harry, which Kelly claims is not where she wanted it to go. She continues by saying that Harry was the only person she could talk to during her time of grief over Jackie's death and that when a crush developed, she nipped it in the bud. Debbie accepts this and the two women talk about what Kelly looks for in a man, which is the basics. Debbie invites Kelly to attend her yoga classes with her the nest day to meet her yoga instructor. After the ladies finish talking, Harry, who has been spying on them the entire time, asks Debbie what the frick went down and Debbie says that Kelly would've probably had a crush on anyone who was there in her time of need. Harry looks disappointed in that answer, but either Debbie missed it or ignored it. Either way, Jennie Garth was at home rolling her eyes in disdain, I bet, and I joined her.
At the yoga class, Debbie tries to introduce her instructor to Kelly, but this punk is eyeing and practically fondling Debbie! Kelly notices and tells Debbie, who blows it off at first, but begins to think that Kelly has a point once she spots the instructor focusing on her while he instructs the class. This storyline might be salvageable after all!!!!
Him
I slick want to refer to Jasper as "Him" for the rest of the season, but that would cause all kinds of complications, which fits his character to a 'T'. Anyway…
This is where Navid's cocaine baggy comes into play. He wants to use it to frame Jasper, but he needs the locker combinations to do so. Dixon is not about to put his head on the line for something so idiotic, because it has to be him to break into his dad's computer to get the combinations. But at this state, I would be behind anything to get rid of Jasper, even if it involved dismembering and scattering his remains across the Pacific Ocean. He has to go. Hell even Oliver from The O.C. wasn't this damn nuts… and creepy. And that's saying a lot!
Jasper approaches Annie at school about how much he misses her, which Annie disses and reinforce their breakup, which Jasper gets, but doesn't want to. He threatens to out Annie to the cops for murdering his uncle if she doesn't fall in line immediately, and Annie, as we all know, falls back into his arms, except this time tears are involved.
Silver and Naomi take notice of Annie's prison term and confront her about it. She tells them to get lost, which prompts Naomi to tell Dixon about it. Dixon later confronts Annie about Him and she doesn't want to discuss it with him either, stating for Dixon not to mess up their recent reconciliation over Jasper's ass. But Dixon uses his head for the second time this season and calls Navid to say that he's in on bringing down Jasper. The next day, the two boys manage to successfully get the locker combos from Harry's office and we are in like flint.
Meanwhile, Jasper continues to torture Annie and slams the gauntlet down when Annie tries to piss him off by saying that she hated every movie they watched together. He has this girl on lock and I… Forget it moving on…
Navid and Dixon arrive at school the next day to witness the police doing a locker search for drugs, which they are delighted to hear. But their joy is short lived as Jasper's locker is clean… and Navid's ISN'T?!?!??!??!?! WHAT THE FRICK HAPPENED?!?!?!?? As the police and Harry haul Navid to the office, Jasper looks on smugly. I now have to purchase a new TV after punching the screen in last night, because, people, this HAS TO BE STOPPED!!!!!!
The West Beverly Blaze
– I'm not going to talk about Jasper anymore. Nope. Sorry. Someone might get hurt.
– Dixon? On the fence about him this week, but he is way better than at the beginning of the year. If he loses that thing he calls a box on his head then maybe he can be forgiven.
– I need Niam to have some chemistry, because we lost a lot of time for them to get together. It would be a shame to know that time was wasted.
– Could it be that Debbie might be the one who has to fend off suitors and Harry be the one who gets fed up? Hmmm…
– Gia and Adrianna. If they keep it this tasteful, then I see a winner in their storyline.
– Teddy. Is he fading into the ether?
– Ivy. Will she move on or give Naomi hell? I am banking on the latter.
See you all next week!