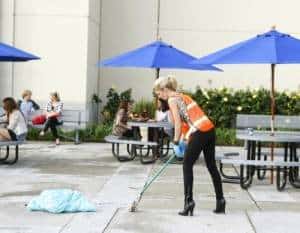 Last night, 90210 returned from its one week hiatus and it seemed to have developed some of its storylines without us.
Naomi's Luck Plummets Below Hell And Beyond
When Harry promised Naomi a cruel punishment, he didn't know how on the money he was. Naomi has to pick up disgusting trash and fix the vandalism done to Mr. Cannon's parking spot, all under the judgmental and disapproving eyes of her friends, Liam, and the entire school. Naomi feels the brunt of her actions when some of the students still consider Mr. Cannon a pervert, which upsets Naomi and gives her a heart of sorts in the process. So she makes announcement to the entire school about the truth and how sorry she is for being "perverted" when it came to ruining Mr. Cannon's life. Annie, Adrianna, and Silver forgive Naomi for her lesson learned. The rest of the school though? Maybe not so much, but their attention span is shorter than Perez Hilton's relevancy. Anyway, Mr. Cannon sees that Naomi is truly sorry and the two bury the hatchet. Now all Naomi has to do is get Liam to join the "Welcome Back to Sanity!" bandwagon. The Brooding Prince eventually does come and make up with Naomi, but his mind is elsewhere. (See below.)
Now that Naomi has her life back, everything seems peachy keen. Then Hell sends back its devil spawn, aka Jen, making me run for the hills, screaming. Seems that Jen has not only made up with her French ex-husband, but she talked him into moving to Beverly Hills and buying the Beverly Hills Beach House, as well. Gob. Smacked! But Jen isn't just back for prime real estate, she's back for blood, namely Naomi's, who runs away like a scared child would (and should) if their lives were just sent straight to someplace that Hell is even afraid of…
Moron Divided By Common Sense Equals Dixon
Deja vu reared it's head when Dixon holds an underground poker game for high school students. Yep, Brandon and the original gang did it better back in the original series' Season Two episode, "Anaconda," and they did it better I might add. Dixon gets an unwanted guest in Mark, the mind behind Annie's sexting scandal earlier this season. Mark has big dough and wants to play.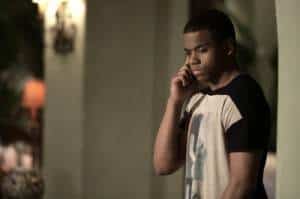 Dixon lets him in, but quickly wishes he hadn't when Mark kicks Dixon's ass in poker. Sadly, Dixon now owes Mark $6,000. This kid will never learn…
While on that date with Ivy, Dixon receives a call from Mark asking for his money, which Dixon doesn't have. So, Mark makes a bargain: get the key to the school so he can set up a birthday present for his girlfriend and the debt is forgiven. Dixon reluctantly caves in, but gets smacked again for being a moron, because Mark used him to get into the school with some friend so they could steal the SAT tests. Dixon tells them that the tests aren't there and that all Mark's trouble was for naught before leaving. The next morning, students of West Bev show up to a trashed and vandalized school. The culprits? Mark and his gang. But Harry has them all on tape and makes Dixon give the names of everyone else involved, since the vandals wore ski masks.
It would seem that Harry will be laying down the hammer of justice on the kids right? Nope. Since the superintendent vowed to expel everyone involved, Harry lied about not being able to view the faces of the students to protect Dixon, who he grounds for his actions that in turn throws a wrench in his budding relationship with Ivy. Harry also tells Dixon to keep his mouth shut to not only his friends, but Debbie, as well. But the drama is just beginning since Mark is still on his "Better Have My Money" tip and wants to be paid in full. Dixon, thinking he's being smart, let's Mark know about the save the principal gave them in order to save Dixon's future, so, Mark now has dirt on not only Dixon, but the principal as well! Great job, Dixon. Brandon Walsh would be so proud.
Silver Who?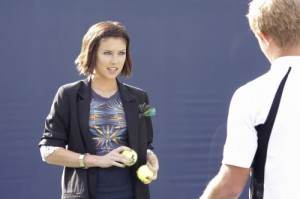 Silver is all about the SATs, but Teddy is all about his tennis lessons, because that's his future. Then a fight ensues between the two. Silver comes to her good senses, realizing that she was being judgmental and apologizes to Teddy. She even comes to support him in his tennis match, but Teddy insists that she go study for her SATs. At first, Silver agrees, then relents and decides to stay after all. She spots Teddy's father, Spence (an uncredited Ryan O'Neil), and decides to sit with him. Problem is, Spence doesn't know who the hell Silver is, let alone that Teddy has a girlfriend. OOOOOOOHHHHHHHHHHH!!!!!
When Teddy tries to make sure Silver isn't pissed, she tells him otherwise. Dun Dun Dun!!!!
Harry and Debbie At WAR… But Since When?
This is where I am scratching my head. Harry and Debbie get into it over dry cleaning, which brings Debbie to come clean abot her kiss with Kai, her yoga instructor. Um… what? Harry is livid, but has bigger issues to fry with Dixon's shenanigans at school. But Debbie wants to talk about it and to work on their issues. She claims that Kai understood her and was compassionate about how she felt, which is why she didn't stop the kiss. Harry is too speechless for words. Do I need to rewatch the last three episodes to see what clues I missed?
Liam and Annie's Parental Bonding
Liam bonds with his father Finn (Scott Patterson) over the boat Liam has been building all season. Finn talks about opening a tackle shop and making enough money to take over custody of Liam. He needs to find a job first, but the job market is still not keen
on hiring ex-cons. Liam, on the other hand, is eating all this up. I feel like he is being set up for a fall. While his real father promises Liam good times ahead, his stepfather, Jeffrey, plans on making his life a living hell. Jeffrey wants to make Liam's Fortress of Solitude into a gym and to do this, he will send Liam's mom to Europe next month for a week. Can you imagine the torture he has planned for Liam? I can. The Brooding Prince has a plan, though. He steals some valuable coins from Jeffrey and gives them to his father to help jump start his business. Again, this will end soooo ugly.
Meanwhile, Annie is loving life sans Jasper's crap (and I am thrilled, for lack of a better word, to see her happy for once), but all this comes crashing down when she overhears Harry and Debbie arguing about their drama. So she and Liam turn to each other, but Annie stops the flirtations from going any further, telling Liam that he needs to be with Naomi. Liam goes to make up with his girlfriend, but his thoughts could possibly be with Annie, which doesn't help when Annie could possibly start having feelings for him as well. Did they NOT learn their lesson from last year?!!?? Oy Vey!!
The West Beverly Blaze
– I feel so damn sorry for Naomi. If Jen was my sister, suicide would be a constant staple in my thought process… or murder.
– Harry and Debbie's 'sudden' arguments are puzzling. Sure, they had issues at the beginning of the year, but I thought they squashed all of that. Oh well… We all know how this will end… right?
– Dixon. <SMACK!>
– Finn is going to screw up Liam's life so badly… But doe we need another brooding kid's father screwing him over? Hello?!! Dylan!!!
– Why wasn't Ryan O'Neil credited? Wassup with that?
See you all next week! Season finale two weeks away!