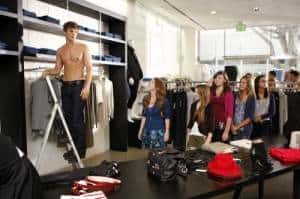 This season of 90210 is shaping up to be the best yet and despite my qualms about how they handled the HIV storyline, the show came back from it's hiatus in top-notch form.
Scarred Brothers
What in God's name could those scars on both Liam and Charlie's backs represent? Obviously, they were from their sordid childhood, but what caused them? Were they made by an accident or by the hand of a family member? Whichever it is, I can't wait to see how it all pans out.
When we found out how twisted Charlie's plays are as Annie snuck into a reading of his latest work, I immediately had a flashback to season two and got scared. Like she said, I thought she had attracted another Jasper when some of Charlie's lines were read from his play. After some thinking, I came to the conclusion that Charlie is using his writing to vent his anger and violent nature. It would make a perfect therapeutic exercise, and show the kid knows how to handle his issues. Hopefully, my conclusion is right.
As for Liam, this Laura chick smells like complete and utter trouble. I thought she would be a one-off character, but she seems to be attending the Glenn Close School For The Unloved Woman. Thankfully, Liam doesn't have a pet rabbit to be boiled.
Oscar Goes In For The Kill
Just as I thought Oscar would be a season-long villain, he reveals his cards to Laurel after ruining her relationship with Ivy.
The crazy thing is that it happened so fast. I don't know if I am ready for him to go just yet. You can't just have an epic smackdown like that and exit stage right! I hope there is retaliation, because Oscar ultimately played with Ivy's emotions to achieve a goal. Plus, I really dug Ivy after finding out about her mother's sexual escapades with Oscar. "I'm upset because my mother is a whore!" Great line, great delivery.
The Clark Sisters Unite

Never saw this turn of events coming in the battle between the Clark sisters, which is now nullified with Jen finding out about Naomi's rape by Cannon. I loved how Ice Queen Jen was ready to go dig into Cannon's smugness. She meant business and he was seriously about to be dealt with. On the other side of things, Naomi got to see her nephew for the first time and her heart melted in an instant. With both girls seeing the drastic changes in each other's lives up front, it humbled them some, making each sister realize that family is thicker than anything they've been fighting over. I can't wait for these two to give Cannon hell with Ryan Matthews in tow. Thank God they made that guy likable for once.
Adrianna! Thou Art A 'Fame Whore!'
Adrianna is about to get so caught up in her drama that I don't see anything good coming out of it. Victor is upping the ante and Adrianna is becoming a fiend for her new drug: fame. Victor is just the supplier now. Ade behaved like an addict by stealing Javier's songbook and making it her own, not thinking that the guy sung those songs for someone else. It's a wonder that Victor is the only person to step forward on the matter and it's doubly odd for Javier to confide in the slime bag. I can't help but think Javier was his own boss and Victor never got the chance to make too many decisions. Or Victor was that family member who wanted in on the action and never got it. Either way, pusher (Victor) and addict (Ade) are about to get even more messy when the world eventually finds out that both are frauds.
This was a damn good episode. It didn't dawn on me until I went on Twitter that Teddy was nowhere to be found. Maybe the writers realized they didn't have to cram everyone's storyline into one hour?
See you guys next week!