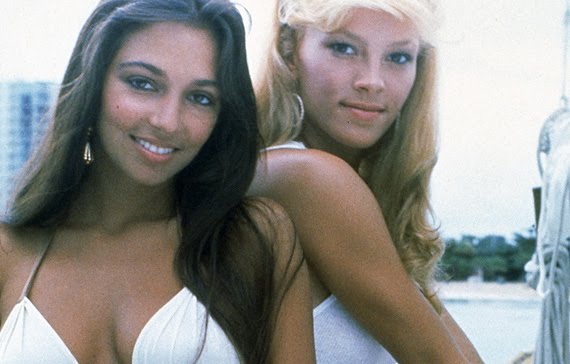 Carole Davis is an actress with both American and EU citizenship who has also done a fair amount of singing, songwriting, and even writing as side pursuits. She was born to an American father and a French mother before being raised in a succession of countries that ranged from England to Thailand. In time, Davis moved to New York City as a teenager before going on to attend the City University of New York for Chinese studies as well as political science. It was not until afterwards that she also attended a program at the Lee Strasberg Theatre and Film Institute.
As a result, her acting career kicked off in 1981 with a role in Piranha II: The Spawning, which has the distinction of having been James Cameron's first job as a director. Regardless, her performance was good enough that she went on to appear in a number of movies such as Mannequin as well as a number of TV shows such as Angel, The A-Team, and Sex & The City.
In 1989, Davis's career as a singer and songwriter started up as well when she signed on with Warner Bros. She is remembered for "Serious Money," which was a cover that was popular enough to send her touring throughout Asia, Europe, and the United States. Other successes ranged from her writing of "Slow Love" for Prince to a self-produced album that was released in 1993.
What Happened to Carole Davis?
For a time, Davis seems to have de-prioritized her acting in preference for writing as well as other pursuits. For example, she became a novelist at one point, having written a novel called The Diary of Jinky, Dog of a Hollywood Wife, which focused on the excess as well as the constant competition for status in said city. Furthermore, she penned articles for publications that ranged from the Jewish Journal to the American Dog Journal, in which she covered serious issues that ranged from anti-semitism to cruel practices in the production as well as the sale of pets. The last is particularly notable because Davis became a director in the Companion Animal Protection Society, which specializes in investigating puppy mills as well as their connections with the rest of the pet industry.
With that said, it is also worth noting Davis got married to Kevin Rooney, who has won an Emmy Award for his writing. They have children – one of whom might be recognizable to people who pay attention to celebrity news as Simon Cowell's partner Lauren Silverman, whose last name comes from her ex-husband.
Where Is Carole Davis Now?
In 2016, Davis made a return to acting with a recurring role as a French Foreign Minister on the American political drama Madam Secretary, which resulted in two episodes that were broadcast in 2016 and 2017. Furthermore, she has a role in The Queen of Hollywood Blvd, which has reached the post-production stage, as well as a role in Beach Cougar Gigolo, which has had a script sent out to the director A.J. Edwards. Summed up, while flourishing might be overstating the truth of things, it seems clear that Davis's acting career is active again.