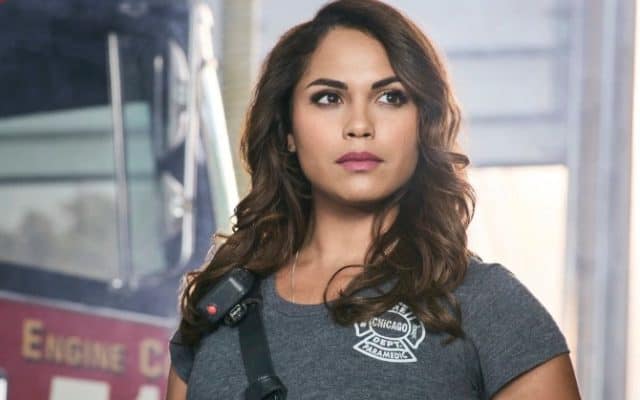 Monica Raymund is an actress who was born in St. Petersburg, Florida, on July 26, 1986. She began her career in 2007 and is now best known for her roles as Dana Lodge in 'The Good Wife' and Gabriela Dawson Casey in 'Chicago Fire'. It was recently announced that this actress would not be returning for the seventh season of 'Chicago Fire', so what is next for Monica Raymund?
Although she is best-known for her television work, her first serious role was in the 2007 short film 'Fighter' portraying Sarah. Between then and 2015, Raymund also had roles in a further two short films and also in the 2012 film 'Arbitrage' and 'Brahmin Bulls'.
Her television career began in 2008 when she appeared in an episode of 'Law & Order: Special Victims Unit'. Raymund then landed the role of Maria 'Ria' Torres in 'Lie to Me'. She appeared in 48 episodes of this television series between 2009 and 2011. She went straight from playing this to her role in 'The Good Wife', in which she appeared until 2012.
It was when she left 'The Good Wife' that she got the role of Gabriela Dawson in 'Chicago Fire' and it is for this role that she is now best-known, and she has continued to play this character until 2018. This series also starred Jesse Spencer, Taylor Kinney, Lauren German, Charlie Barnett, David Eigenberg, and Teri Reeves. The series was created by Derek Haas and Michael Brandt. Raymund also portrayed the same character in the spin-off series 'Chicago P.D.' from 2014 and 'Chicago Med' from 2016.
It was rumored for a while that five of the original cast members from 'Chicago Fire' would not be returning for the seventh season of the series and that Monica Raymund was potentially one of these cast members. Season six was last aired on May 10, 2015, so fans of the series were eagerly awaiting news of which cast members would not return.
Raymund confirmed the news to her fans herself via her social media pages on May 15, 2018. She photographed a handwritten note and posted it on her Twitter account. The note said that she would not be returning for season seven and that she is starting a new chapter in her life. She thanked fans for their support and then rather cryptically said she would see them on the ice. Was this a hint of what she is planning next in her career?
As yet, she has not said what the next project in her career will be or even if she has had any offers. She is certainly not filming for movies or television series at the moment. Pages relating to this actress on the Internet also do not reveal what she is planning for her career in the near future.
However, there are signs that she is diversifying in her career and is willing to undertake roles behind the camera as well as starring on-screen. This is clear from her involvement in 'Locating Silver Lake', for which she is an executive producer.
'Locating Silver Lake' is a 2018 drama film that was written and directed by Eric Bilitch. It is about a broken-hearted aspiring writer who graduates from college and then moves to Los Angeles to make a fresh start in his life. The film stars Tate Birchmore, Valerieie Cruz, Ross Everett, Americo Galli, Alexia Hall, and Grant Harling.
This film was Monica Raymund's second experience as an executive producer and she was joined in this role by Doug Bilitch, David Polemeni, Finn Wittrock, and Ronals Zamber. Her first executive producer was for the 2015 film 'The Submarine Kid'. She has also directed a small film called 'Hidden Tears: Tanya' in 2016.
As she now has experience both in front of the camera and behind the scenes, there are a lot of possibilities for Monica Raymund in the future. She has the option of landing a main role in a television series, taking on a role in a film or working as a producer or director. The choice is entirely hers.
Fans of the actress are still waiting to hear definite news about the actress' plans for the future. It is not clear whether even Raymund herself knows what she will be doing over the coming year or if she is simply opting to keep quiet about her plans for now.
Tell us what's wrong with this post? How could we improve it? :)
Let us improve this post!