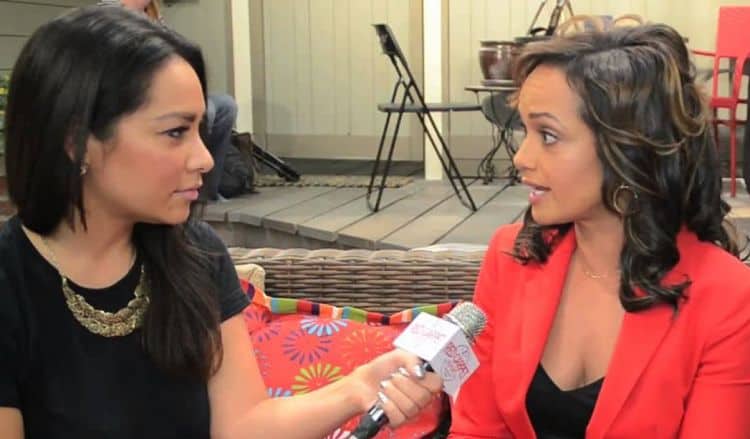 If you have kids under the age of 12, then you have most likely had your television commandeered by your kids so that they can watch K.C. Undercover. It may be that even your older teenage boys may be dominating the television to watch K.C. Undercover – all for different reasons, however. The show is part of Disney's kid's television programming and it is geared toward a younger audience; however, it is not uncommon for teenage boys to have the Disney Channel when this show airs in order to catch a glimpse of its star, Zendaya. Well, Zendaya is not the only beautify female on this show, and beauty is not limited to those under 21.
Tammy Townsend plays the role of Kira Cooper, K.C.'s mother opposite Kadeem Hardison. For those of you who are not family with Tammy Townsend, here are five facts to get you caught up.
1. She is a Los Angeles Native
Off course you have heard the stories about how people have uprooted their lives to move to Los Angeles or New York in order to pursue careers in entertainment, but sometimes the back story is not that drastic – at least from a geographic perspective. Tammy was born and reared in Los Angeles, California – placing her in the heart of the City of Dreams. She was fortunate enough to have parents were able to provide a strong foundation for her. She would take that foundation and run with it.
2. Parent with Range
More on that foundation. Not only were Tammy's parents successful in what they did for a living, their professions provide a wide expanse of the possibilities that life had to offer. Tammy's mother was a successful interior designer, which obviously help to stoke the creative ambers of Tammy's imagination. Her father, Thomas Townsend, was a judge – talking about two extremes. Yet, it was this type of balance that would provide the foundation that ensured Tammy that she could become anything she wanted to become.
3. She Won Miss Talented Teen of California
Even before she graduated high school, Tammy had already experienced success in the lime light. In 1987, the young beautiful star to be was crowned as the latest winner of the Miss Talented Teen of California winner – a contest that measures so much more than beauty. Each of the contestants that enter this competition possessing unique talents that they will display for the audience and judges. For Tammy to win this prestigious event was a huge boost to confidence.
4. She Played Greta McGuire on Family Matters
Who doesn't remember the 1990s sitcom family matters? It was the introduction of Steve Erkel to the world, but Tammy also found some camera time on the show playing the role of Greta McGuire, who was Eddie Winslow's girlfriend. Wow, how time has passed, but time has not robbed this beautiful star of her aesthetic appeal in the slightest. And to play a role along side Zendaya and hold your own in the area of beauty is, in itself, quite an accomplishment.
5. She is Currently Single
While there have been numerous rumors surrounding who Tammy is currently dating, sources closest to the actress reveal that she is currently single. Her most notable dating relationship was with ex-boyfriend Carl Payne, who gained fame as Cock Roach on The Cosby Show and as Cole on Martin. It is not clear what caused the two to part ways, but there are some that suggest that the couple may still maintain somewhat of a close relationship.