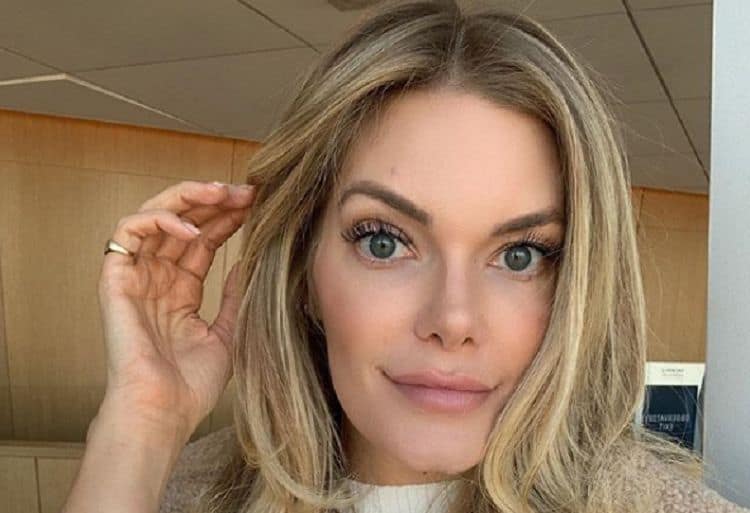 Lauren Wirkus is a reality star, mainly known for her appearance in "Summer House," along with her identical sister and friends. She went to the University of California, Davis and graduated with an undergraduate degree in managerial economics in 2009. She has a background in finance and even interned for Daymond John before finding a job at an equity firm. Her love life is unknown at the moment, but she once dated Carl, her fellow castmate on the reality television show, but the two preferred to remain friends instead. These ten facts will let you in on more about the reality star.
1. Her mother taught her how to expose her breasts for fun
Mothers are known to teach their children essential life skills, but Lauren's mother, Dana, had other tips for fun. When she was in high school, Dana would drive to the Pacific Coast Highway and tell everyone to expose their right breast. Now, as an adult, Lauren has not given up on the weird habit and has even introduced her friends to it; together, they call themselves the "One Tit Crew."
2. She was an equity investor in a salon
With her love for hair and perhaps looking to be a savvy entrepreneur, Lauren decided to partner with Crystal Torres, the owner of Ethan Rose Salon in Tribeca. The reality star wanted to promote the salon and got to be an investor after getting a discounted price. Lauren signed on to become an active managing partner, but with her hectic schedule, she could not keep up with her duties, therefore, opted to continue marketing the business instead.
3. She was engaged in a legal battle
We have all heard of business relationships turn sour: with Lauren and Crustal, they had agreed that Lauren would be marketing the salon, and Crystal, therefore, used her images on the salon's social media. Lauren had allegedly fallen out with Crystal, thus sued her and wanted the investment she had put into the business refunded. Unfortunately, Crystal was not ready to repay the investment. According to Page Six, Lauren had arrears of beauty services amounting to 90K hence a refund was impossible, especially because she also went against the terms of the agreement.
4. Her sister had skin cancer
Ashley had always had regular dermatologist visits; therefore, when she went in for her annual checkup in mid-2019, the doctor advised her to do a biopsy on a mole on her back. Ashley has lots of moles, so she was not worried until the doctor said a week later that the mole was, unfortunately, malignant melanoma. She underwent an operation to remove the cancerous cells, although she wondered how she got cancer, yet she has always been careful when going outdoors; as an outdoor lover, Ashley carries sunscreen, sunglasses, and a hat.
5. She is a supportive sister
The bond between Lauren and Ashley may be because they are identical twins, but the entire family gets along, as evidenced by the birth of Ashley's son, Dean. Lauren, her other sisters, as well as their mother, were all in the delivery room, giving Ashley moral support considering that she was a first-time mother. Lauren then confessed that she felt Dean was part hers, and she even planned on moving so that she could be near her sister and nephew, according to Bravo TV.
6. She is obsessed with her hair
Lauren describes herself as a "hair girl" whose obsession has always been her hair. Consequently, taking care of her crown of glory is of utmost importance to the reality star. Although her hair is oily, she only washes it every other two days to avoid damaging it. She also allows her hair to air-dry after coming out of the shower to protect it from damage by excessive heat styling. She loves long hair ever since she learned to appreciate it; when Lauren was young, she and her sister preferred shorter hair, but their mother discouraged them from cutting it, saying they would regret it later.
7. She has OCD
Lauren said that she and her sister have Obsessive Compulsive Disorder that forces them to want to see everything organized. As a result, when they were in the "Summer House," Lauren found herself cleaning up after everyone else because she could not bear to live with the mess, and no one met the standards she wanted.
8. She has always been into fashion
Lauren is the type of woman who wears something, and everyone wants to know where they can get it. She has become such an influencer, and everything she wears usually ends up being advertised as seen on Big Blonde Hair. Her love for fashion has been since her younger days. She and Ashley put it to good use by starting a blog where they share everything, including their travel experiences and what they love to wear.
9. How she ended up on reality television
For six summers, Lauren and her sister had been going to the Hamptons to hang out with their friends. A friend who had seen them post of their vacations on social media suggested to them to join a reality television show and even connected them to the producers. It had never occurred to them that they should have their lives on camera despite being told on multiple occasions that they are ideal for a reality television show. Since Lauren and her friends are doing what they have always done over summer, it comes naturally to them; thus, they agreed to be on the show. Lauren reasoned that they all have a unique story to tell while sharing their summer culture.
10. Her worst memory of sharing a house
Lauren recalls that she and the "Summer House" cast once had to live in a house with toilets that were not functioning. They could not flush, and no plumber was available to fix it for them. Since like they say when you have to go, you have to go, the toilets became an unsightly mess, and Lauren terms the experience as horrific.
Tell us what's wrong with this post? How could we improve it? :)
Let us improve this post!