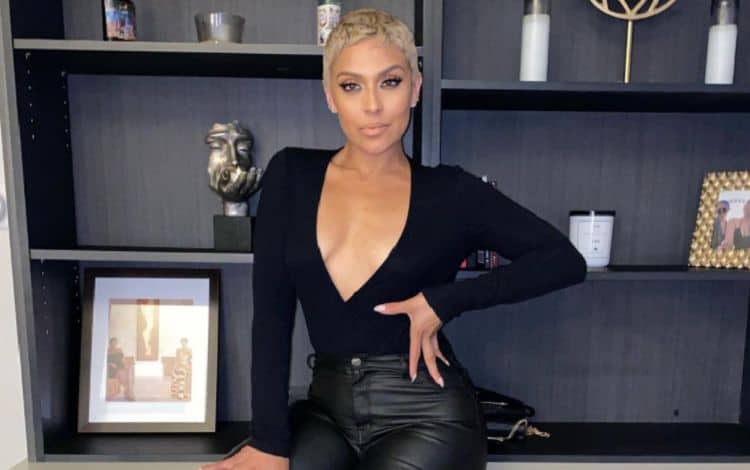 Whenever a person gets involved with a celebrity, it's only a matter of time before they end up in the headlines. Abby De La Rosa is currently experiencing this after news broke that she and her boyfriend, Nick Cannon, are expecting twins. Cannon, who already has a set of twins with Mariah Carey, also has two other children from a previous relationship. Abby has been glowing ever since the news was revealed and she is looking forward to welcoming her bundles of joy into the world. Although many news outlets often label her as Nick Cannon's girlfriend, there is much more to her than her relationship status. Keep reading to learn 10 things you didn't know about Abby De La Rosa.
1. She's A Los Angeles Native
Abby is a California girl through and through. She was born and raised in Los Angeles and from what we can tell, she still lives in the Los Angeles area. After finishing high school, she went on to attend a broadcasting school in the area. Like many people who live in southern California, Abby loves to get out and enjoy the beautiful weather and beaches.
2. She's A DJ
Even before her relationship with Nick Cannon, Abby was a part of the entertainment industry. She currently has a radio show on Real 92.3 in Los Angeles. In addition to being an on-air personality, Abby is also a DJ who has gotten the chance to perform at events all over the world.
3. She Started A Business Making Masks
If there are any people out there who think Abby is with Nick Cannon for clout, they might want to think again. She has always been a very independent person. Abby is the kind of woman who is all about her business. She started a business called Masked By La Rosa where she sells bedazzled masks to help keep people safe during the pandemic.
4. She's Already Introducing Her Babies To Music
Music has played a very important role in Abby's life and she wants to make sure it does the same thing for her children. She started an online group called Club Tummy where she shares pictures and videos of herself playing music for her twins. Sometimes she even puts headphones directly on her stomach so they can really feel the vibrations.
5. She's An Adventurous Person
Abby loves to get out and live life to the fullest. She isn't afraid to step out of her comfort zone and she's all about having as many new experiences as possible. From zip-lining and swimming with dolphins to traveling to other countries, Abby is always ready to have a good time.
6. She Doesn't Appear To Have Any Other Children
While Abby's twins will be the 5th and 6th children for Cannon, it doesn't look like she has any others. In fact, we weren't able to find any information about any of her previous relationships which suggests that Cannon is the first person she's seriously dated within the industry.
7. She's 30
When Nick Cannon and Mariah Carey started dating, many people were shocked because of their 12 year age difference. This time, however, Cannon, who is now 40-years-old, is the older person in the relationship. Abby is 31-years-old and her birthday is on October 25.
8. She's Struggled With Anxiety
Abby has accomplished a lot of great things, but her journey hasn't always been easy. In a highlight on her Instagram story, she shared that she suffers from anxiety. Her dog, Teddy, was a registered service animal who she regularly brought with her to help ease her nerves. Sadly, Teddy passed away unexpectedly in 2021.
9. Her Faith Is Important To Her
While we don't know the specifics of Abby's religious beliefs, her Instagram posts suggest that prayer is an important part of her life. Since religion is also a very important thing to Nick Cannon, it will likely play a major role in how they decide to raise their children.
10. She's A Private Person
Even though there are a lot of people who would love to know all of the tea on Abby, she prefers to keep her private life away from the media. Outside of the fact that she's pregnant and dating Nick Cannon, she hasn't revealed much information about her personal life. Since we've all seen how the media can rip people apart, it's easy to see why she would prefer to keep her business out of the streets. She's the kind of person who likes to stay positive and now that she's pregnant she's trying to stay as stress-free as possible.