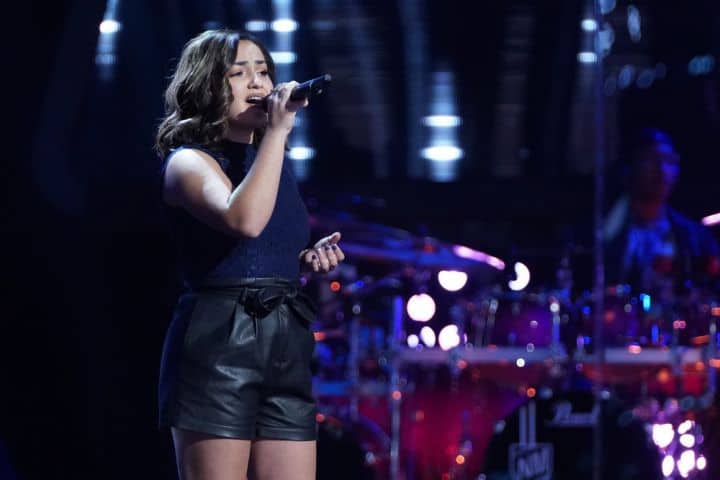 With a name like Rio Doyle most people would agree that this talented singer was destined to be in the spotlight. Rio doesn't just have a cool name, though, She also has the talent to back it up. During her blind audition for The Voice, she performed "When We Were Young" by Adele. John Legend was the only judge who turned around, but it was clear that the other judges were also impressed by what they heard. Rio's low register and the control she had over her voice made it almost impossible to believe that she is a teenager. Lots of viewers are also loving the sound of her voice and are looking forward to what else she can do during the competition. Here are 10 things you didn't know about Rio Doyle from The Voice.
1. Her Mom Is Also A Musician
Rio isn't the only person in her family who is working with some serious talent. Her mother is also a singer and she was the person who inspired Rio to get into singing. Rio's mother continues to be her number one fan and although she's currently battling brain cancer she is still there for Rio every step of the way.
2. She Is A Songwriter
Rio's beautiful voice isn't the only thing she has to offer. She is also a songwriter and it's one of her favorite ways to express her creative side. At the moment, it doesn't appear that she has released any original music and it's unclear whether she has any in the works.
3. She Has A Boyfriend
Despite being a teenager Rio has already found love. She is in a happy relationship with her boyfriend Kyle Mackey and he is very supportive of her journey to become a professional singer. Judging by her Instagram bio, the couple has been together since September of 2020.
4. She Is Always Dreamed Of Being On The Voice
The Voice is one of the most popular singing competition shows on TV and it's helped dozens of artists take their career to the next level. Being on the show has always been a goal for Rio and now she's watching it materialize in real life. Not only did she make it on the show, but she made it through the blind audition.
5. Her Faith Is Important To Her
Rio was raised in a religious household and her faith continues to play a significant role in her life. Throughout her mom's illness she has leaned heavily on her religious beliefs to help her cope her mom's health. She is also a part of the worship team at her church.
6. Rio Hasn't Always Been A Solo Artist
Rio has officially been introduced to the world as a solo artist, but she's also performed as a member of a group. During high school, she started a band with some of her friends from church and began performing local gigs. While she's thankful for the experiences she's had sharing the stage, she's ready to shine in the spotlight on her own.
7. She Has A YouTube Channel
When you're trying to get into the music industry, it's important to put yourself out there as much as possible. Thanks to the internet artists have more ways to do that than ever before. On top of being active on Instagram, Rio also has a YouTube channel where she's uploaded covers of herself singing. Sadly, she hasn't been very consistent with posting.
8. She Plays Instruments
There's no denying the fact that Rio's voice is an instrument, but it's not the only one she has in her arsenal. Rio also plays the guitar and the piano, but there's no information on whether or not she's formally trained or self taught. Maybe we'll get the chance to hear some of her instrumental skills during the competition.
9. Family Means Everything To Her
Any time you're trying to accomplish something big it's always nice to know that the people who are important to you have your back. Rio is thankful to come from a close knit family and they're all excited to be along on the journey with her as she chases her goal.
10. She Is Thankful For All Of Her Supporters
Having a strong fan base can make a world of difference in an artist's career, and this is something that Rio fully understands. She appreciates all of the people who have shown her support so far and that number of supports is only going to continue to grow throughout her time on the show.