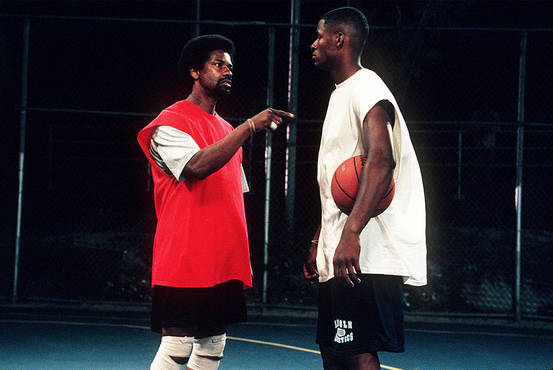 So to be perfectly honest athletes are not always the best actors. They might strut around in front of the camera, and some do, but that's a completely different thing. Athletes in movies is a hit and miss proposition a lot of times. There are so many things that can go wrong and one of them is pretty standard for a lot of them: a good number of athletes that step into the acting scene did not take a single drama class in high school or college. This doesn't meant they can't do it, it simply means they won't be as prepared.
Some athletes seem naturally gifted when it comes to being on screen. They enter the scene and make it work no matter how long it takes. Here are a few that did fairly well.
5. He Got Game – Rick Fox
Rick Fox played for the Boston Celtics from 1991 to 2004 when he finally retired. His role in He Got Game is a top level athlete that's attempting to show sensation Jesus Shuttlesworth that it's worth his time to attend his school. Fox plays a cocky and even arrogant ball player that is entirely believable and is flawlessly executed. He has enough lines that a slip might have been inevitable, but he keeps it level the entire time.
4. Rocky – Carl Weathers
Weathers played for the Raiders in the 1970 and 1971 seasons and hung up his cleats not long after. He actually did attend drama school however and it shows. His mastery on screen has been going strong for so long that a lot of people have forgotten he was ever in the NFL. More people would be willing to believe he'd been a pro boxer prior to turning in this performance as Apollo Creed.
3. Major League – Bob Uecker
Uecker was actually a catcher with the Milwaukee Brewers in the 1960's and has been known as Mr. Baseball throughout most of his career. It shouldn't have been any surprise then that he stuck with the sport and went on to star in Major League 1 and 2 as the fast-talking sportscaster. Needless to say his role is one that would have been missed had it been left out.
2. Police Academy – Bubba Smith
No one ever forgot that Bubba Smith used to be in the NFL. His run included time with the Colts, Raiders, and former Houston Oilers respectively. After his retirement he went to star in the famed Police Academy movies where is strong, silent approach was kind of preferable to too much talking. He just needed to stand there and look tough, which he did perfectly. His lines were delivered perfectly, but he definitely specialized in intimidation.
1. Any Given Sunday – Lawrence Taylor
LT was a nightmare to O-lines and quarterbacks in his day. It was stated that after two steps he was at full speed, and would either run around you or over you. In his acting career he's stuck to the sport he loves, football. He's really not too bad either when it comes to the acting side of it. He knows how to get people pumped up and he knows how to talk like a regular human being and make the dialogue interesting.
Athletes can act, there's no doubt of that. It's more a matter of whether or not they can act convincingly.
Save