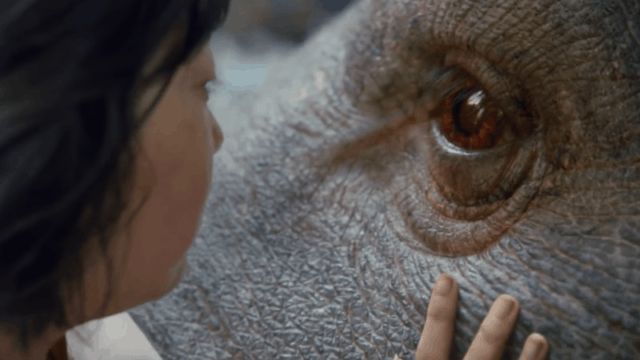 If the image above doesn't give you chills then the teaser for Okja certainly will.   While we've had some glimpses into what Okja will be, the new teaser of the film from Bong Joon-Ho gives us a greater understanding of what the Netflix project is going to bring us.  You might remember Bong Joon-Ho from his directing the movie Snowpiercer which is taking on an heir of "cult classic."  Snowpiercer is set in a future where a failed climate-change experiment kills all life on the planet except for a lucky few who boarded the Snowpiercer, a train that travels.
Okja is the story of a little Korean girl named Mija (Ahn Seo-hyun), who befriends a monstrous creature that's being hunted by an evil corporation.  Who plays the scientist from the evil corporation?  None other than Tilda Swinton and frankly she couldn't be more perfect and eerie for this role.
Swinton's character, for all her talk of wanting to synthesize "nature and science," might even be the one who made the creature in the first place, and now she's trying to undo her mistakes?  It's tough to pinpoint. We don't get a whole lot from the trailer but this is the vibe I'm getting.   Okja will be hitting Netflix on June 28th.